Polestar to differentiate from Volvo with own electric motors
Polestar is set to develop its own electric motors as it looks to separate itself from parent company Volvo – and it will also step up the performance focus of existing models such as the soon-to-arrive Polestar 2.
With eyes on Tesla and Porsche, the Swedish-based brand that has manufacturing roots in China is positioning itself as a technology and performance EV alternative.
While the Polestar 2 that goes on sale in Australia within weeks shares its electrical architecture with the Volvo XC40 Pure Electric – same platform, batteries and electric motors – Polestar's global boss says the company will eventually look to further differentiate the brand through the use of unique components.
"The next step for our company is definitely to go in with our own electric motor and really that type of peak power position will be a Polestar development," says Polestar CEO Thomas Ingenlath. "That's definitely part of the development of Polestar."
Ingenlath says the focus for the brand is on performance and driving excitement, something that can also be done with software and tuning of existing components.
"We will of course with the Polestar 2 go into performance tuning with the software and offer that to our customer," he says.
Describing Volvo as the "cosy, warm, welcome family car" Ingenlath says Polestar is "about the sporty drive and performance. It's about how the suspension is set."
He concedes that means "it is not the most comfortable for the kids in the back when you go over a speed hump", instead emphasising a Polestar is about "an engaging drive".
Ingenlath says the software department makes up the biggest component of investment in the brand.
"The biggest department definitely is software development nowadays in R and D," he says.
"Software definitely is what takes most of our attention, most of our care, most of our investment today and in the future."
But he says hardware is also a major focus.
"In the next product we will then as well go into the hardware and have our own electric drivetrain."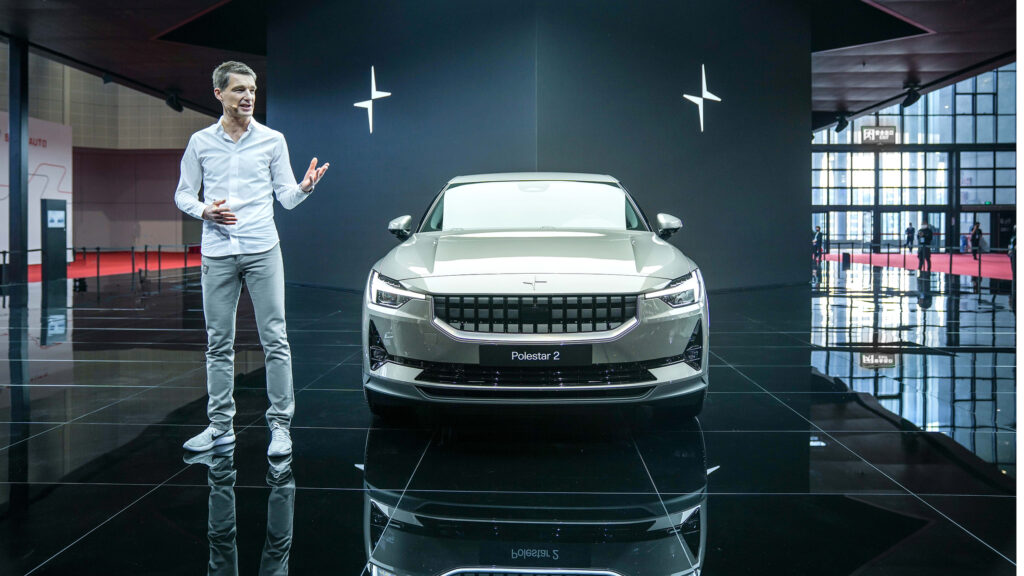 Very few EV makers currently produce their own motors, instead relying on external suppliers.
But that's slowly changing.
Mercedes-Benz, for example, recently bought UK-based company Yasa for its axial flux motors, which are used in the Ferrari SF90 Stradale.
Many are seeing the value in having unique and innovative technology that can provide a point of difference.
The Polestar story starts in Australia soon with the arrival of the Polestar 2, which has the Tesla Model 3 in its crosshairs.
The 2 launches the Polestar brand as a newcomer with aspirations of carving itself a healthy niche within the evolving EV space.
But Polestar is not limiting itself to EV, primarily hoping to tempt buyers from petrol- and diesel-powered vehicles that currently dominate sales.