2023 LDV eT60 review: $93K electric ute has a big price hurdle to clear
The LDV eT60 is the first electric ute to go on sale in Australia. There has been no shortage of chat and teases about a mass of EV utes gearing up to test the market. But Chinese manufacturer LDV – known as Maxus overseas – has beaten the competitors to the EV ute punch with the eT60. 
As the name suggests, it uses the body and basic structure of the familiar diesel-powered T60, but adds an electric drivetrain to turn it into a battery electric vehicle.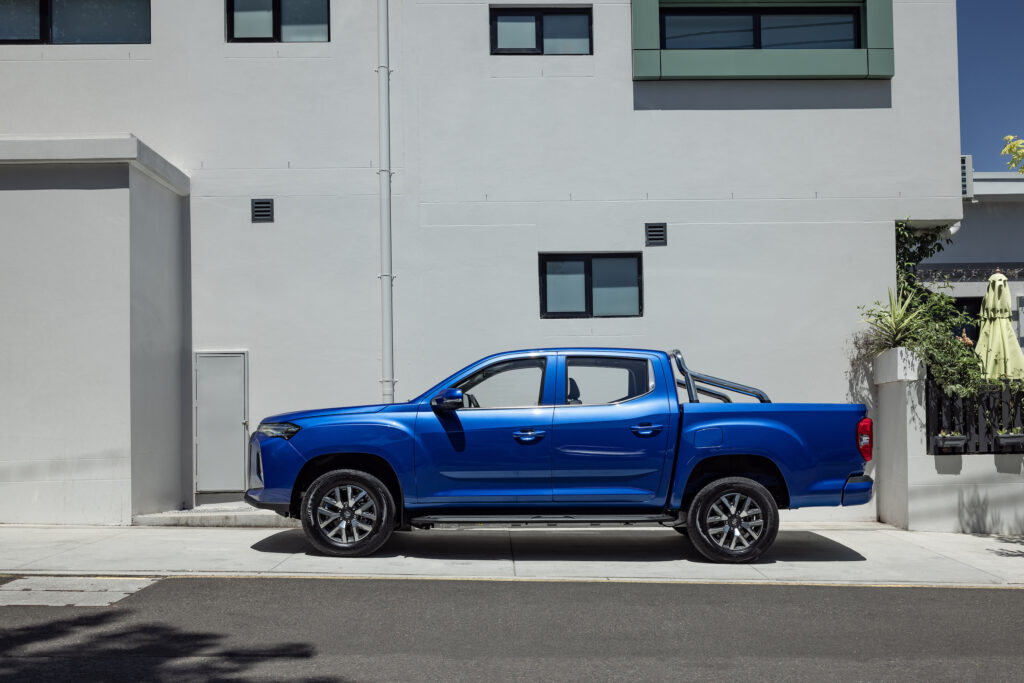 It's only a two-wheel drive and comes with a big price tag, neither of which have discouraged early interest in what is the first of what is shaping up to be a long line of EV utes.
Value
EVs typically have a price premium but the eT60 takes it to the extreme.
It sells from a hefty $92,990 drive-away, which is more than double the price of the regular T60 model. Ouch. ABN holders can get it a bit cheaper, but it's still close to $90K.
The eT60 only gets a basic level of equipment, too. That includes fake leather trim and rain-sensing wipers.
Two charging cables are also supplied: a Type 2 to Type 2 as well as a regular Type 2 adapter with a standard three-pin powerpoint attachment.
Alloy wheels are 17 inches in diameter and there is no spare. There's also no cruise control or 360-degree cameras, each of which is available on other iterations of the T60.
While it's true the LDV eT60 has no direct competitors, it could also be argued that its price tag puts it in the same rarefied ute air as more fancied ICE alternatives, such as the Ford Ranger Raptor and Volkswagen Amarok W580X.
Inside
The eT60 is very similar to the regular T60, although there are key differences.
The gear selector has been replaced by a rotary selector, for example. It allows the driver to select between forward, neutral or reverse (curiously there is no park mode) by twisting the dial in the centre of the car.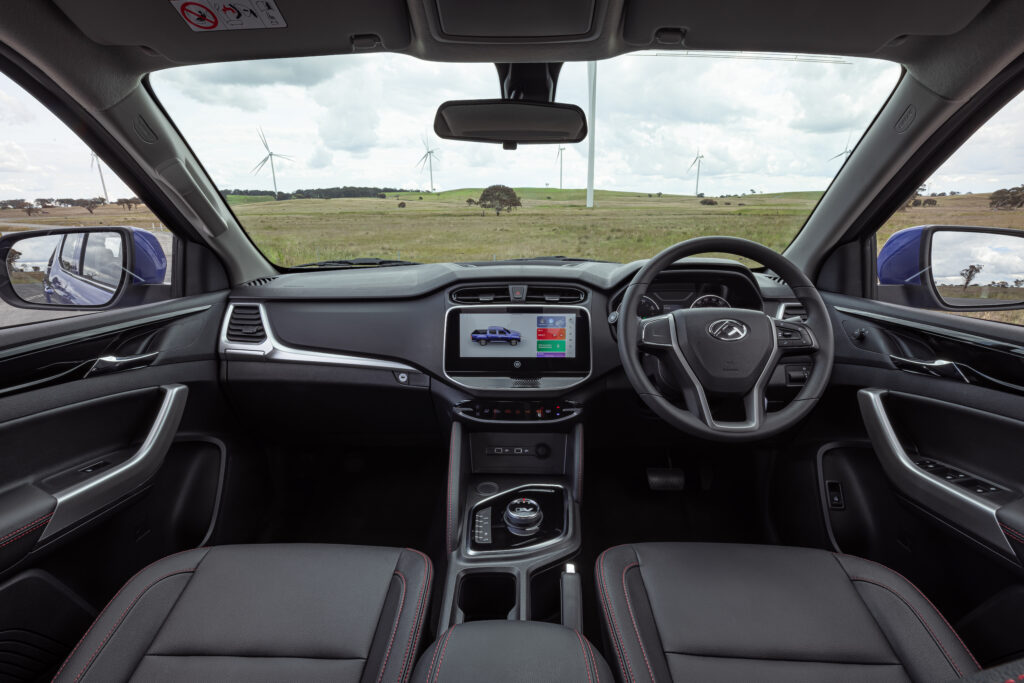 While it has maintained the same layout, the instrument cluster has also been tweaked to accommodate info for an EV. That includes a range estimator instead of the fuel gauge and a power gauge in lieu of a tachometer.
Don't expect the full EV treatment, though. You're still twisting a key in the ignition to bring the car to life and there is no way to adjust the level of energy regeneration when decelerating.
There's also no hiding the eT60's age. Its interior presentation is more about getting the job done than sizzling in any way. There's no shortage of hard, grey plastics and the occasional old school thinking, such as the traditional park brake.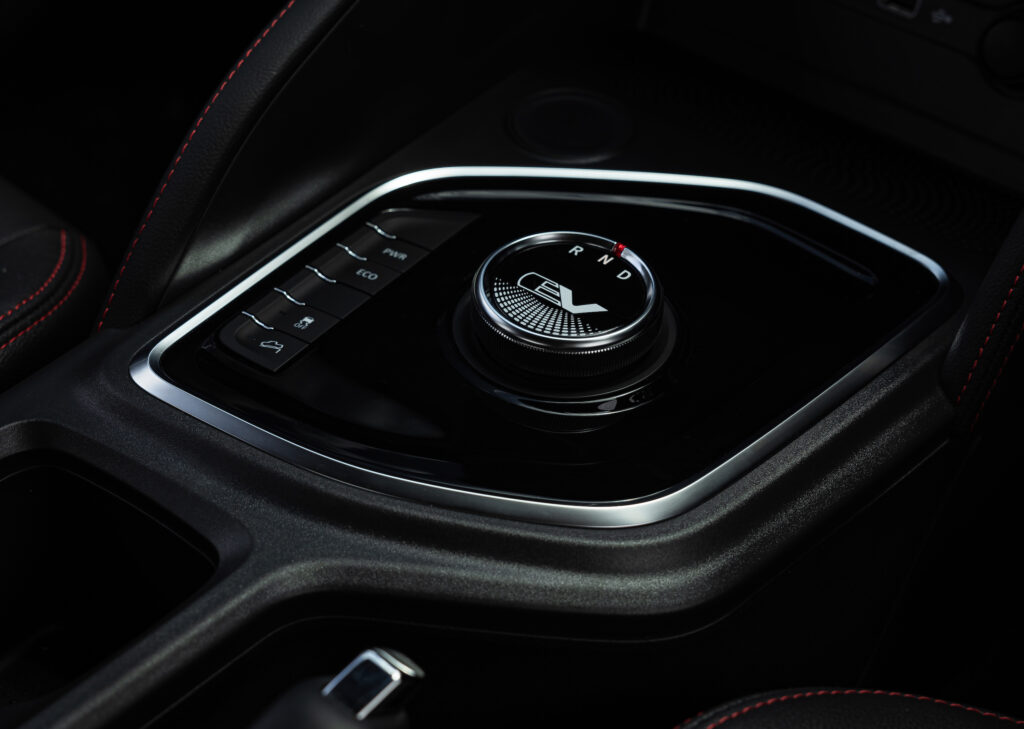 The front seats are relatively flat, lacking the lateral support that keeps you planted through corners.
But some red stitching livens up the grey.
There's also some handy storage binnacle including the one atop the dash. It's a shame LDV hasn't utilised the copious under bonnet space for storage; instead it's just left as air.
Those in the rear get additional air vents and decent head a leg room. That head room partly comes about because the base of the rear seat is relatively low, meaning some leg-bending for taller folk.
Performance and efficiency
There's a single electric motor driving on the rear wheels of the LDV eT60.
It's clearly been a late arrival to the T60 package. Instead of being neatly integrated into the T60 package, it's been attached to the rear axle, something that makes it quite noticeable from behind.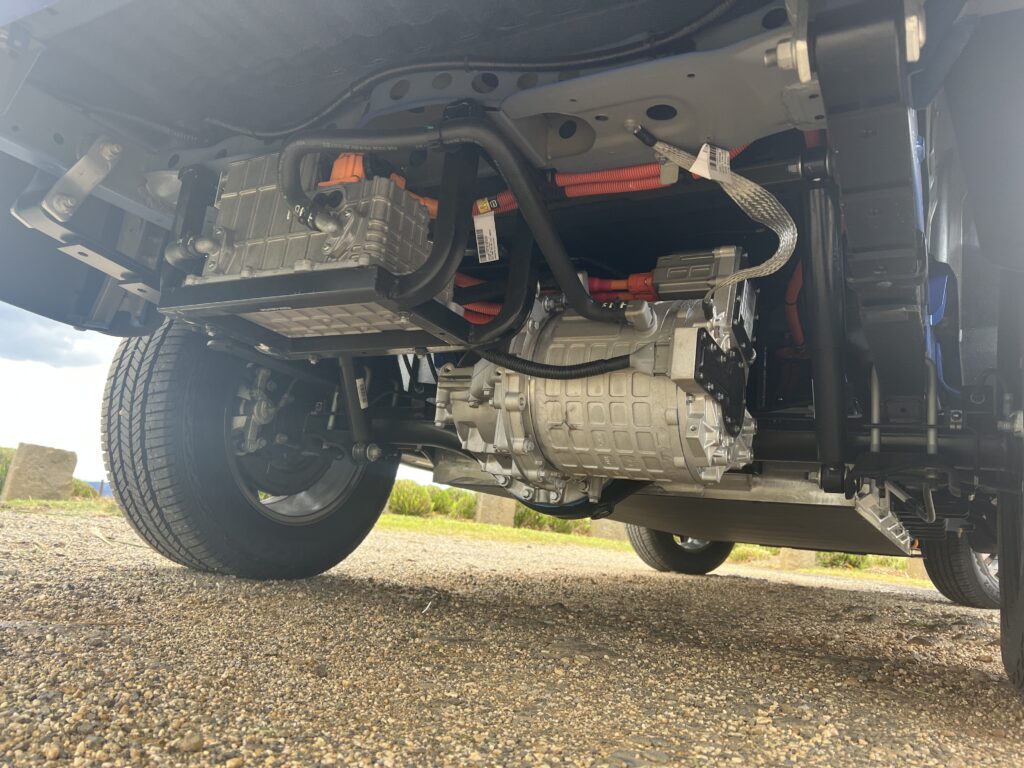 The motor makes 160kW and 310Nm, which in isolation are modest but acceptable.
However, the eT60 is a chunky machine once the sizeable battery pack has been incorporated within.
Its 2.3 tonnes makes for modest acceleration, although at suburban speeds it's liveable.
Approaching triple figures it's far more leisurely, taking its time to crack the tonne. It doesn't help that the electric motor starts pulling back power as speed rises, in turn leaving it feeling undernourished at speed.
Our experience was brief, but we imagine the eT60 would take plenty of planning to complete a country road overtake.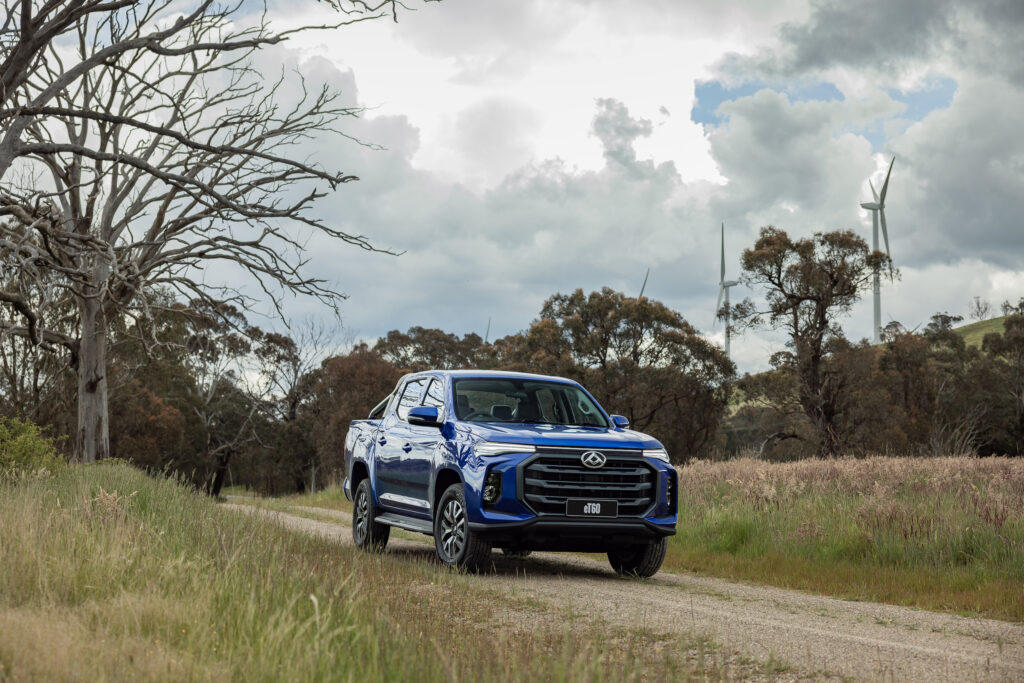 Energy use is claimed at 26.9kWh per 100km. That's more than most EVs, although then again the eT60 is a very different beast to most EVs.
Either way, expect about 300km out of the 88.55kWh battery pack in real world driving.
The official range claim is 330km according to the WLTP cycle.
Charging
The LDV eT60 use a lithium-ion battery but it's the LFP – or lithium ferrous phosphate – battery technology that Tesla uses on its more affordable models.
The battery capacity is 88.55kWh, which LDV points out will cover the distances of most ute drivers in everyday use.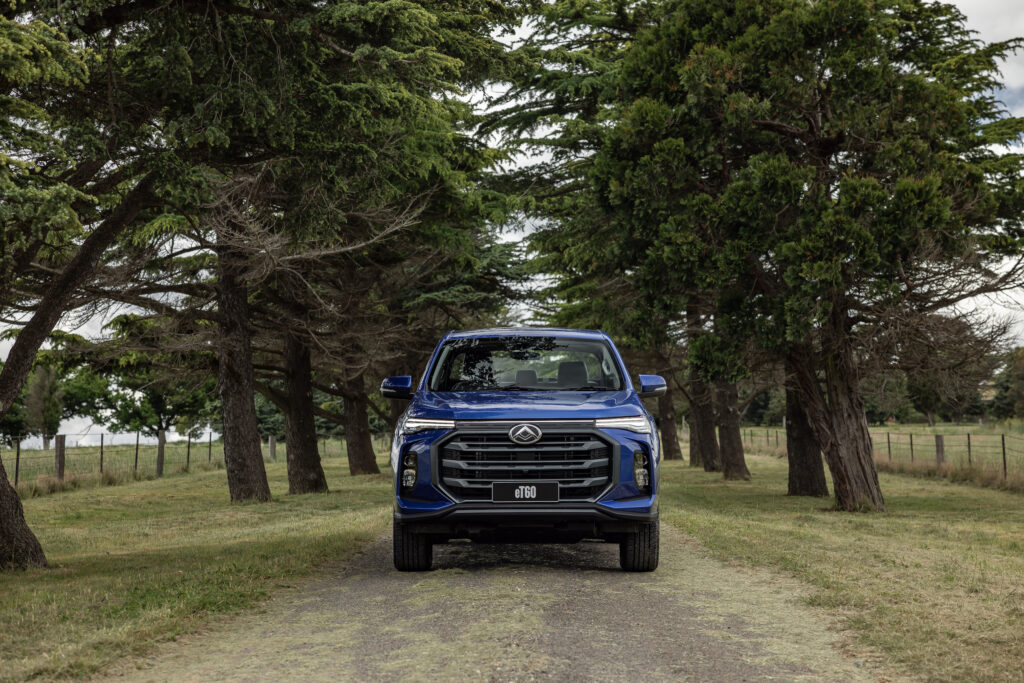 It has a CCS combo charge port for DC charging, which incorporate the Type 2 plug for AC charging.
Public DC charging can be done at up to 80kW and LDV says it will take about 45 minutes to charge from 20 to 80 per cent.
Home charging from a regular powerpoint should take something like 45 hours, although owners can also utilise a wallbox up to 11kW, something that lowers that charge time to a bit over eight hours.
Ride and handling
The diesel-powered LDV T60 has undergone an Australian suspension tune.
Not so the electric eT60. LDV says it wants to eventually tweak the way the eT60 drives, but for now we get a global tune used elsewhere.
It's a long way from perfect.
The suspension is very firm, translating to a bumpy ride. Even on what looks like a smooth(ish) surface things can get busy. Worse so on repeated bumps or bigger imperfections.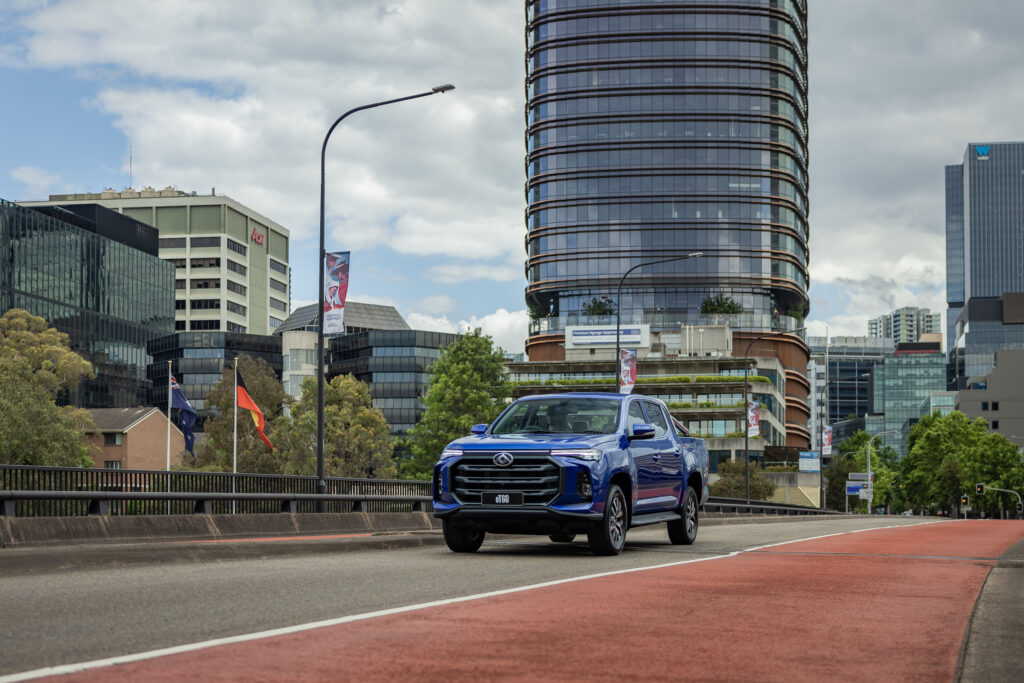 So it's no cruiser – and the LDV isn't a bruiser, either.
The steering wheel has an odd dead spot just off-centre, something that dilutes confidence when you point it at a corner.
And any visions you may have of the eT60 slinking between corners are quickly dispelled.
X-factor
LDV says the eT60 is not a "recreational ute" but one better suited to work duties in or near major centres. In other words, the eT60 is better suited to lighter duty work around town rather than tearing off into the scrub for a big adventure.
It's that first-to-market move that is the real talking point for the eT60.
Safety
The eT60 has not been ANCAP crash tested. And while the donor T60 still maintains its five-star rating (it wouldn't get it if retested today), the eT60 does without.
So it's down to the features to tell the story.
There are six airbags and stability control.
But no autonomous emergency braking (AEB) or blind spot warning.
Verdict
By now you've probably worked out the LDV eT60 certainly isn't for everyone. The price tag alone tells that story.
But there's also a lack of ute substance – no off-road ability and modest tow capacity limit – something that limits its usefulness in what is a diverse and busy segment of the market.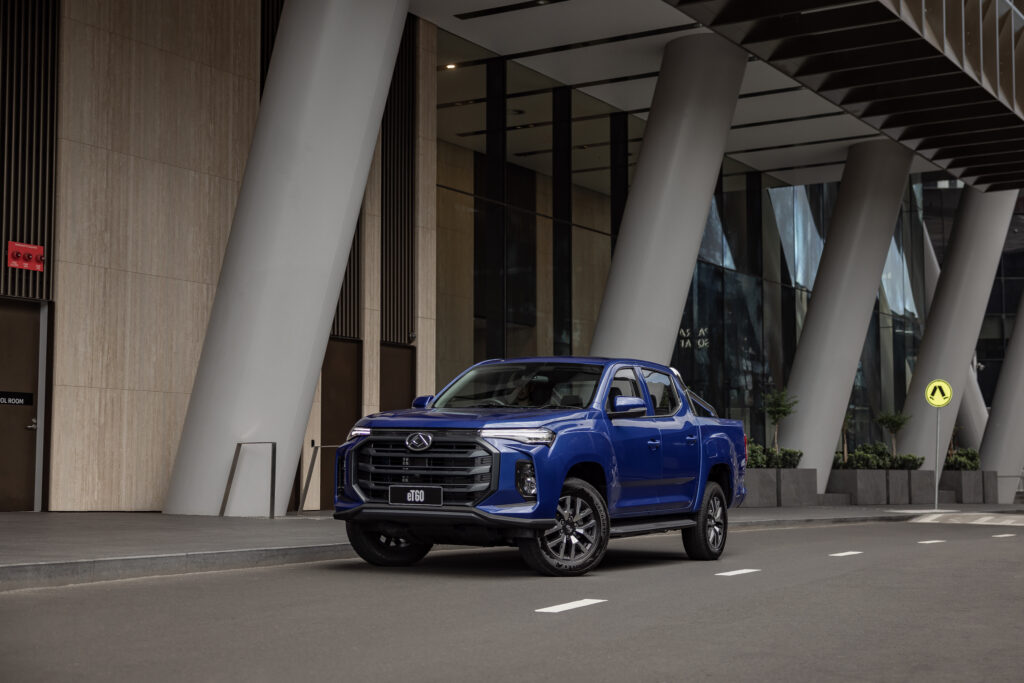 That's why the eT60 is likely to be a rare sight on our roads, chosen more for its eco credentials than how it perform as a ute or EV.
2023 LDV eT60 specifications
Price: $92,990 drive-away.
Basics: EV, SUV, 5 seats, rear-wheel drive
Range: 330km (WLTP)
Battery capacity: 88.55kWh
Battery warranty: 8 years/160,000km
Energy consumption: 26.9kWh/100km
Motor: 1 rear 160kW/310Nm
AC charging: 11kW, Type 2 plug
DC charging: 80kW, CCS combo plug
0-100km/h: NA