New EV electric car calendar
All the new electric cars, electric SUVs and electric utes arriving in Australia in 2021, 2022 and 2023. Here is the comprehensive list of every new EV due in the next few years.
READ MORE: Every electric ute and pick-up coming soon!
READ MORE: Every new EV coming to Australia in 2023
Abarth Nuova 500e – high-performance version of the electric Fiat 500 promises pocket rocket thrills, and it's due in Australia late in 2023.
ACE-EV X1 Transformer – Australian-based start-up plans a small range of affordable EVs focused on light commercial duties. $5 million government grant was awarded in the 2020/2021 budget to help set up Adelaide-based manufacturing facilities.
Aiways U6 – ambitious EV start-up has big plans and right-hand drive production is already confirmed, opening the door to a local arrival.
Alfa Romeo Tonale – the Italian brand finally has a rechargeable car in its ranks in the form of the Tonale PHEV compact SUV. Expect to see it Down Under in 2023.
Alpha Wolf – cool compact American ute looks to the rough stuff with retro-infused design. There's also a four-door Superwolf in the pipeline.
Alpha Ace Coupe – imagine a full-sized Aussie Racing Car but with an electric motor instead of a bike engine.
Aptera – US-based company claims to have created the world's most efficient vehicle with the three-seat F1-inspired Aptera. No Australian plans yet, with the company focusing on America first then Europe.
Aston Martin DBX PHEV and EV – electrified versions of AM's first SUV on the cards.
Aston Martin Valhalla – AMG V8 engine heavily tweaked by Aston Martin topped off with two electric motors. No surprises there are promises of big performance for a PHEV due late in 2022 or early 2023.
Aston Martin Lagonda – Lagonda sub-brand set to ditch engines altogether as an all-electric luxury play. The next issue is the financial health of Aston Martin, which has delayed things until at least 2025.
Aston Martin Valkyrie – engineered by F1 genius Adrian Newey and with the help of the Red Bull team, the new pinnacle of AM performance promises plenty. V12 engine meets electric power for F1 pace.
Get all the latest EV news and reviews delivered to your inbox with our weekly newsletter. Subscribe now!
Atlis XT ute – big and proudly American, the EV startup has a quad motor setup for big performance (and towing). It looks almost certain to arrive here by 2023 and could be partially assembled in Australia.
Audi e-Tron S – triple motor version of the regular e-Tron arrives early in 2022 priced from $165,600 (plus on-roads), delivering more performance and slicker dynamics. Sleeker Sportback model will also be part of the e-Tron S range.
Audi e-Tron GT – the BEV guts of the regular e-Tron (also shared with Porsche's Taycan) in a coupe-inspired four-door body. Was originally due late in 2021 but that's been pushed back until late 2022.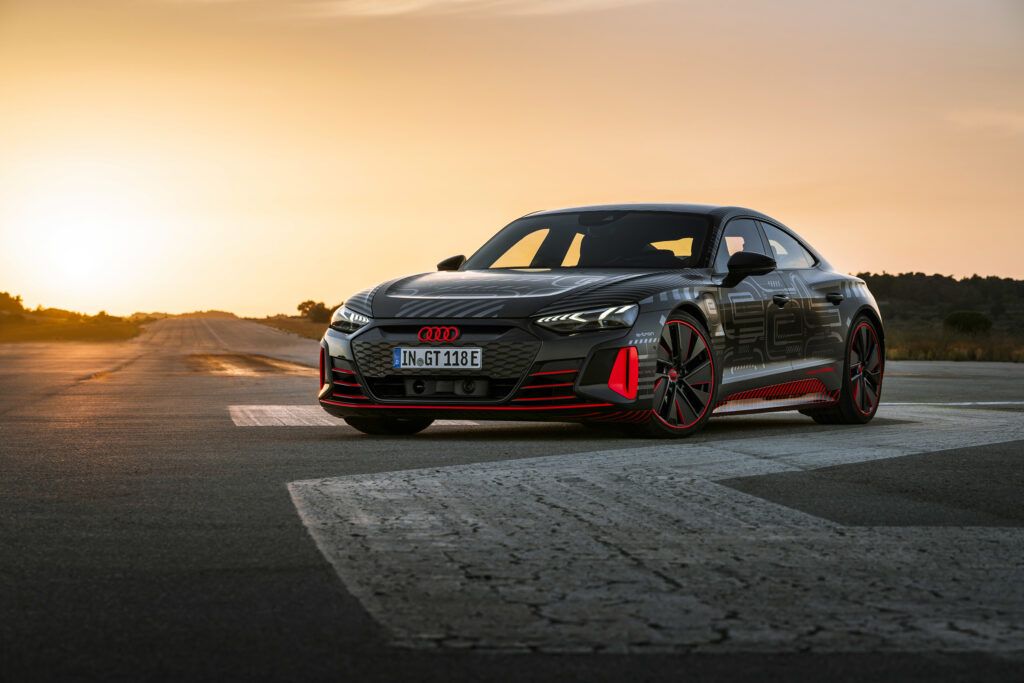 Audi RS models – performance flagships set to pick up plug-in hybrid tech as early as 2021.
Audi Q4 e-Tron – as with the e-Tron, the Q4 will be available as a regular SUV (with more boot space) and a sleeker Sportback. Likely to arrive in Australia late in 2021.
Audi A6 e-Tron – concept car points to sleek large luxury sedan powered only by electricity.
Audi Avant e-Tron – reckon wagons can't be sexy? Think again…
Audi A9 e-Tron – the A8 limousine is headed to the car grave and in its place is a new all-electric (and partially autonomous) grand tourer showcased as the Grandsphere concept. It'll be on sale in 2025, possibly as the A9 e-Tron.
Avatar E11 – a new brand with big dreams, Avatar has input from Huawei and CATL and is the product of Chinese car maker Changan.
Bollinger B1, B2 – boxy and blocky hard-core off-roaders promise big things off-road.
BMW iX1 – EV version of the X1 confirmed by 2023. Think iX3, but smaller.
BMW iX – ground-up battery electric vehicle promises to take the luxury fight to Tesla. Due in Australia early in 2022. It'll be followed by a high-performance iX M60 version.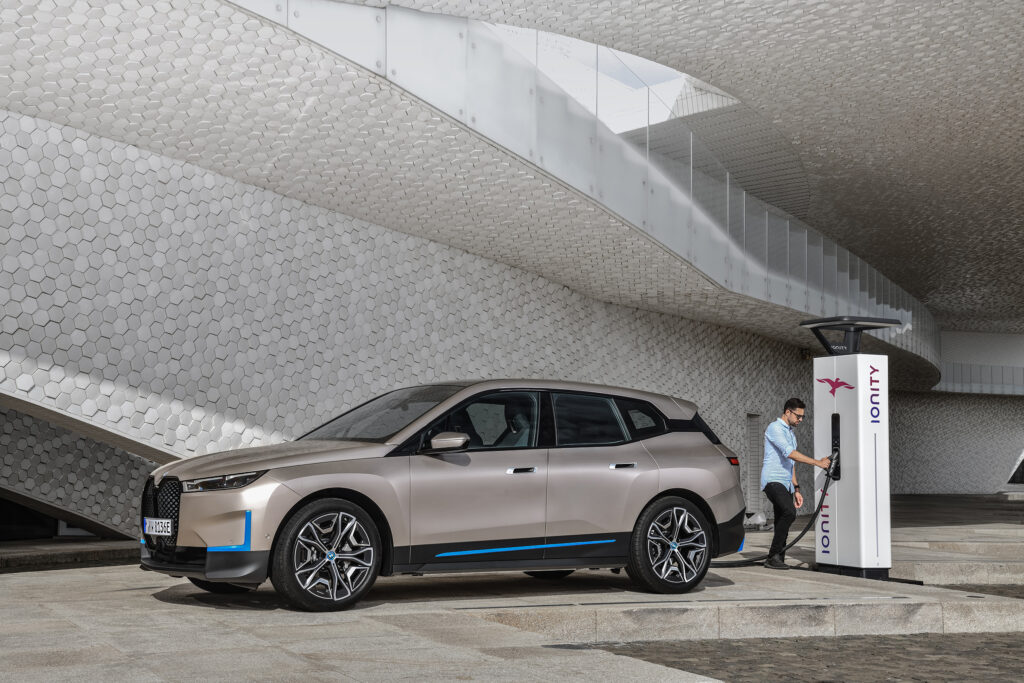 BMW iX3 – all-electric version of the X3. Due November 2021.
BMW i4 – the i4 is BMW's answer to the Tesla Model 3 and promises lashings of BMW sportiness. Due in Australia early in 2022.
BMW i7 – all-electric version of next-gen 7-Series limousine arrives Down Under early in 2023.
BMW 5-Series EV – to be available with a BEV drivetrain (to complement the existing PHEV models) from around 2022.
BMW X5 FCEV – hydrogen-powered version of large SUV is a pilot program for now, but expect things to grow.
BMW XM – X5 underpinnings but with a body specific to BMW M on top, the XM pairs a V8 with electric motors for big PHEV performance.
BMW M cars – they're coming with hybrid drivetrains. Soon, apparently.
BMW CE 04 electric scooter – radical all-electric scooter is a concept for now, but it's heading to production soon.
BMW 7-Series EV – Merc has the EQS and BMW will fight back by 2023 with an EV version of the 7-Series limousine.
Bentley EV onslaught – British luxury brand promises only electric cars by 2030; the first Bentley EV appears in 2025 and there will be at least one per year afterwards.
Bugatti EV – an electric car to replace the mighty Chiron (which replaced the Veyron)? Overseas reports suggest the high-speed French maker will soon be EV only.
Buick electric SUV – the Electra is only a concept for now, but expect the sporty high-rider to provide inspiration for an upcoming electric Buick.
BYD – Chinese car maker (the name means Build Your Dreams) has huge plans for Australia, including a range of SUVs and a sports sedan. Arriving 2022.
BYD Atto 2 – the compact EV hatchback known as Dolphin or EA1 overseas is slated for Australia where it could bring in a new price low
BYD Atto 3 – the car known as the Yuan Plus overseas has been rebranded Atto 3 in Australia. Pricing wasn't as sharp as first hinted, but there's no shortage of equipment. First deliveries due Q3 2022.
BYD sports sedan – currently known as the Han in China, the Tesla Model 3-chasing sports sedan will wear a different name when the updated model arrives in Australia in 2022. Expect circa-$50K pricing.
BYD electric ute – a top-secret electric ute is in the planning with BYD and it could even be built in Australia.
BYD e6 – mid-sized SUV confirmed for Australia, sort of… only 15 are coming here
Byton M-Byte – Chinese start-ups power play is technology, underpinned by an enormous 48-inch screen that sprawls across the dash. Exports were expected but doubts are now being shed on the future of the company.
Cadillac Lyriq – American luxury giant Cadillac is going pure electric and the Lyriq is the first step. Cadillac remains on the Aussie wishlist, but not in the short term…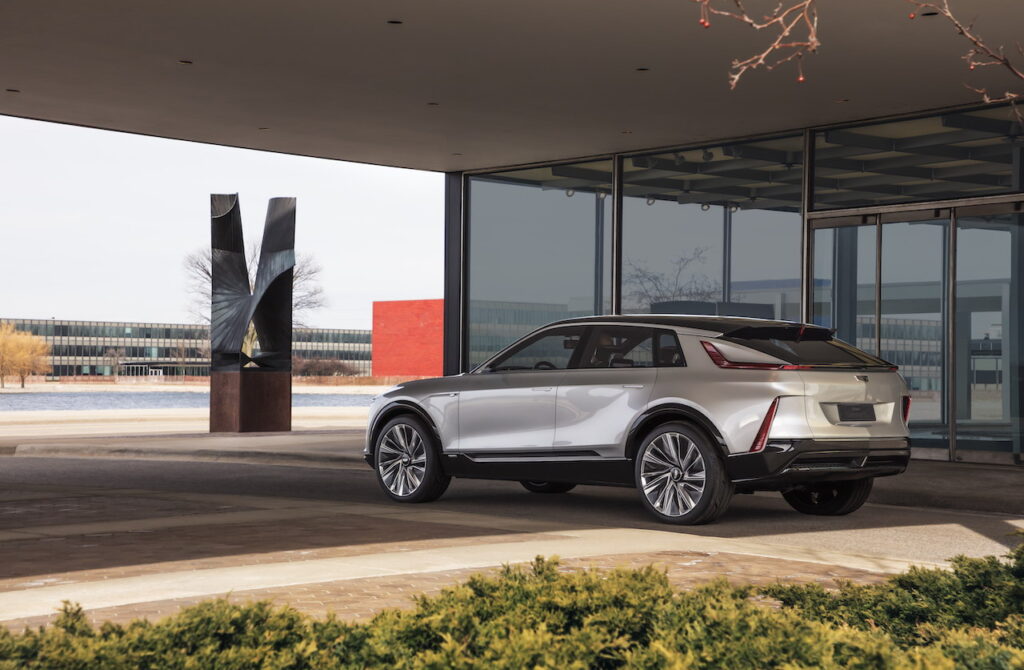 Cadillac Celestiq – think Rolls-Royce exclusivity for Cadillac's upcoming EV flagship as it tries to reignite a reputation for innovation.
Canoo pickup – futuristic electric ute primarily for North America, but it doesn't stop us dreaming…
Caterham Seven – diminutive two-seater sports car has plans to go EV from as early as 2025. For a car that's long been about light weight it'll be a big change.
Chery Omoda 5 – Aussie return of Chinese Chery brand kicks off with the Omoda 5, which gets a PHEV drivetrain. Chery has big plans for Australia.
Chevrolet Bolt EUV – SUV version of Bolt hatchback on sale in America but unlikely in Australia.
Chevrolet Silverado EV – with up to 650km range the all-electric version of one of America's most popular pick-up has brains and brawn. Oh, and it will be able to tow up to nine tonnes! Early demand means Australia is unlikely to be high on the consideration list, at least early on.
Chevrolet Corvette electric – GM confirms its worst kept secret: the the iconic muscle car will soon go silent. Before then expect a hybrid to keep the V8 love roaring.
Chevrolet Camaro EV – OK, so early reports suggest Detroit's next EV muscle car will be a bit different – it'll have four doors, for a start – but from 2025 it's shaping up to use electricity rather than a V8.
Chevrolet Equinox – affordable mid-sized SUV set to go EV in 2023. Don't hold your breath for Australia…
Chrysler luxury EV – now part of Stellantis, Chrysler has big EV plans, including a high-tech luxury EV that was previewed as a concept.
Citroen C5 X PHEV – sleek and stylish plug-in hybrid will be created as a sedan, wagon and SUV. Under consideration for Australia.
Cupra Born – first EV for Spanish sub-brand of Volkswagen-owned Seat utilises plenty of ID.3 underpinnings, but with some welcome twists. The brand is coming to Australia early in 2022, but the Born will likely be much later.
Cupra Leon PHEV – up to 60km from its EV range, the Leon hatch will welcome the Cupra brand to Australia in mid-2022.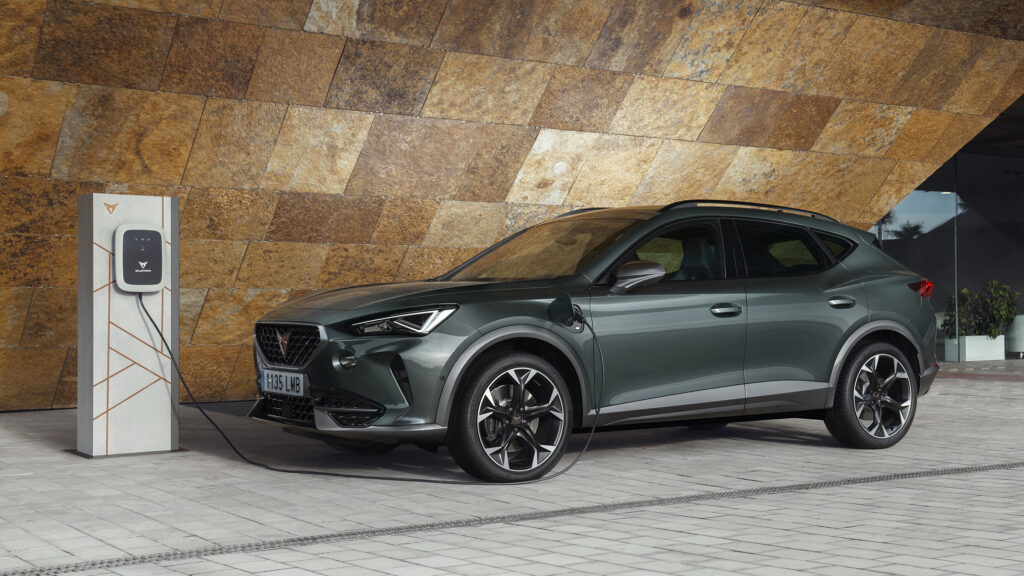 Cupra Formentor PHEV – mid-sized crossover will come with a Volkswagen 1.4-litre four-cylinder teamed to an electric motor to make a 180kW PHEV good for up to 55km on electricity.
Cupra Tavascan – all EV concept will turn into reality in 2024 and it's on the wishlish for Australia.
Dacia Bigster – look past the name and there's plenty to like with this nuggety-looking mid-sized EV SUV.
Dacia Spring – Renault-owned budget brand aims to create the cheapest electric car on sale in Europe with the Spring.
Delage D12 – born-again brand plans radical V12 PHEV multi-million-dollar hypercar, although just 30 are planned.
Dodge EV muscle car – from Hemi V8s to electric motors, Dodge says its 2024 EV take on the muscle car will bring bigger performance than any ICE. Prepare to be excited…
eBussy – quirky made-for-Europe microbus to be available in 10 body styles.
Estrema Fulminea – solid state batteries are the point of difference for supercar newcomer Estrema, which promises to hit 320km/h in less than 10 seconds.
Fering Pioneer – look out Hummer! UK startup Fering has plans for a PHEV adventure machine with up to 7000km of range and some serious hardware to help it tackle the world's harshest roads.
Ferrari EV – yep, there's a pure EV Ferrari coming, although what it looks like and how it goes is a long way off. Promised by 2025.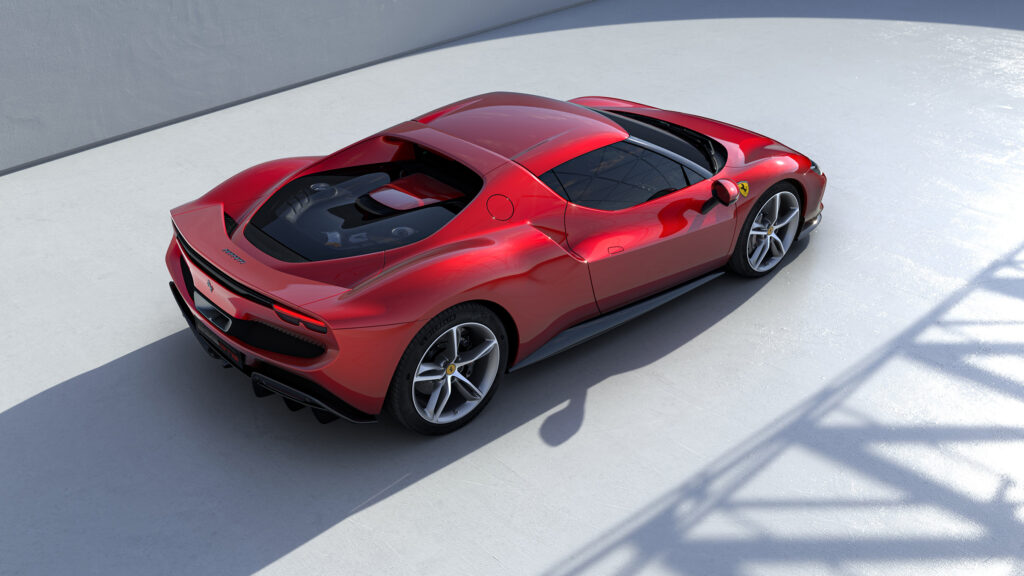 Ferrari 296 GTB – the first Ferrari-badged car to have a V6 engine also gets an electric motor as part of a potent 610kW PHEV system that promises big performance. Due in Australia late in 2022.
Ferrari SF90 Stradale – first plug-in hybrid from the prancing horse brand brings three electric motors and a 4.0-litre twin-turbo V8 for a neat 1000hp (736kW).
Ferrari SF90 Spider – predictably for Ferrari, there will also be a drop-top version of the brand's first PHEV.
Fisker – try and try again could be the motto of the once-failed Fisker brand. Now it has big plans…
Fisker Pear – electric urban SUV is now taking pre-orders in America ahead of 2024 deliveries.
Fisker affordable EV – a ground-breaking car that promises to be "like nothing you've seen before". The Californian brand has teamed up with iPhone maker Foxconn to deliver a US$30K EV by 2023.
Ford E-Transit – the first EV Ford confirmed for Australia is slated for mid-2022. It'll be more expensive than a regular Transit but with lower running costs. Ford has also confirmed the smaller Transit Custom to go EV.
Ford F-150 Lightning – EV version of America's top-selling large pick-up truck is also the fastest and most powerful. The door to bringing the EV ute to Australia has been prised open with confirmation ICE F-150s are on the way in 2023. V2G capability increases appeal and people are queing to own them.
Ford Ranger EV (Lightning) – without naming names Ford has confirmed the Ranger will be electric by 2030. And if we're guessing, we reckon it could be called the Ranger Lightning (see above). The new Ranger arrives in Australia in mid-2022 but the EV version could be a few years after that.
Ford Escape PHEV – plug-in hybrid of all-new Escape. Was originally due in Australia late in 2020 but has been delayed until late 2021.
Ford Puma EV – the small Euro-focused Ford SUV is about to go electric.
Ford medium crossover and sport crossover – two more EV SUVs on the cards for Ford.
Ford Mustang Mach-E – Mustang muscle and design themes in an all-electric SUV. Right-hand drive is confirmed so expect Australian sales before long. Best guesstimates are it could arrive later in 2022 and almost certaintly by 2024.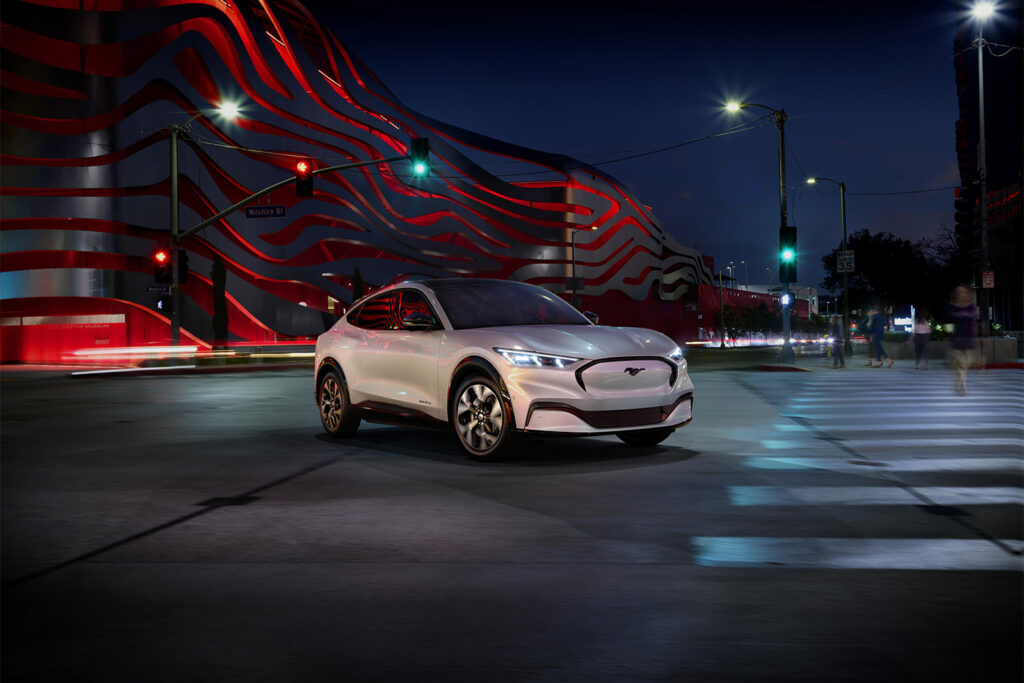 Foxconn Foxtron – Taiwanese-based iPhone manufacturer plans to get into EVs. It could kick off with a sleek electric ute.
General Motor eCrate conversion kits – by late 2021 GM plans to offer battery and motor kits for classic cars, allowing an easy EV conversion.
Genesis GV60 – first EV from aspirational Genesis, which says everything it builds by 2030 will be EV or FCEV. E-GMP platform promises big performance and range.
Genesis GV70 EV – fledgling Hyundai-owned luxury brand is planning big electric things, starting in 2021 and an electric version of the GV70 mid-sized SUV is on the cards.
Genesis Electrified G80 – large sedan gets full EV treatment with dual-motor setup. Due in Australia early 2022.
Glickenhaus FCEV ute – boutique American brand has big plans for a high-performance hydrogen-powered pickup truck.
GMC Sierra EV ute – it shares plenty with the Chevrolet Silverado underneath, so no surprise the GMC version is set to adopt electrification.
Great Wall Poer – all-electric ute from Chinese ute specialist Great Wall could eventually make it to Australia. First-up, though, are the ICE versions on a vehicle set to be called the GWM Cannon locally.
Honda Prologue – first electric SUV from the Japanese brand is very much within the family.
Huawei car – best known for 5G tech (and from being banned from developing networks in countries such as Australia), the tech giant is turning its focus to electrified cars.
H2X Warrego – aspirational Australian brand H2X has big plans for hydrogen cars Down Under, but they'll be expensive (190K expensive!). Initially planned for 2022 those plans have been delayed and now include a hydrogen version of the Ford Ranger.
H2X Darling – EV van planned to be built in Australia. Lots of planning and investment to make it happen, but if the stars align look for something to arrive around 2024/5.
Hyundai Kona Electric – fresh face and more gear for battery electric version of Hyundai's small SUV.
Honda electric SUV – Japanese brand is ramping up its EV efforts with the SUV e:concept giving strong clues to a future model.
Hyperion XP-1 – fuel cells and supercapacitors dominate in one of the most radical EV hypercars to date. But it's the planned US hydrogen refuelling network that is the big news with the Hyperion.
Hyundai Nexo – hydrogen fuel cell compact SUV will initially be offered for lease only. The first 20 cars go to the Canberra government as a refuelling network is established.
Hyundai Kona Electric update – mild 2021 update tweaks the design and adds more tech and features.
Hyundai Tucson PHEV – hybrid and plug-in hybrid versions of Hyundai's next generation Tucson mid-sized SUV have been confirmed.
Huawei Seres SF5 – Chinese telecommunications giant has teamed up with a car maker to beat rival Apple in the EV race.
Hummer – Best known for copping bruises on the battlefields, Hummer has been reignited as an all-electric SUV brand (or sub-brand) with the GMC Hummer EV.
Hummer EV SUV – the ute looks cool and the SUV packs all the tech in a different body.
Hyundai Ioniq 5 – more affordable version of the Ioniq 5 arrives in Australia in mid-2022. Expect less equipment and, possibly, a smaller battery pack.
Hyundai Ioniq 5 N – the go-fast N version of the Ioniq 5 is Hyundai's worst kept secret. But it's also one of its most exciting cars, with expectations of B-I-G performance.
Hyundai Ioniq 6 – Tesla look out, because the Ioniq 6 sedan that will be revealed in 2021 promises big things.
Hyundai Ioniq 7 – large SUV to provide space at the upper end of the growing Ioniq EV family. Previewed at the Seven concept.
Hyundai Vision FK FCEV – Rimac EV tech meets Hyundai fuel cell smarts to prove hydrogen propulsion can be fast and fun. No confirmed production plans yet but it's almost certain to hit the race track first and could ultimately end up in dealerships.
Hyundai Staria FCEV – futuristic-looking people mover is being readied for a hydrogen fuel cell drivetrain in 2023 and Australia wants it.
Indigo Tech Flow – American startup has injected some innovative thinking in its vans that are planned to go into production as early as 2023.
Ineos Grenadier hydrogen fuel cell – rugged and capable Land Rover Defender lookalike has hydrogen in its future following tie-up with Hyundai.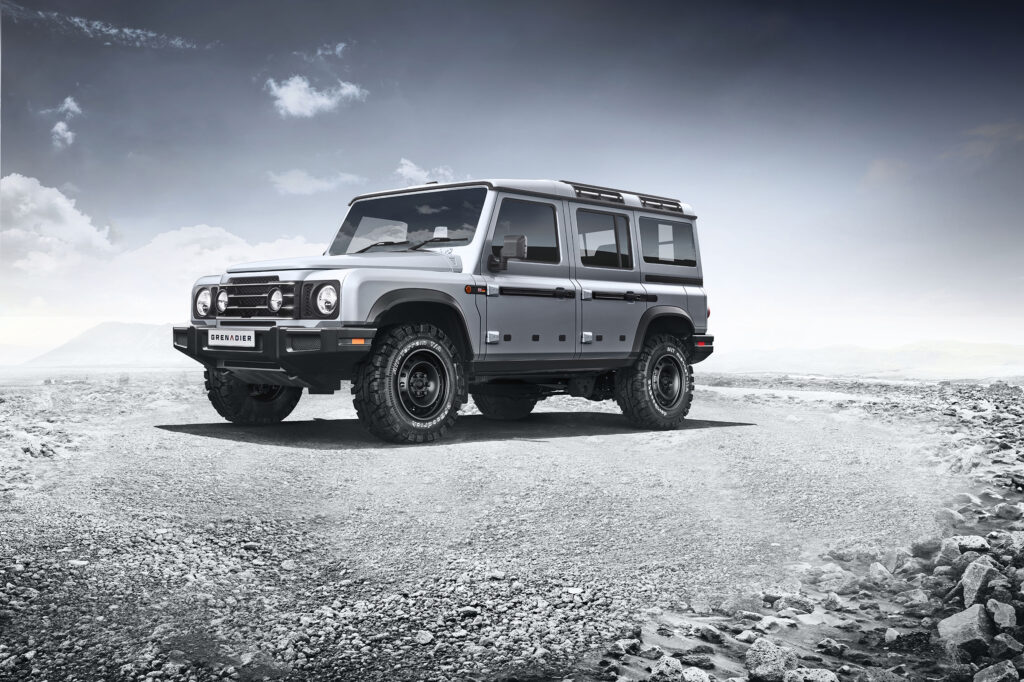 Jaguar I-Pace EV320 – less powerful version of regular I-Pace (known as EV400) yet to be confirmed for Australia.
Jaguar XJ – flagship limousine was set to go all-electric in 2021, although financial strains have seen the car delayed by years as Jaguar pushes for an all EV lineup by 2025.
Jeep BEV – an all-electric Jeep is confirmed for 2023 and it's likely to be something smaller and city focused.
Jeep Renegade 4xe – tiny Renegade PHEV more about hitting European emissions than changing Aussie roads.
Jeep Compass 4xe– plug-in version of Compass unlikely for Australia, with Europe a bigger target.
Jeep Wrangler 4xe – plug-in hybrid power adds to Wrangler's off-road talents. No plans for Australia, for now at least.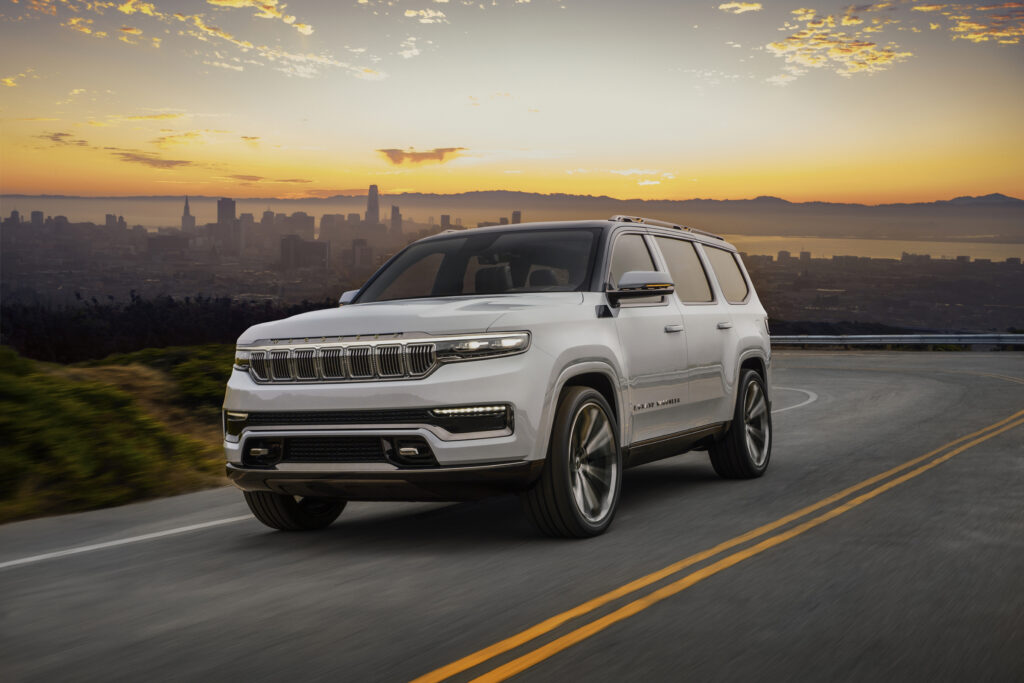 Jeep Wagoneer – legendary Jeep nameplate makes a return with PHEV drivetrain. It's a concept for now, but production car won't be miles from it. Could make it to Australia as early as 2022, but so far unconfirmed.
Kia e-Niro – Kia is expected to confirm it will begin going electric in Australia in 2021 and it's the e-Niro set to lead the (err) charge. The company has already done plenty of background work (dealer training, charging infrastructure, etc) so it can push the button on the e-Niro later in 2021.
Kia Soul EV – as a petrol wagon the Soul received a luke warm reception in Australia, but with an all-electric drivetrain it promises so much more. As for when (or if)…
Kia Sorento PHEV – new Sorento has 2021 plans for a two-pronged EV attack, including a regular hybrid and a PHEV.
Kia EV6 – 800V electrical architecture and radical new styling for Kia's first ground-up EV. Expect it in Australia early in 2022, although with only 500 to go around it could be hot property. More affordable EV6s will follow, but not until 2023.
Kia EV1, EV2, EV3, EV4, EV6, EV7, EV8, EV9 – not all the names will be used – although the EV4 and EV7 are expected in 2022 -but Kia is planning an onslaught of new EVs built on a bespoke electric architecture.
Kia EV9 – large electric SUV showcases bold styling ahead of the late 2022 reveal of the production model. No word on a local arrival although 2023 seems logical.
Kia electric sports sedan – Stinger power and poise but from electric motors: that's the thinking behind a planned electric sports sedan.
Land Rover Defender PHEV – modernised Defender will also come with a plug-in hybrid drivetrain. Eventually…
Land Rover Defender FCEV – hydrogen could soon be the fuel of choice for the mighty Defender, with Land Rover testing fuel cell EV tech in its hero off-roader.
Lamborghini EV – due between 2025 and 2030, the Italian sports car maker has committed to a pure EV that should deliver big performance. The as-yet-unnamed EV will be a fourth model line to sit alongside the two sports cars and Urus SUV. And the head of Volkswagen has already given a clue to how much power it might have.
Lamborghini Countach – yep, one of the most famous names in supercars has been given the hybrid treatment, albeit in a very (very) mild way.
Lamborghini V12 PHEV – electric motors set to join V12 propulsion for Aventador replacement as part of Lamborghini's plans to offer a PHEV of every model by 2024.
LDV eVT60 – all-electric ute from Chinese brand could soon make its way to Australia.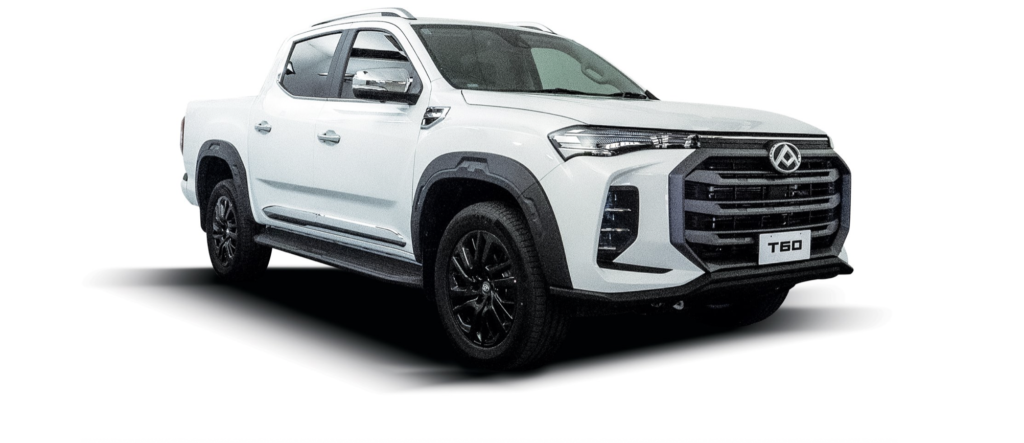 Lexus UX 300e – first BEV from the Japanese luxury brand is on the wish list for Lexus in Australia. The company has even registered the name locally.
Lexus NX PHEV – Plug-in hybrid version of Lexus's mid-sized SUV will be available for the first time in the second-generation NX (due in Australia in November 2021), although PHEV is still not confirmed locally.
Lexus RZ450e – First Lexus EV with dedicated electric car underpinnings is a futuristic large-ish SUV complete with a steering yoke. Likely in Australia in 2023.
Lexus EV supercar – still dreaming of the screaming V10-powered LFA supercar? Lexus could soon have an EV replacement.
Lordstown Endurance EV – to be built in an ex-GM factory in Ohio the new hulking double cab ute runs only on electricity and brings big grunt. That's if the project happens: financial woes have kicked in.
Lotus Evija – first all-new model from Lotus in decades promises hypercar performance matched with a hypercar pricetag. Prodigious 1470kW output is about double your average F1 car. Expected 2022, testing has already begun.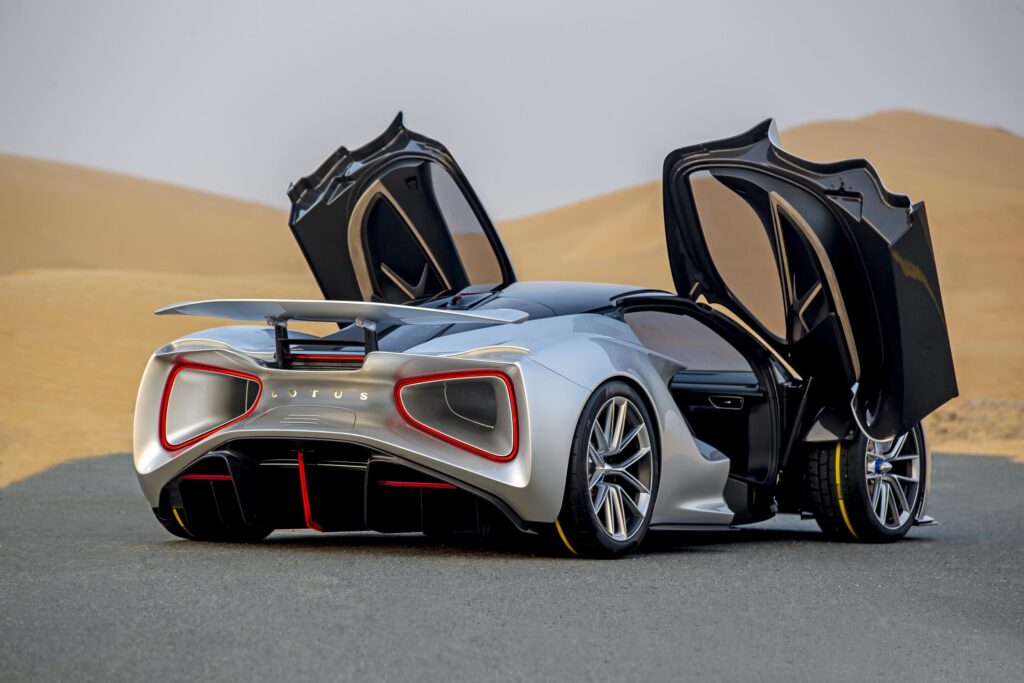 Lotus Eletre – the reinvention of Lotus is starting with a large Porsche/Lamborghini-fighting performance with 600km of range. There will also be at least three other electric cars from Lotus, including a sports car (Type 136) and a large electric coupe (Type 133).
Lucid Air – faster than a Tesla and with huge EV range, the Air clearly has the top end of the EV town in its crosshairs. Plenty of Tesla peeps behind the scenes, too.
Lucid SUV – all that Air goodness (see above) is planned for a higher-riding SUV, currently codenamed Project Gravity.
Lynk & Co performance 'coupe' – previewed as the Zero concept, the fastest, most exotic EV from the aspirational Chinese brand promises big things. Lynk & Co is planning an Australian launch by 2025.
Maserati MC20 EV – Maserati is moving to offer a fully electrified range and the mid-engined MC20 will be a performance flagship. Due in 2022, triple electric motors and 800V electrical system will be at its heart.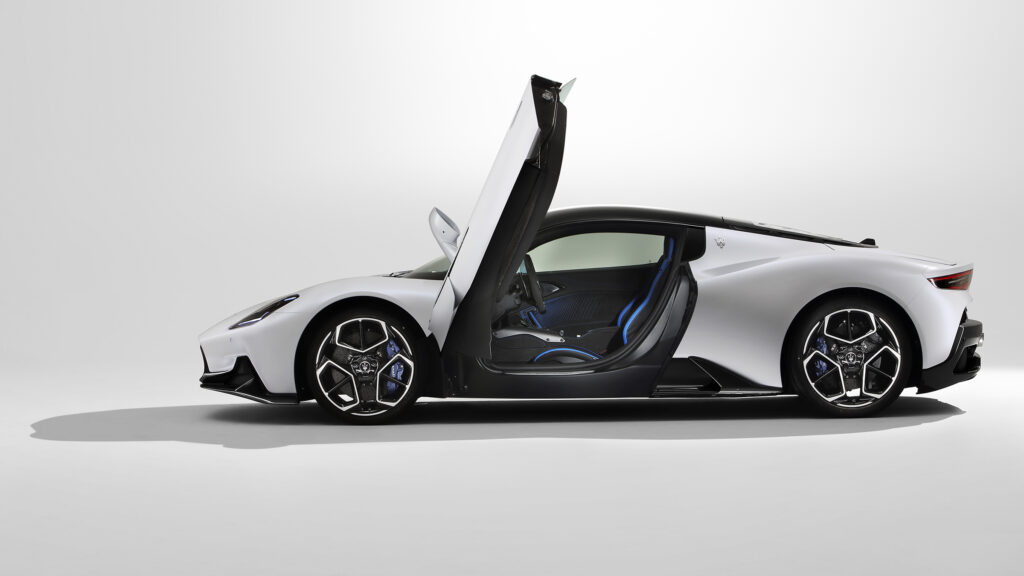 Maserati Grecale Folgore – there will be ICE as well, but the Grecale mid-sized SUV will also spawn an all-electric version called Folgore. Look out Porsche Macan!
Maserati GranTurismo EV – second-generation 2+2 coupe to go electric and in the process out-perform its V8 predecessor. Due in 2022.
Mazda MX-30 – sporty thinking in a compact SUV body with rear-hinged back doors. EV and mild hybrid due in Australia in 2021. Mazda is also working on a range extender PHEV that will revive Mazda's legendary rotary engine configuration.
Mazda CX-5 hybrid – the success of Toyota's RAV4 Hybrid is prompting others to consider petrol-electric SUVs. Mazda is reportedly working on one for 2023.
Mazda CX-60 PHEV – plug-in hybrid version of new premium-focused CX-60 will be the most powerful Mazda ever sold.
Mazda MX-5 – lightweight sports car to adopt electrification for next generation as part of Mazda's plan to flow electrons through its entire lineup.
McLaren Artura – first plug-in hybrid from McLaren debuts a new V6 twin-turbo engine.
McLaren hybrid supercars – new V6 turbo engine to be paired to electric motors for British brand's planned hybrid onslaught.
Mercedes-Benz EQXX – want to know what happens when the world's oldest car maker unleashes its full engineering fury? Meet the EQXX that promises a 1000km and could give the Tesla Model 3 quite a shake up when it hits the road in 2024.
Mercedes-Benz S580e and S73 AMG – plug-in hybrids to set the standard for all-new S-Class limousine due in 2021.
Mercedes-Benz GT63 AMG S – plug-in hybrid version of wild GT sedan teams V8 twin-turbo punch with a 150kW electric motor.
Mercedes-Benz EQE53 and EQS53 – high-performance electrified versions of upcoming EQE set to get AMG treatment.
Mercedes-Benz EQA – utilising the compact GLA SUV body the EQA promises more interior space due to packaging efficiencies of electric components. On sale mid-2021.
Mercedes-Benz EQC base model – less equipment but $17K in your pocket for the new entry-level EQC late in 2021.
Mercedes-Benz EQE – electric equivalent of the E-Class large sedan borrows heavily from the impressive (and bigger) EQS limousine. Due in 2022.
Mercedes-Benz EQE SUV – truncated version of the EQS SUV promises lashings of luxury. Due here in 2023.
Mercedes-Benz EQS – large limousine (think S-Class) powered purely by electricity. Due in Australia in Q2 of 2022. Read our first drive review of the EQS450+.
Mercedes-Benz EQS SUV – electric replacement for the GLS seven-seater is big and opulent and it's coming here in 2023.
Mercedes-Benz EQG (electric G-Wagen) – the iconic (and boxy) G-Wagen will soon be available as an EV, which will make a big change from the V8 engines that have built on the rugged off-road legend. Quad-motor setup promises big performance and off-road capability for a car locked in for 2024.
Mercedes-Benz EQT – futuristic seven-seat people mover is a concept for now, but showroom-ready versions start rolling off the production line in 2022.
Mercedes-Benz EQV campervan – utilising the Mercedes-Benz EQV van as a basis, the electric campervan is set to add some zero emissions spice to the adventure market.
Mercedes-Benz eVito van – all-electric van locked in for 2022 to provide businesses with an EV alternative to move things.
Mercedes-Benz C300e plug-in hybrid – all-new C-Class mid-sized sedan (and wagon) arrives in 2021 and it'll have a new plug-in hybrid with around 100km of electric range and no compromises to boot space.
Mercedes-AMG Project One – a Formula 1 engine mated to electric motors promises a potent combination. Delays mean it's likely 2022 at the earliest.
MG ZS EV update – Australia's most affordable EV gets styling tweaks and more tech in 2022. There will also be two model variants.
MG sub-$40K EV hatch – all-new BEV hatchback is set to create a new electric car entry point for Australia.
MG4 – due in 2023, the MG4 promise big performance and loads of tech in a sleek hatchback body.
MG HS PHEV – plug-in hybrid version of MG HS mid-sized SUV went on sale early in 2021 bringing 52km of EV range.
MG Cyberster – new MG roadster is purely a dream for now but hopes are that an all-electric two-seater could emerge from the growing brand.
MG Marvel R – it's all about the driving excitement… Tesla-hunting mid-sized SUV with optional triple-motor setup for 0-100km/h sprints in 4.9 seconds.
Mini Electric – two doors and 233km range and Mini's premium pricing make the Electric one for the Mini faithful. Due late 2020.
Mini Aceman – compact crossover concept provides a vision of the funky production car expected around 2024.
Mini JCW electric – "extreme performance" version of Mini's hottest hatch is in the works.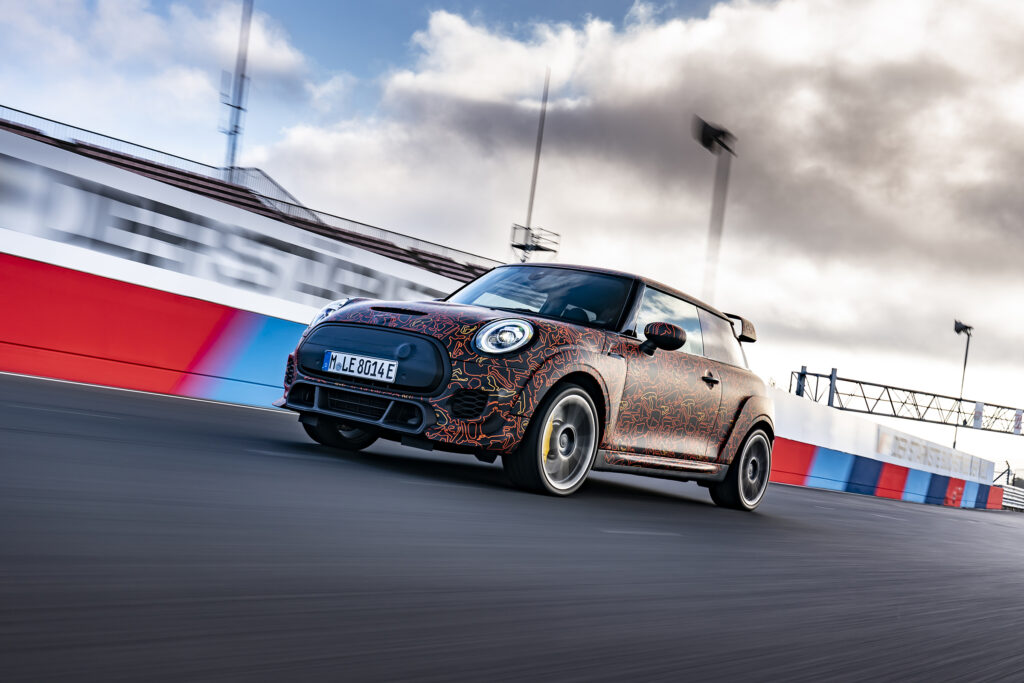 Mini compact crossover – dedicated new EV platform with spawna range of BEV models, including a small crossover in 2023.
Mini Moke – yep, the classic beach mobile has been reborn as an EV. But the open-top fun machine ain't cheap!
Mitsubishi Eclipse Cross PHEV – first plug-in hybrid based on the compact Eclipse Cross. Due later in 2021 it uses the Outlander PHEV's drivetrain.
Mitsubishi Outlander PHEV – second generation of the world's first PHEV SUV due early in 2022.
Nikola Badger – futuristic pickup truck from American-based EV start-up Nikola Motor with plans for an Australian introduction in 2022. However, recent reports suggest the Badger may be dead before it was officially born.
Nikola garbage trucks – the holy grail of early morning rubbish collection is no noise. Bring it on!
Nio ET5 – Chinese brand that leads the way on battery swap tech promises circa-1000km range and Tesla-fighting performance for its mid-sized sedan.
Nissan Ariya – Tesla-fighting mid-sized SUV with the choice of four all-electric drivetrains (2WD and 4WD). Not yet confirmed for Australia and at this stage the earliest we'll see it is 2023.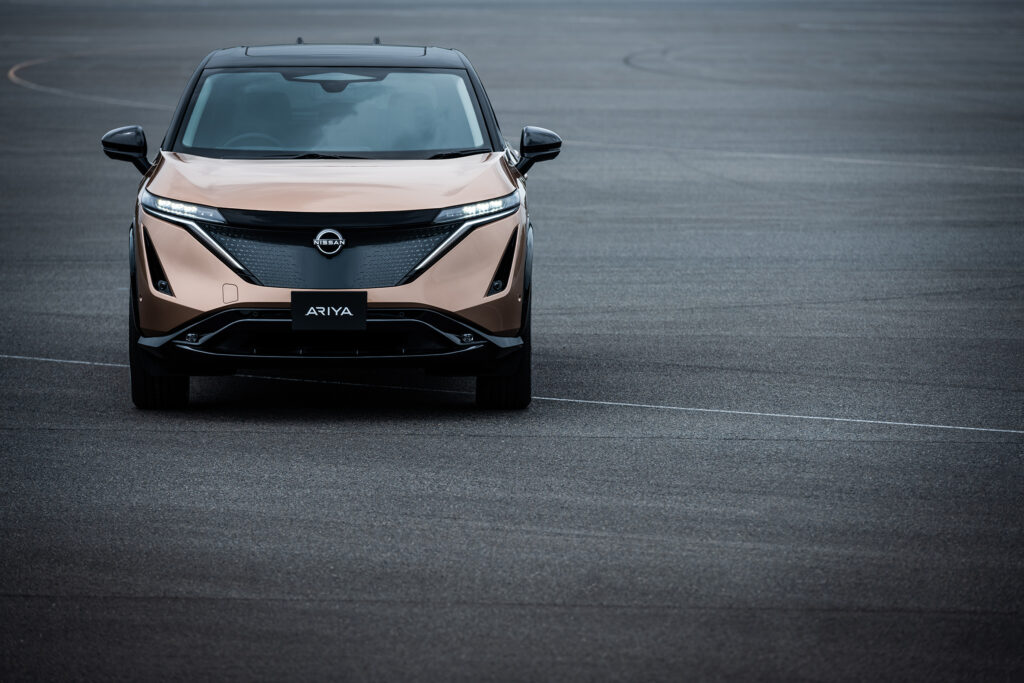 Nissan Leaf – next gen of Nissan's long running EV hatch is set to go more futuristic. But before then there's a mild update due in Q3 of 2022.
Nissa Qasqai e-Power – two-wheel drive version of hybrid system that runs solely on petrol but uses less of it by only using the EV drivetrain to shift the car.
Nissan X-Trail e-Power – expect to hear plenty about Nissan e-Power before a likely 2022 Australian arrival. While it's petrol-only tech, it uses a hybrid system to provide full electric drive, fed by a petrol engine generator.
Nissan Micra replacement – due in 2024, the Europe-focused mini car will only be powered by electricity. It'll also form the basis of models from Mitsubishi and Renault as part of the trio's alliance.
Nissan Patrol e-Power – it's only a matter of time until hybrid propulsion powers the big Patrol, and it's the EV-like e-Power shaping up as the preferred tech.
Nissan Qashqai e-Power – drives like an EV but never needs charging. We'll see a Qashqai e-Power late in 2021.
Nissan Titan EV – enormous American pickup could soon have electric propulsion.
Ora Good Cat, Black Cat, White Cat – GWM-Haval-owned electric car brand is now confirmed for Australia in 2022 with a range of budget-priced city EVs, starting with the Good Cat.
Peugeot e-208, e-2008 – at least one of Peugeot's compact BEVs will arrive Down Under by 2022. e-208 hatch is firming as the early favourite.
Peugeot 3008, 508 PHEVs – plug-in hybrid versions of the 3008 SUV and 508 sedan begin arriving from mid-2021.
Piech EV – Swiss EV start-up founded by the great grandson of Ferdinand Porsche has big plans for a fast-charging and fast accelerating two-door sports car.
Pininfarina Battista – Italian car design giant is planning its own EV supercar called the Battista.
Polestar 2 – Volvo-owned sub-brand has big Tesla-fighting ambitions and has already established a local following, but 2023 models start arriving later in 2022.
Polestar 3 – set to become the second model for the brand Down Under, it's pitched as an "aerodynamic electric performance SUV" and promises to bring high-riding style to the Polestar story when it arrives in 2023.
Polestar 4 – all-new Porsche Macan-fighting mid-sized SUV promises coupe-inspired styling and 600km-plus EV range. Due 2023.
Polestar 5 – what was previewed as the Precept concept will morph into the Polestar 5 in 2024. The Swedish brand describes the big buck, big performance flagship as a "luxury sport GT four-door".
Polestar 6 – stunning folding hard-top hides some clever tech in what could be one of the surprises of the fledgling brand's future.
Porsche Taycan – base rear-drive single motor version of the ballistic Taycan Turbo and Turbo S (there's also a 4S) arrives late in 2021 with a sub-$160K price tag. Updated Turbo models also bring more range and funky colours late in 2021.
Porsche Taycan GTS – to slot between the 4S and Turbo versions of Porsche's first EV, the GTS promises sharper dynamics to ramp up the driving excitement.
Porsche Taycan Cross Turismo – Panamera Cross Turismo thinking on the all-electric Taycan finds another use for that beautiful all-electric drivetrain. There have been delays, but expected in Australia late in 2021.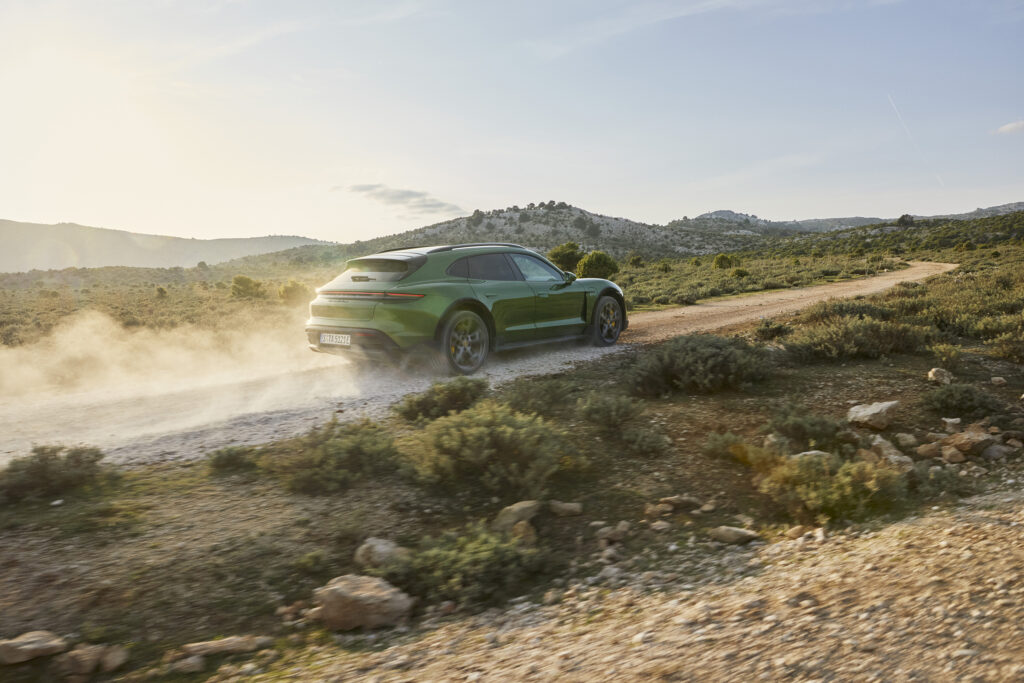 Porsche Panamera Turbo S E-Hybrid – bigger focus on PHEV models of updated Panamera range due early in 2021.
Porsche Panamera Executive E-Hybrid – while it's tempted to focus on the (very) high performance end of the Panamera E-Hybrid family, there will also be more affordable V6 PHEV models, including a long wheelbase badged executive.
Porsche Macan electric – next generation of the baby Porsche SUV is set to make an all-electric statement by ditching petrol power altogether. Expected in 2023, although the current ICE Macan will sell alongside.
Porsche 718 Cayman/Boxster EV – the Mission R is an all-electric race car concept (but one very close to reality) that gives some tantalising clues to the electric future of the 718 Boxster and Cayman. Porsche doesn't want to make the iconic 911 EV electric, but the smaller sporties allow some experimentation.
Porsche EV hypercar – they don't come along often, but when they do Porsche hypercars (think Carrera GT and 918 Spyder) are very special. By 2025 the German brand is set to unleash its first EV hypercar.
Ram mid-sized ute – look out Ranger and Hilux, Ram has you in its crosshairs with an all-new ute designed to take on the masses, EV and all. And it'll ride on a unibody construction.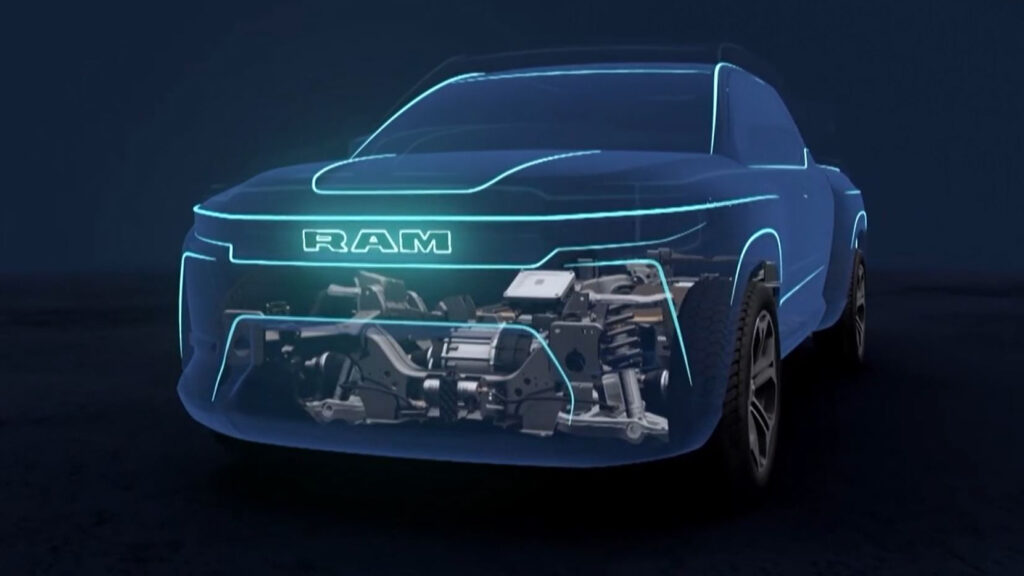 Ram 1500 EV – classic American pickup truck to go EV by 2024, sporting a new electric body-on-frame architecture and up to 800km of range.
Range Rover EV – just-revealed new-gen Rangie will spawn a pure electric version in 2024. PHEV arrives in 2022, along with four new Land Rover PHEVs, including the Range Rover Sport.
Range Rover Velar PHEV – plug-in hybrid version of sporty Range Rover is not on the cards for now. Blame it on the price…
Renault Captur PHEV – plug-in hybrid version of Captur small SUV on the wishlist of a slimmed-down Renault Australia. Could be here in 2021.
Renault 4 – Renault has confirmed it will ensure the 4 lives on "4ever" in an EV world.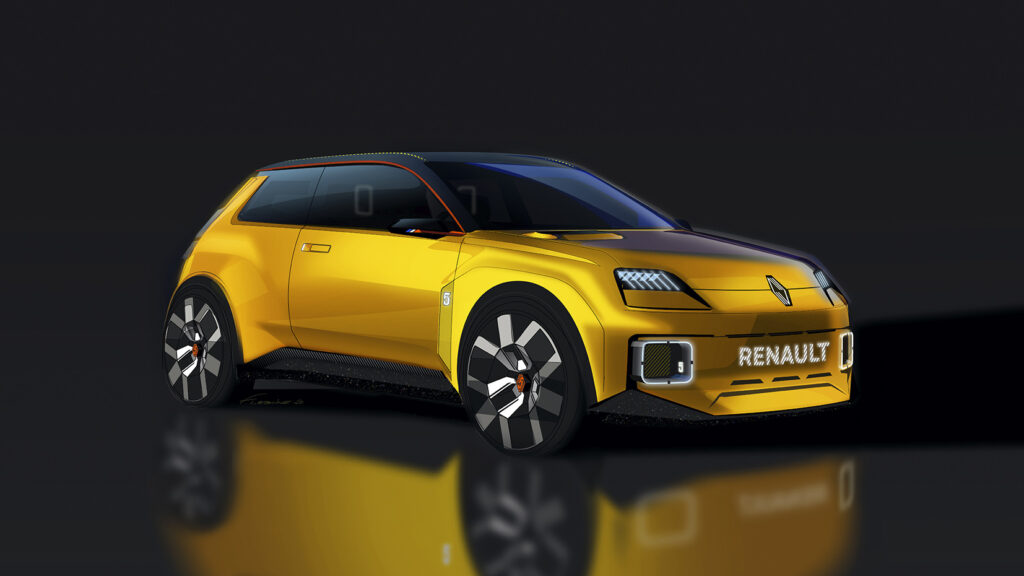 Renault 5 – legendary hatchback set to be revived an a budget-priced EV. The R5 could sell for as low as $32,000 as part of Renault's bold plan to create an affordable EV family.
Renault Megane E-Tech – the production version of the eVision concept is a more traditional (nicely presented) mid-sized SUV utilising the EV architecture of the Nissan Ariya.
Rimac Nevera – what started as the C_Two concept has morphed into the 412km/h Nevera, complete with 1.4MW of power. It continues the crazy work of the Croatian car maker that is also a major component supplier to existing brands.
Rivian R1T – American start-up brand has hundreds of millions of Amazon dollars behind it, so expect big things! And it's a big vehicle (or truck) with battery packs up to 180kWh and EV range north of 500km. Right-hand drive is planned but an Australian launch looks to be around 2024 at the earliest.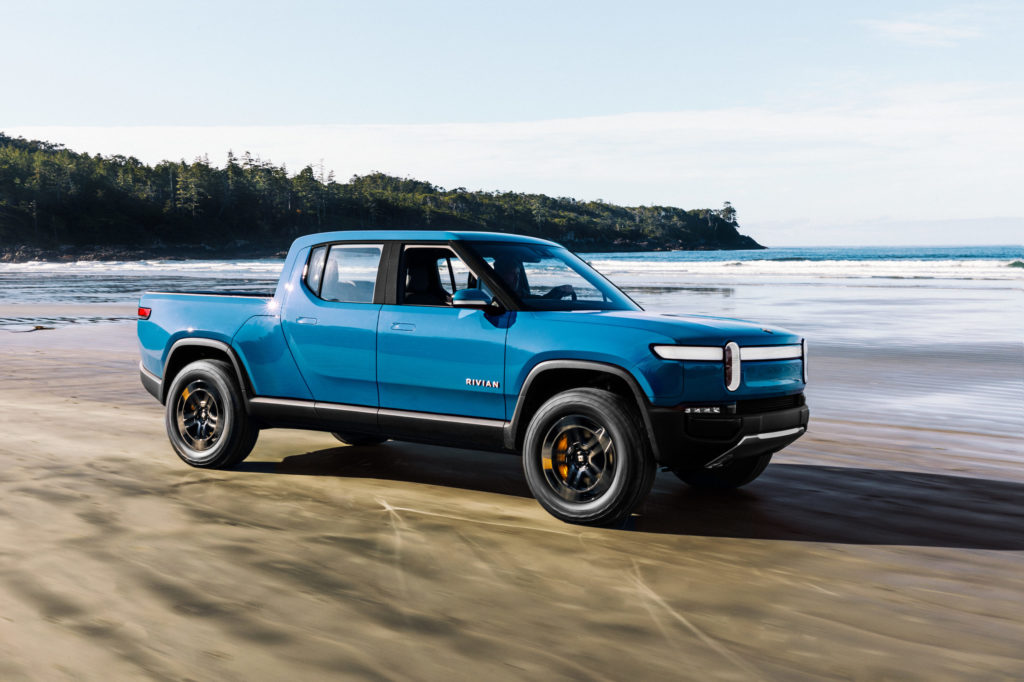 Rivian R1S – uses the electric architecture of the R1T but in an SUV body. 2022 or later.
Rivian R3S, R4S, R5S, R3T, R4T, R5T, R1V, R2X, R1S, R1T, R1X, R1A, R1C, R2A, R2C and R2R – yep, the Rivian range is set to expand in future. OK, so Rivian may not use all those names, but it has been busy registering them (and dreaming big!).
Roev EV conversions – Aussie company Roev will offer EV conversions of existing Ford Ranger and Toyota Hilux models.
Rolls-Royce Spectre – no brand is as well suited to an EV drivetrain than Rolls-Royce. Refinement and effortless torque should nicely evolve the uber luxury brand when the Spectre arrive late in 2023. RR has also committed to going wholly EV by 2030.
Scout SUV and pickup truck – classic 1960s/70s brand originally started by tractor maker International Harvester will be born again by new owner Volkswagen. It'll beginning producing EVs from 2026.
Skoda Enyaq iV – five model variants and up to 510km of range for first Skoda BEV, the Enyaq mid-sized SUV that shares its underpinnings with the Volkswagen ID.4. Skoda wants it (badly) for Australia, something that could happen in 2023.
Skoda Enyaq Coupe iV – take the SUV version of the Enyaq and give it a coupe-inspired roofline and you have the Enyaq Coupe, complete with a sleeker look and sporty vRS trim level. Think of it as the Skoda equivalent of the Volkswagen ID.5.
Skoda 2026 electric SUV – previewed as the Vision 7S concept, the Czech brand's sleek SUV is aimed at families who need a large SUV.
Sono Sion – affordable and EV have often been mutually exclusive, but newcomer Sion says it will soon begin selling a solar electric vehicle built to a budget.
Smart EV – once known for microcars, Smart is thinking bigger and has a compact SUV on its early hit list. Shown as the Concept #1, it's not currently on the hit list for Australia, which is a shame because it looks sharp.
Sony Vision-S 01 – electronics giant has been coy about its plans to build an EV, but there's enough action to suggest the car now known as the Vision-S 01 may be more than a rolling tech showcase.
Sony Vision-S 02 – any respectable model range has to have an SUV, which is what the Vision S-02 is as a sibling to the S-01.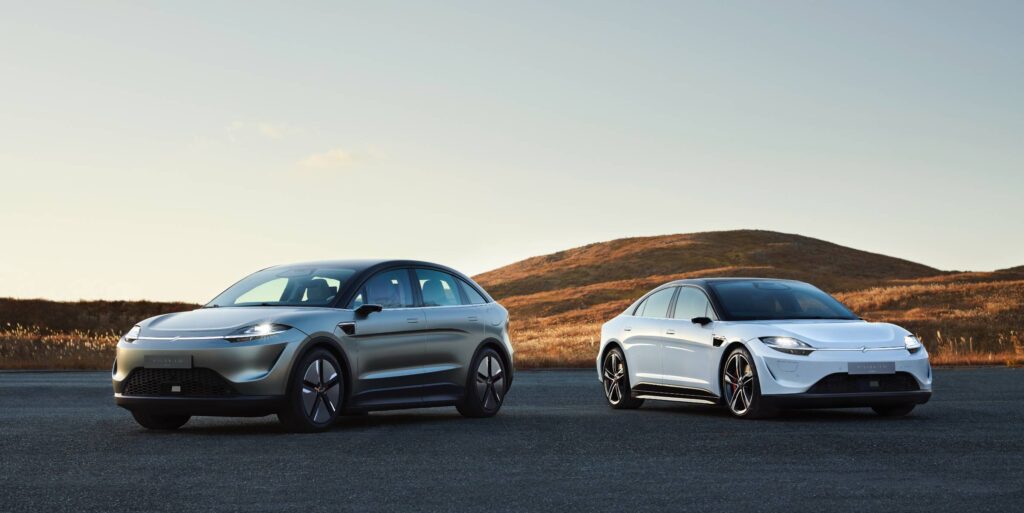 SsangYong e-Korando – first BEV from Korean car maker will use new SUV body.
Subaru Solterra – the first BEV from Subaru is a rebadged version of the Toyota bZ4X. On sale globally in 2022, the Solterra is set to arrive in Australia in 2023.
Subaru WRX STI – the flagship STI version of the WRX will not be replaced and Subaru is looking to electricity to bring the big performance.
Tesla small car – Tesla boss Elon Musk says a circa US$25K small car will hit the market in 2023. Tesla promises don't always come true…
Tesla Model 3 – still the king of EV sales, the Model 3 underwent a 2022 update. Since then there have been price rises and the removal of some equipment, including the Long Range's 19-inch wheels (it now shares 18s with the entry-level Rear-Wheel Drive).
Tesla Model Y – all-electric Model 3 thinking in a higher-riding SUV body. Due some time, possibly late 2021 (although Tesla's Australian website still won't allow people to place orders). Tesla has even promised a seven-seater Model Y.
Tesla Model S Plaid – high-performance tri-motor version of Model S promises big things and plans to tackle the Porsche Taycan. Due in Australia late in 2022, but delays have already kicked in. A wilder Plaid+ was also promised but has since been dropped.
Tesla Model X – half a steering wheel, no gear selector and no indicator stalk set to make the look-at-moi Model X even more radical. Three-motor Plaid due, too. Due Down Under very late in 2022.
Tesla Cybertruck – radical all-electric pick-up to take on the hulking Americans (Ram, Chevrolet Silverado and Ford F150). No word yet on when it could arrive Down Under, although $150 deposits are already being taken. Think 2023 at the earliest, especially as production has now been pushed back until 2023 (again, at the earliest).
Tesla Roadster – the spiritual successor to the original Tesla Roadster promises immense acceleration (0-100km/h in 2.1-ish seconds). But its trip to showrooms will be more glacial; think 2023 or later.
Toyota bZ3X – Tesla-fighting EV sedan is for now aimed at the Chinese market.
Toyota bZ4X – production model confirmed to be FWD and AWD in a body slightly larger than a RAV4. Confirmed for Australia but it's been delayed until 2023.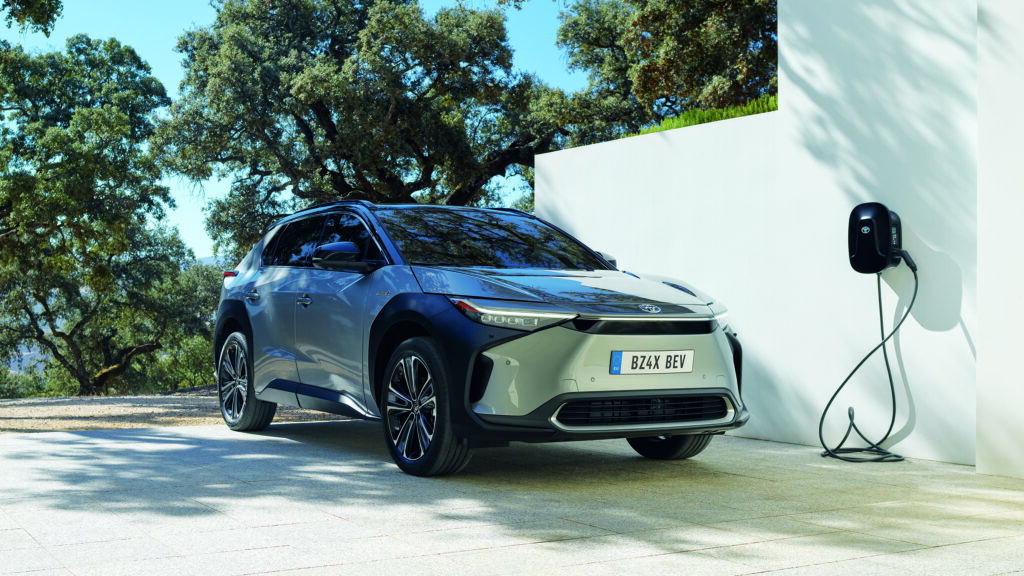 Toyota bZ compact SUV – an all-electric version of the C-HR compact SUV is taking shape as a concept.
Toyota Hilux EV – it was only a matter of time… Toyota has already committed to an EV ute that could end up wearing the Hilux badge. It's one of at least 15 new BEVs the brand has promised by 2030.
Toyota Hilux hybrid – Toyota NZ has previously talked of a mild hybrid Hilux as early as 2021. That hasn't happened, but a hybrid version of the popular ute is all but gauranteed in the shift to electrification, with a full hybrid (possibly diesel) likely around mid- to late decade.
Toyota Corolla Cross hybrid – SUV body on Corolla underpinnings and with hybrid tech makes for another addition to the Toyota family. Arriving in the second half of 2022.
Toyota Kluger Hybrid – regular hybrid of popular Kluger larges SUV, due early 2020.
Toyota LandCruiser 70-Series – rugged version of the mighty LandCruiser will be converted to an EV as part of a deal with Tembo e-LV. The focus is mining companies but the 70-Series EV could eventually broaden its scope.
Toyota LandCruiser 300-Series FCEV – it's a long way from being confirmed, but Toyota sees hydrogen tech as very relevant to large off-roaders such as the LandCruiser. Set to be based on the new 300-Series LandCruiser, there will also be a hybrid.
Toyota LandCruiser 300-Series hybrid – Toyota dominates sales of hybrid vehicles so it's no surprise the LandCruiser is on the future wish list. It'll likely be after 2025 and could be a diesel hybrid.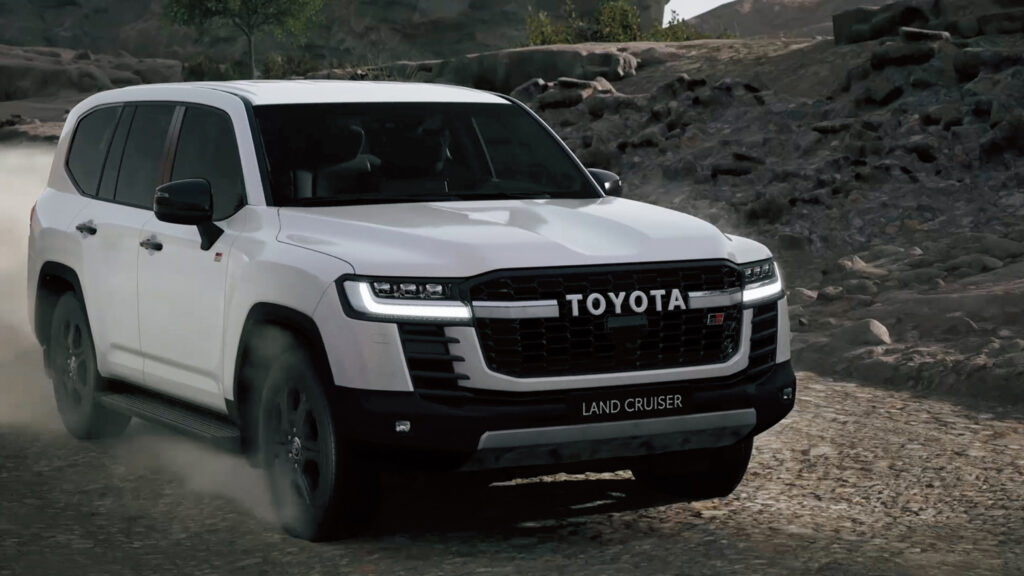 Toyota Prado hybrid – if it happens to the Hilux then it'll happen to the Prado. No surprises that a Prado hybrid should come in future, likely 2025 or later.
Toyota Mirai – 20 versions of second generation hydrogen fuel cell (FCEV) arrive in Australia early in 2021. Expect more further down the track.
Toyota GR Super Sport – a hybrid hypercar based on Toyota's triple Le Mans 24 Hour winner to take on the world's sports car elite.
Vanderhall Edison 2 – quirky three-wheeler with EV option slated for Australia by late 2021. Expect very low volumes.
VinFast VF5, VF6, VF7, VF8, VF9 – five new electric SUVs from Vietnamese start-up that purchased the Holden proving ground. Expect the VF5, VF6 and VF7 first, starting in 2022.
Viritech Apricale – the latest promised zero emissions hypercar will be powered purely by electric motors but fed by a hydrogen fuel cell. Only 25 are planned.
Volcon Grunt – fancy an electric motorbike that can drive underwater? The Grunt is your weapon…
Volkswagen Amarok hybrid – an all-new Amarok (developed in conjunction with Ford) arrives early in 2023 and Volkswagen Australia is hopeful it will eventually have an "alternative fuel option". Educated guesses sugges a hybrid is most likely.
Volkswagen ID.1 – Volkswagen looking to electrification to flesh out the entry-level models in its lineup.
Volkswagen ID.2 – compact EV locked in for 2025 and previewed as the ID.Life concept. While ID.3 and ID.4 are rear-wheel drive, the ID.2 showcases a front-drive version of VW's modular MEB platform.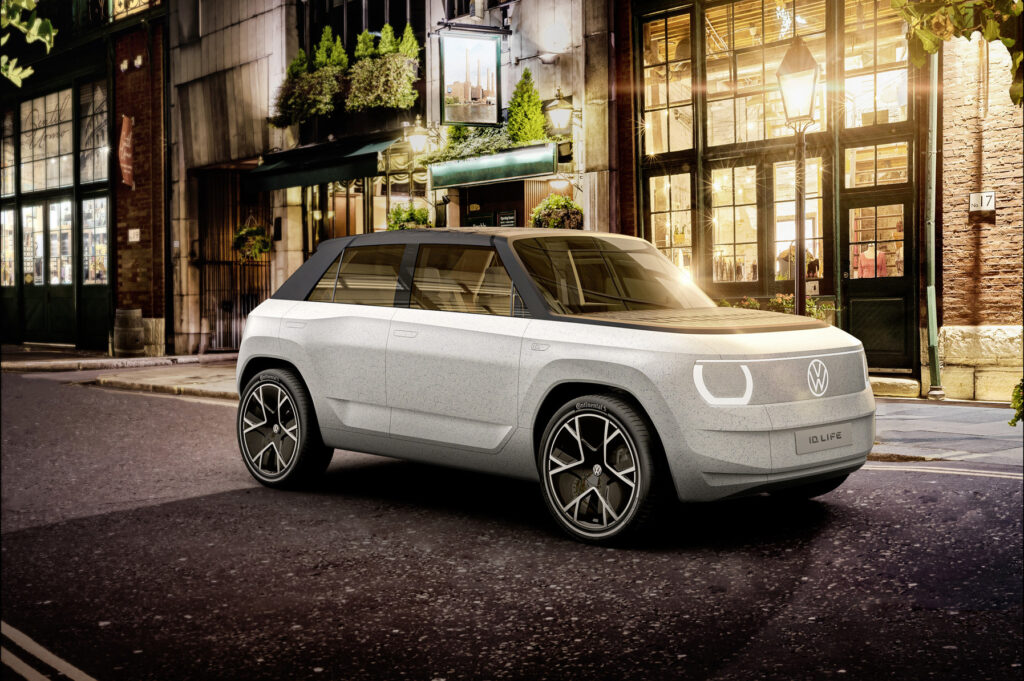 Volkswagen ID.3 – Golf-sized all-electric hatch, 2023 at the earliest (but very much a TBC for Australia – ID.4 far more likely).
Volkswagen ID.4 – mid-sized all-electric SUV due 2023 at the earliest. VW Australia desperately wants it, but it's hot property around the world, so securing supply is an early challenge. There's also a sportier ID.4 GTX in the works.
Volkswagen ID.5 – coupe-inspired SUV body utilises the bones of the ID.4 to add some visual bling at the expense of cabin space.
Volkswagen ID.6 – seven-seat SUV being primed for overseas markets for 2021, but don't hold your breath for Australia.
Volkswagen ID.Buzz – the legendary Kombi has gone electric. Sharing the MEB architecture of other VW ID models, the ID.Buzz adds just the right amount of retro to a modern-looking people mover; there's also a van version called the ID.Buzz Cargo.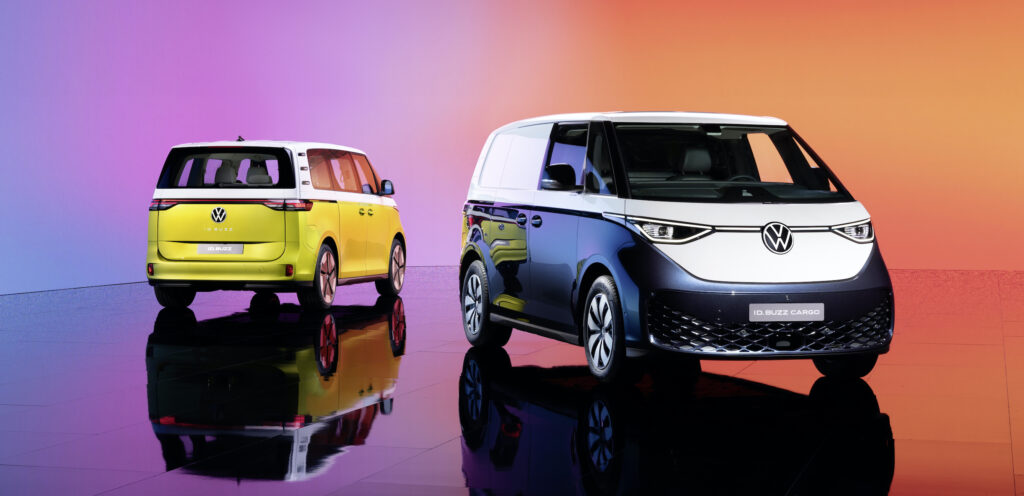 Volkswagen ID.8 – new large electric SUV is set to sit at the top of the ID all-electric sub-brand to provide Touareg-like space. Due by 2025.
Volkswagen e-Amarok – all-electric version of Amarok ute under development in conjunction with Ford (the two share underbody components), with plans for an arrival by 2027.
Volkswagen Multivan eHybrid – PHEV version of the all-new (T7 generation) Multivan moves the spirit of the Kombi one step closer to electric propulsion.
Volkswagen Touareg R PHEV – performance-focused version of large SUV will become the first PHEV from Volkswagen to go on sale in Australia late in 2022.
Volkswagen Project Trinity – it's a while away (2026-ish) but VW has its eyes on the EV highground currently occupied by the Tesla Model S.
Volvo XC40 single motor – more affordable version of Volvo's first EV arrives in Australia mid-2022 with a sharper price tag.
Volvo C40 – it'll be the first Volvo offered only as an EV and the first not available with leather in Volvo's journey to be all-EV by 2030.
Volvo XC60 – next gen 2024 model to go pure EV.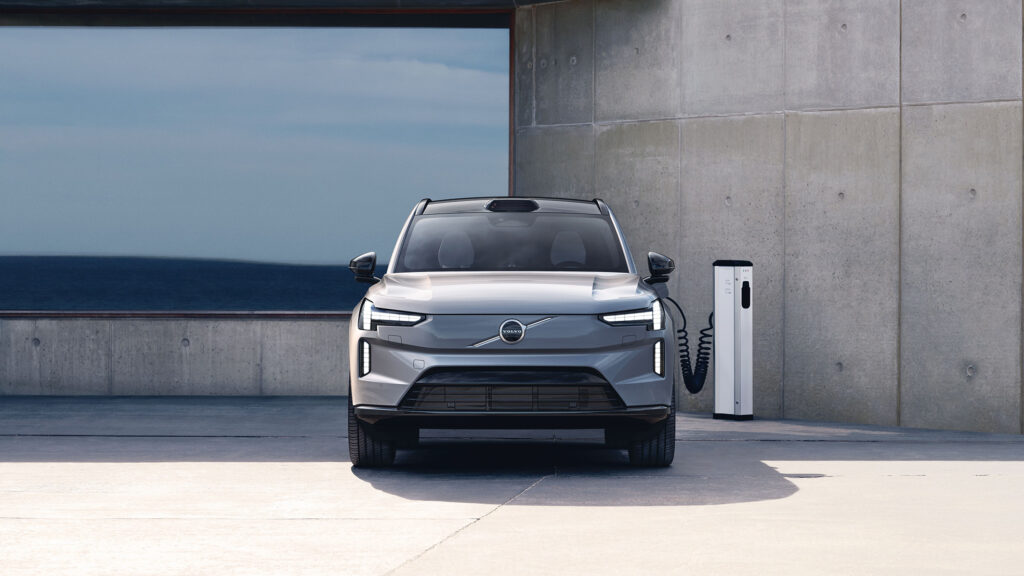 Volvo EX90 – stepping in for the XC90, the EX90 brings seven-seat space and a new EV architecture. It'll arrive in Australia in 2023.
Volvo wagon – yep, it's going EV too…
Zeekr 001 – Geely-owned EV brand has big plans and the 'shooting brake' 001 kicks things off.