2024 Genesis GV60 Lux review: Is this mind-bending small electric SUV really worth all this money?
For a relatively new brand to our shores, Genesis dropping a compact electric SUV at well over $100,000 on the road is a confident flex.
Similar in size to a BMW X1, this GV60 Lux unquestionably bubbles over with fancy features and prestige finishes, and offers a level of exclusivity so absent with the now ubiquitous (but far cheaper) Tesla Model Y.
In the metal the GV60's a rather low slung, compact looker. Certainly not as imposing or visually arresting as the majority of Genesis offerings where giant grilles, giant proportions and giant blingy rims are the norm.
Based on Hyundai's E-GMP EV architecture, it's a dual motor all-wheel-drive offering 234kW and 605Nm. Range is 470km (WLTP) thanks to its 77.4kW battery.
This setup is shared with dual motor versions of the (much cheaper) Hyundai Ioniq 5, Ioniq 6 and Kia EV6.
But the Genesis GV60 distances itself from its mainstream brand cousins with an over-indulgence of luxury and talking points…
It's brimming with incredible features
Good grief the cabin of this thing is mind-bending.
The centre console hosts a 'Crystal Sphere' drive selector. On entering the car, this orb glows like an intricately weaved electrical hob (if you choose orange/red as your ambient light). Turn the car on and this entertaining sphere rolls around to reveal your drive-by-wire gear selector.
Okay GV60, you have my attention.
Ambient colours also illuminate the door innards like a city light installation, while looming large in each A-pillar at the dashboard sides are digital screens to replace door mirrors. More on them later.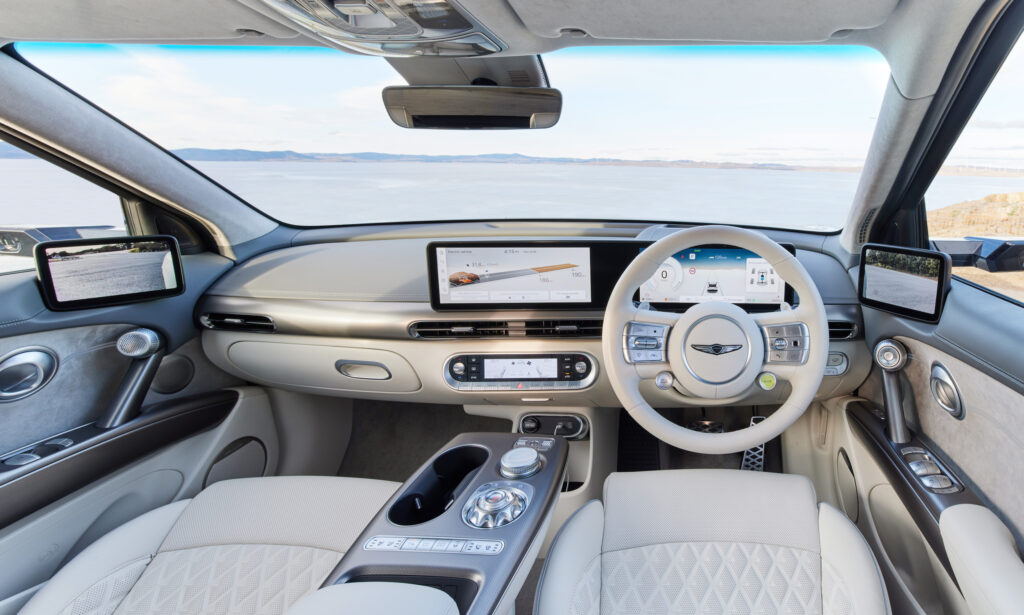 Seats are gorgeous Nappa leather appointed with a quilted pattern, there's suede on the pillars and headlining, while the dash, door trim and console are also slathered in leather.
Our test car certainly feels unashamedly Middle East spec, with Monstera green colour for the dash and door tops, and Glacier white for everything else. Helping the vibe are aluminium trim garnishes, copper stitching and copper accented air vents.
The whole experience oozes indulgent luxury, but if our colour scheme's too chintzy, an Obsidian black cabin's your more introvert pick.
Eighteen (!) way power memory seats are ridiculously comfortable, heated and ventilated (massaging for driver), and you find yourself caressing the Nappa and suede as it all feels so very plush.
Even the sunshade covering the fixed glass roof shows off by opening like theatre curtains.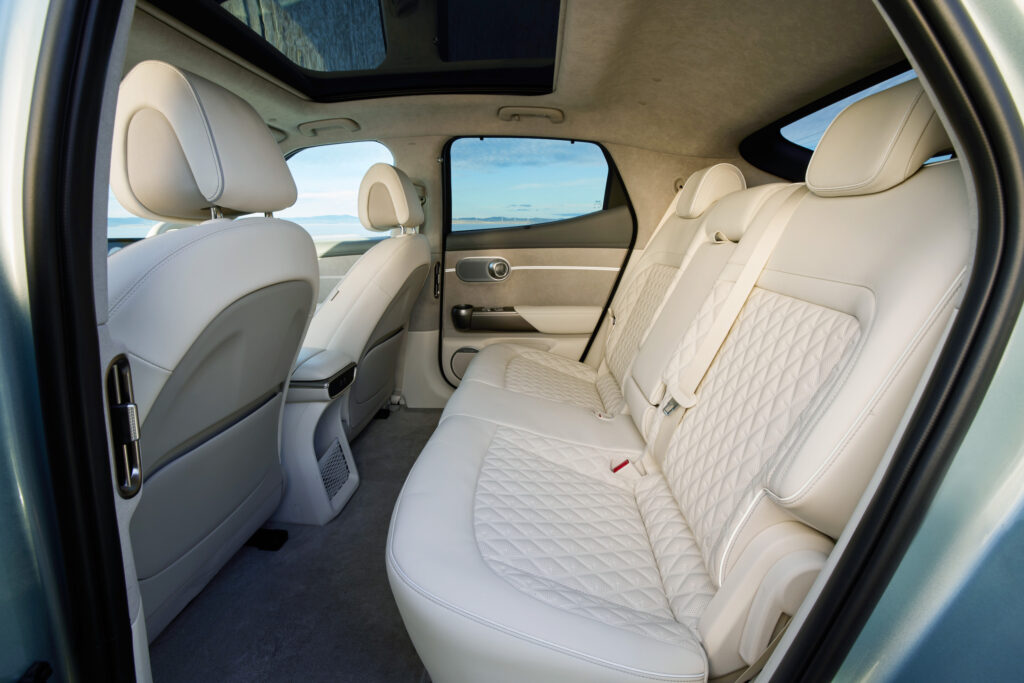 Less wonderful is the sense of space. Compared to the Tardis-like Hyundai Ioniq 5, the GV60 feels more intimate booth than lounge-out boudoir.
The rear seats are deliciously comfy with huge recline and will heat your back and bum, but the GV60's rear leg and head room prove snug for adults. Not what we've come to expect from dedicated EV-platform cars.
There's next-level technology
There's ample theatre with automated flush door handles popping out when unlocking. The charge port door also electrically rises with a gentle tap, while the GV60 can self-park using the smartkey. All neat tricks to show off to friends and family.
A brace of 12.3-inch screens cover your infotainment and integrated digital cockpit with an in-cluster navigation view; there's a giant head-up display with augmented reality navigation and 17-speaker Bang & Olufsen audio (it's belting).
You can start the car by touching your (pre-authorised) fingerprint on a small pad in the centre console. And while our older GV60 didn't yet have the feature, from May this year it introduced Face Connect for "true keyless convenience."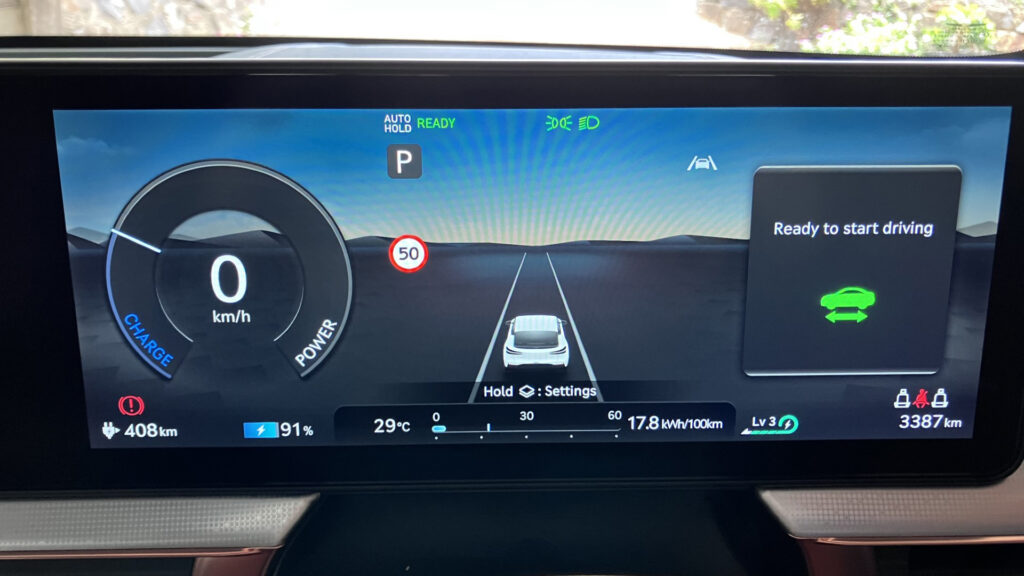 Basically, a camera in the driver's side door trim recognises your mug, unlocks the car and activates personalised seat, steering wheel, mirrors and infotainment settings.
I'm a huge fan of the GV60's V2L (Vehicle to Load) capability, where it provides AC power. There's a household socket under the rear seats (I plugged the Nespresso machine in here), and another on the charge cable, ideal for things like an electric bike. Or beer fridge.
Its advanced 800V electrical system also makes it one of the fastest charging EVs available.
Charge at up to 240kW when using a 350kW/800V chargerand 10-80 percent charge arrives in as little as 18 minutes, this adding more than 300km of range.
Digital mirrors are not the answer
I've given them a chance on the Audi e-tron and the Hyundai Ioniq 6, but it's time to admit digital mirrors are a technology too far.
The Genesis effort is better than Audi's as the screens are large, wide and in the correct place for your eyes to naturally glance for rear views.
But an electric Genesis should be about relaxed driving, surely? On the highway, at 110km/h, your peripheral vision is permanently distracted by the flashing by of other cars, road signs and road markings in those damn screens.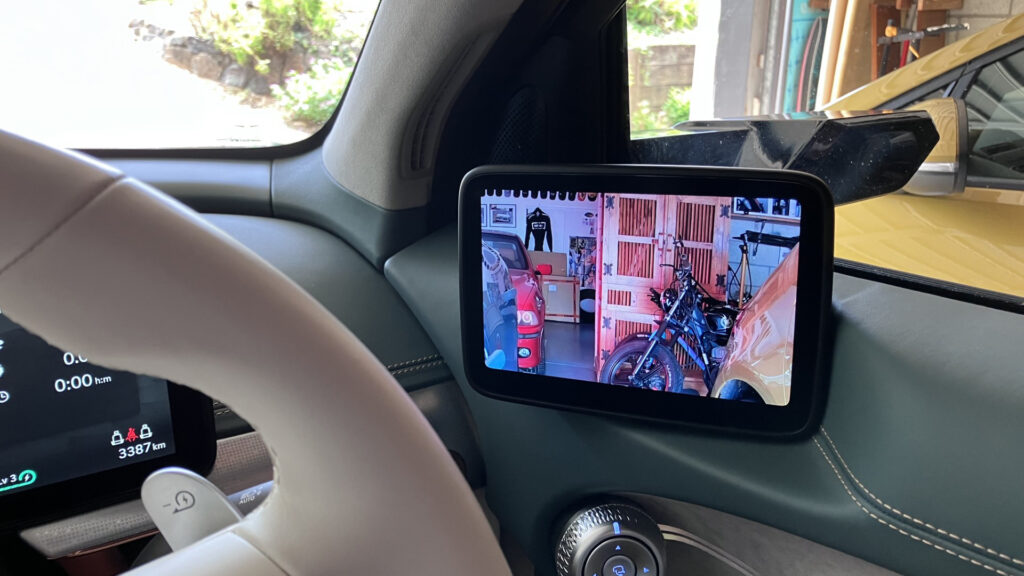 You can never switch off, and it becomes bothersome. These days, real luxury should be about escaping screens.
And what if one malfunctions, or gets knocked off? Not only will it be bloody expensive to repair, but will the car go into limp mode as it deems it illegal to drive without a rear view?
It's good but not great to drive
For more sports-orientated EVs, I see the temptation to go the GV60 Performance model and indulge in more power and faster acceleration.
But the GV60 and all its palatialness feels better suited to quiet, swift progress rather than anything as vulgar as a traffic light Grand Prix.
With its dual motors, all-wheel-drive and 0-100km/h sprint time of 5.5 seconds, there's really no need for more. The GV60's rapid off the mark withan instant torque hit, steering's light and easy, while overall cabin serenity in town and at speed is marvellous.
But ride quality at times just doesn't quite befit its luxury leanings. I was expecting the ultimate in refinement, but on poorer stretches of road it would feel jittery rather than effortlessly smoothing out the rough stuff.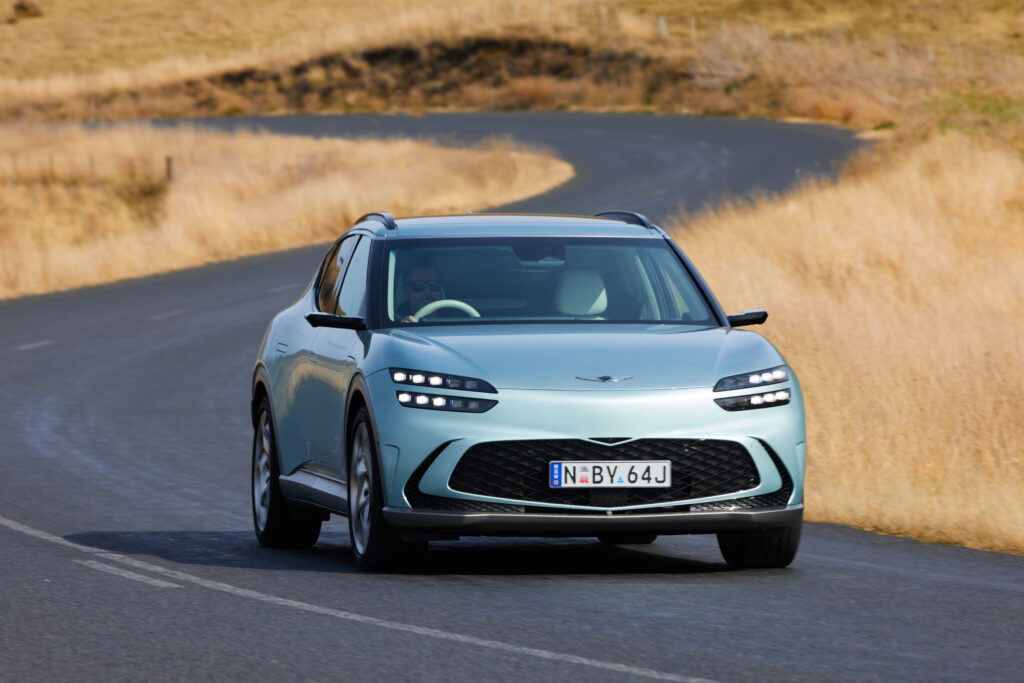 The pricier Performance grade features adaptive Electronic Control Suspension where it scans the road ahead to arm itself for the required damping. Perhaps this should be a separate cost option?
Handling and balance are impressive without the GV60 ever feeling properly fun, and it doesn't take much for this heavy (2160kg) SUV to get its tyres tweeting. Keep things smooth and sensible and this Genesis is at its best, and progress can still be rapid.
After over 1000km of testing the energy use was 18.1kWh/100km – below the official figure. Once again, Genesis and Hyundai prove they are probably the most reliable when it comes to accurately sticking by their range claim.
There's the cost issue…
Our Genesis GV60 Performance review can be found here, but this GV60 Lux is the $7000 cheaper pick for those who don't need their luxury small SUV to hit 100km/h in four seconds flat.
The GV60 Performance has a mighty 360kW/700Nm on tap, but you're looking at around $123,000 drive-away. That looks silly when a combustion luxe-dripping range-topping Genesis GV80 large SUV costs less.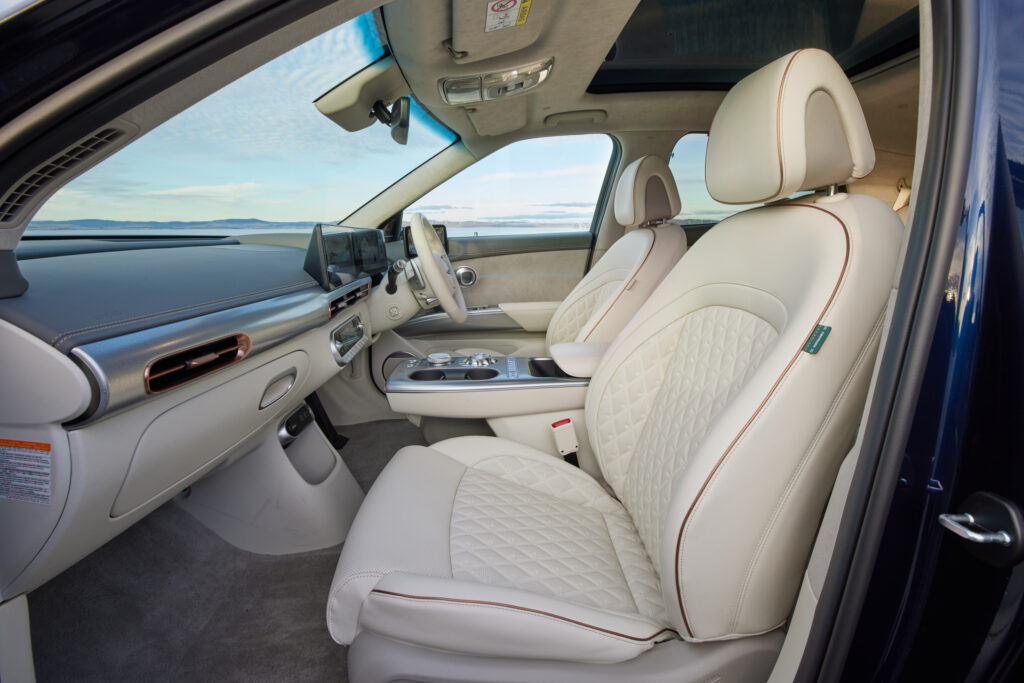 Not that our GV60 Lux is cheap. At around $116,000 on the road it's pricier than a larger BMW iX3 Electric.
Then there's the Tesla Model Y phenom. Also larger, a similar-performance Long Range is about $83,000 on the road, and a rapid Performance about $92,000. A massive price difference versus a GV60.
The Genesis may trump the above for luxury inclusions, but its price is challenging.
Not least when a high-spec dual-motor Hyundai Ioniq 5 Epiq AWD – which shares the GV60's E-GMP EV architecture – is some $20,000 cheaper.
But there's value to be found…
Credit where it's due, in an era of dull-as-hell colour palette choices (see every Tesla), the GV60 has a rather dazzling paintbox to choose from, all for no extra cost.
Ours is fresh-looking Hanauma Mint, while there's a burgundy, cooper, dark blue, and bright red to go with the usual monochrome selection.
You can choose between five years of complimentary Chargefox public charging, or a free AC wallbox home charger with complimentary installation subject to conditions.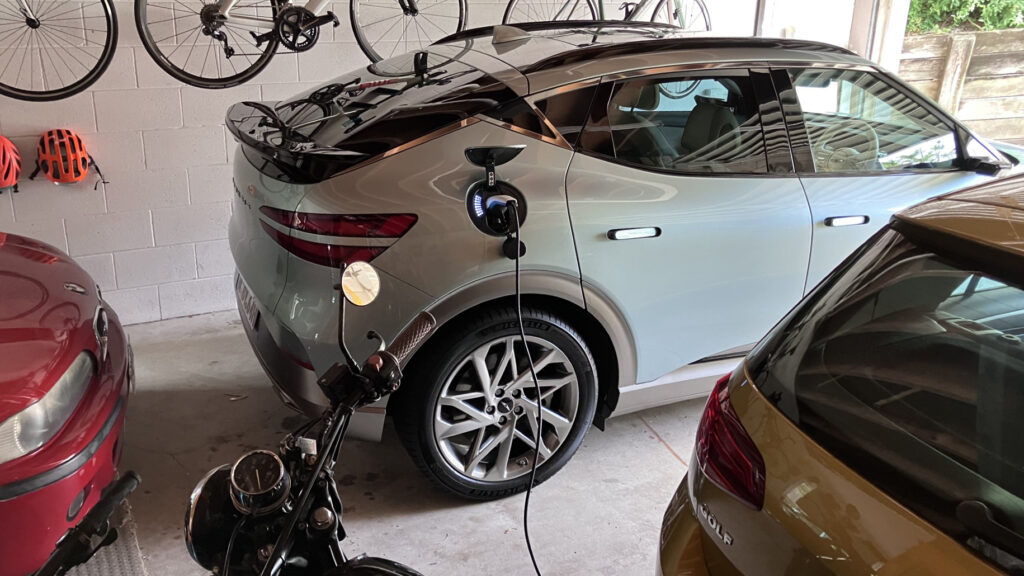 The GV60 comes with a five year/unlimited kilometre warranty, five years complimentary servicing, an eight-year high-voltage battery warranty and 10 years of road-side assistance and map updates.
The bottom line is…
Any small SUV at this price will remain a niche offering, but the GV60 revels in such exclusivity.
A spectacular luxury cabin and outrageous high-tech kit blend with a proven platform to deliver an EV that's a joy to live with.
It's too much money, but what a wonderfully flippant way to spend.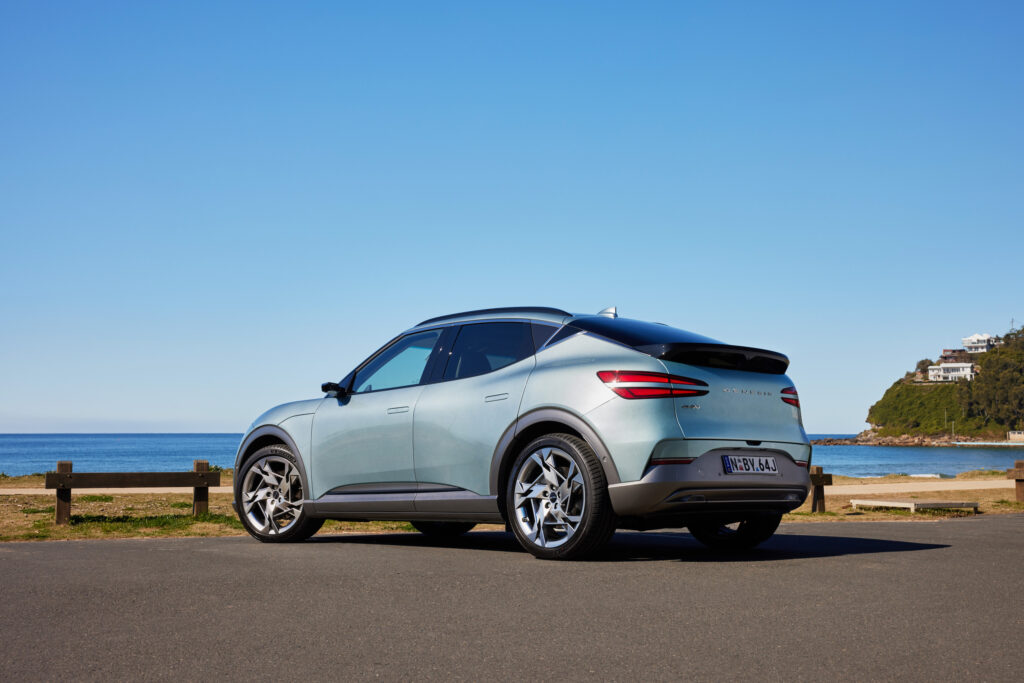 Genesis GV60 Luxury specifications
Price: $106,370 plus on-road costs
Basics: EV, 5 seats, 5 doors, SUV, AWD
Range: 470km (WLTP)
Battery capacity: 77.4kWh (74kWh usable), WLTP
Battery warranty: Eight years
Energy consumption: 18.8kWh/100km
Motors: 1 front, 1 rear, 234kW/605Nm
AC charging: 10.5kW, Type 2 plug
DC charging: 240kW, CCS combo plug