Kia EV6 GT Review: Is this the first great EV performance car?
The Kia EV6 has been one of the most important battery electric vehicles to arrive in Australia, gaining both critical and sales success in the process.
Now 12 months on, the Korean manufacturer has introduced a performance flagship to the line-up.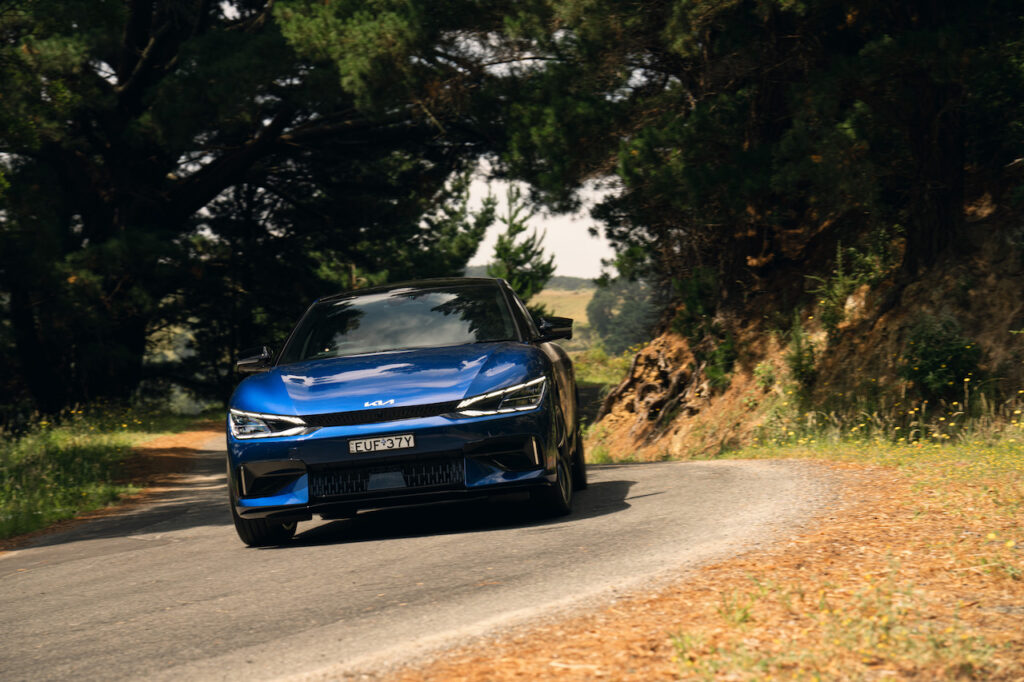 The EV6 GT is a large all-wheel drive five-seat five-door hatchback that's officially classified as an SUV, has the performance capabilities of a supercar, impressive local chassis tuning and a sub-$100,000 price.
READ MORE: Kia "most probably" to be EV brand; 7 EVs from EV1 to EV9
READ MORE: $90K-plus Kia EV9 coming in 2023 with 7 seats, two battery capacities
Could it be the performance EV we've all been waiting for? Let's check it out.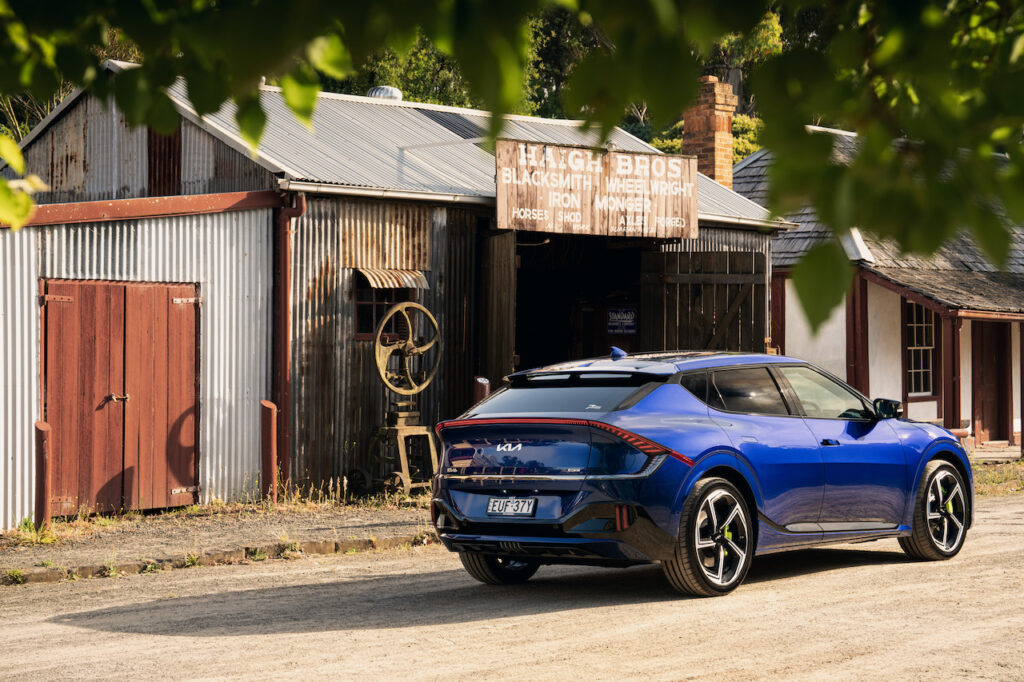 Value
The EV6 GT will cost you $99,950 plus on-road costs, making it the most expensive Kia ever sold in this country.
But you could pay tens if not hundreds of thousands more for the performance it delivers from its 430kW/740Nm dual electric motors (incidentally, for the performance enthusiasts, those outputs are identical to that of the HSV GTS that used a 6.2-litre supercharged V8 engine when it launched in 2015).
For instance, it dashes from zero to 100km/h in just 3.5 secs (a lot quicker than any HSV!). That's four tenths faster than a $514,200 Bentley Bentayga Speed luxury SUV. Come closer to its EV heartland, it's also faster than the $197,200 than the Porsche Taycan 4S.
Anyway, we'll come back to the performance aspects of the EV6 GT further along. For now, let's consider what else you get for your money.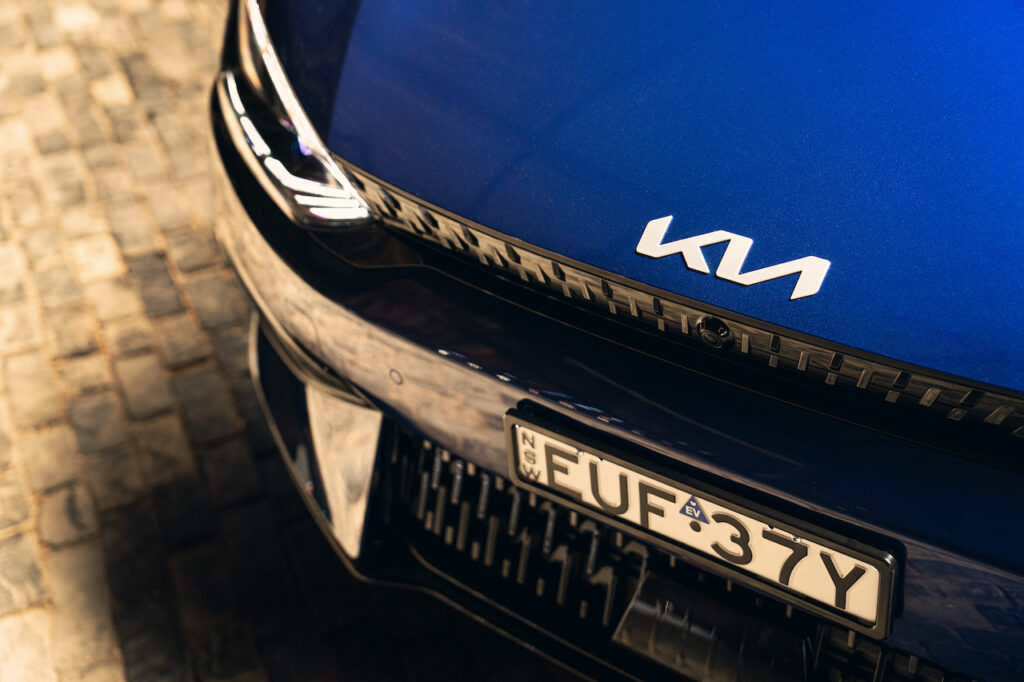 The GT sits above the Air and GT-Line in the EV6 line-up. Equipment exclusive to the GT includes a unique bumper, 21-inch alloy wheels, matrix LED headlights and artificial leather and suede trim for bespoke heated one-piece sports seats.
However, proving it's not all one-way traffic, the GT sports seats don't have ventilation and power adjustment.
Equipment the GT shares with cheaper EV6s includes a dual 12.3-inch digital instrument panel and touchscreen that dominate much of the dashboard.
Also, standard are cabled Apple CarPlay and Android Auto connection, wireless phone charging, four USB-C and one USB-A connectors spread through the cabin, embedded sat-nav, dual-zone climate control and a power tailgate to access the substantial 480 litre boot.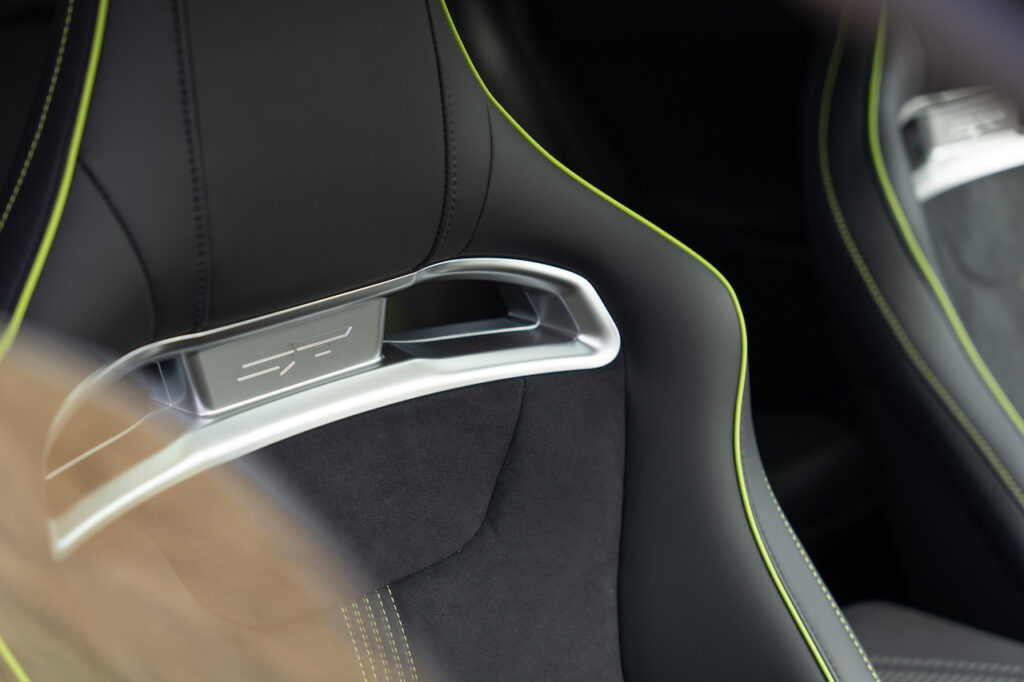 You won't find a spare tyre under the boot floor and the Michelin Pilot Sport 4S rubber is not run-flat. Good luck with all that on Australia's horrid roads.
The EV6 GT is available in five colours but only Runway Red avoids a surcharge of at least $520.
The EV6 GT comes protected by Kia's substantial seven-year/unlimited kilometre warranty. Its battery is covered by a seven-year/150,000km warranty.
It has a capped price program to cover its scheduled servicing. Intervals are 12 months/15,000km and it will set you back $733 over three years, $1371 over five years and $2013 over seven years.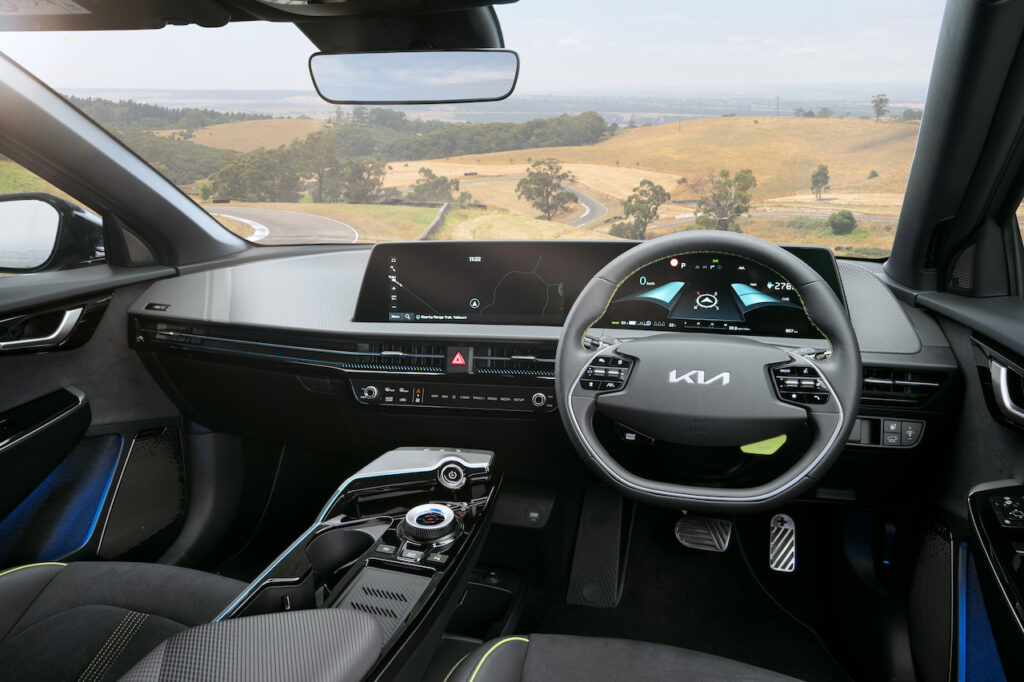 Interior
Like the rest of the EV6 range, the Hyundai Ioniq 5, the Genesis GV60 and many more battery electric models to come, the EV6 GT is based on a platform dubbed E-GMP.
So that means the GT has a long 2900mm wheelbase so its large 77.4kWh lithium-ion battery pack can fit between the axles and a flat floor because there's no need to route things like exhausts from front to rear.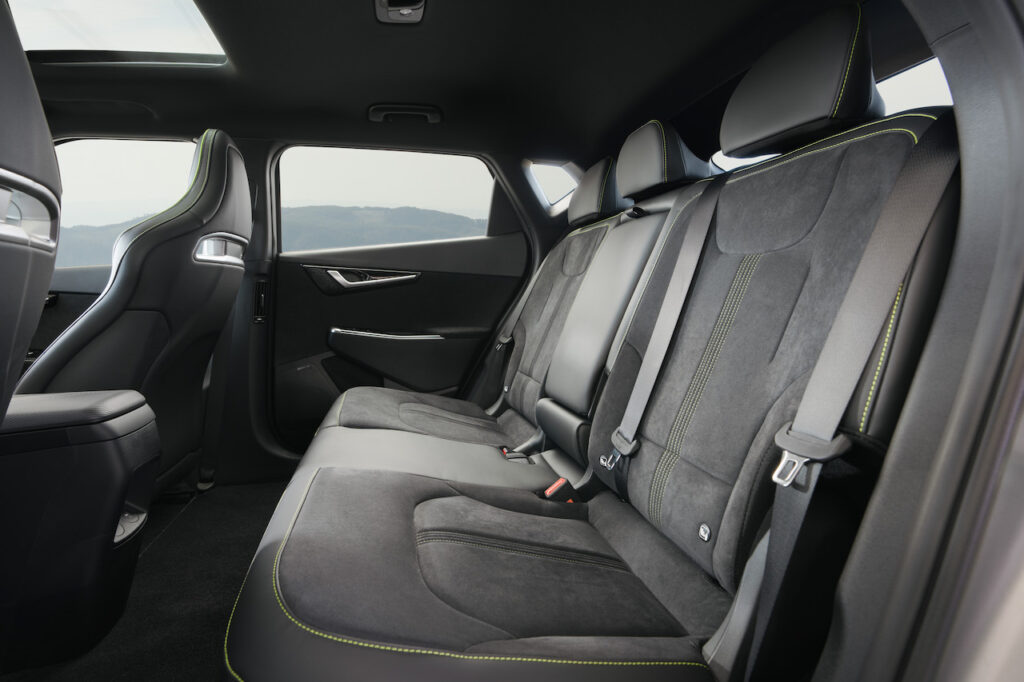 The result is a comfortable and commodious interior that is generously sized for both front and back seat passengers.
Apart from those huge screens and single piece seats, the cockpit of the car is defined by a diving board-style centre console with significant storage area underneath, an unusual twin-spoke steering wheel (most cars have wheels with at least three spokes) and a dark trim with GT-specific neon-green piping.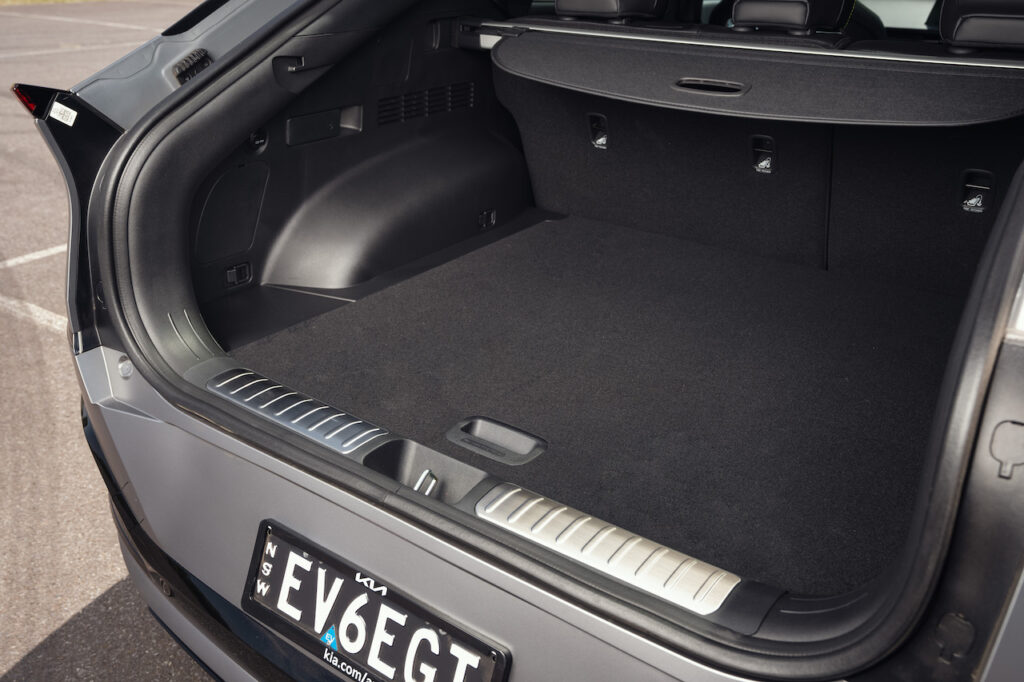 Physical buttons are retained for audio and climate controls, although you do have to toggle between the two as they share the same panel.
Storage is decent up-front but less generous in the rear where the single piece seats eschew seat pockets.
The rear seats do fold down, allowing the boot space to expand to 1260 litres. A front trunk – or frunk – adds 20 litres of stowage.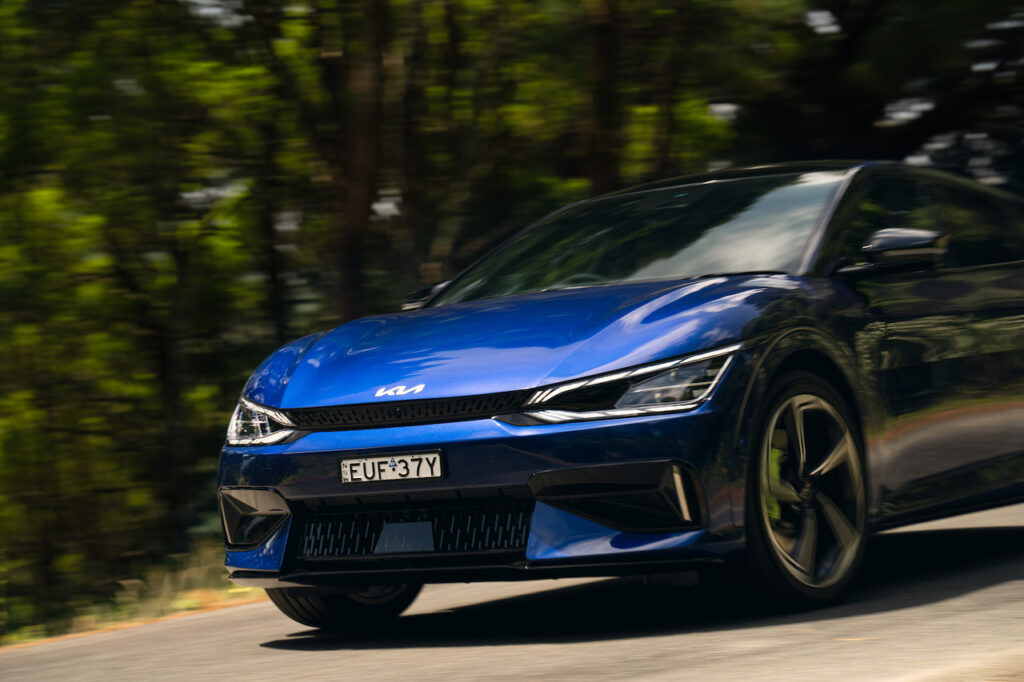 Performance and efficiency
The EV6 GT's outputs make it the most powerful Kia production model ever sold.
The key to its added performance compared to the GT-Line is a more powerful rear e-motor which alone contributes 270kW and 390Nm to the mix. The front e-motor adds 160kW and 350Nm.
Drive is transferred to all four wheels via a single speed automatic transmission, aided by an electronic limited slip differential at the rear.
Note that the full power is only delivered in GT mode and then only with battery at least 70 per cent charged. Normal and Sport make do with 343kW while Eco reverts predominantly to only the rear motor and offers a maximum 214kW.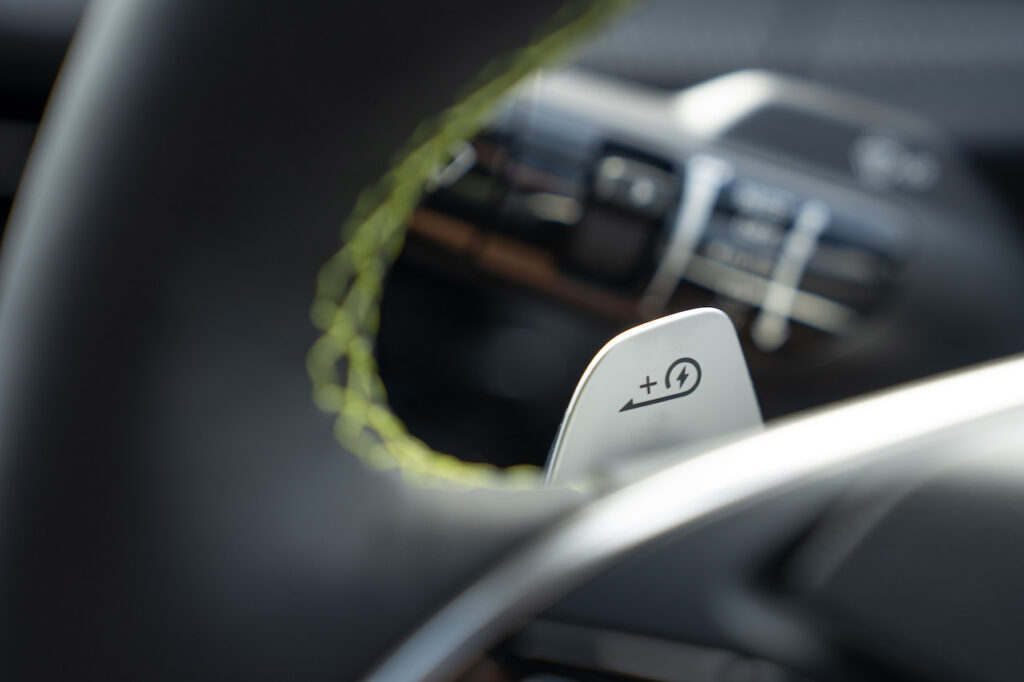 Charging
The EV6 GT's E-GMP platform includes an 800V electrical architecture, which means it has the theoretical capacity to charge at rates up to about 230kW at a suitable DC fast charger.
That means a 10-80 percent charge can be achieved in a claimed 18 minutes. That's a best-case scenario of course. Home charging from 10 to 100 per cent at a max 10.5kW AC rate equates to seven hours 20 minutes.
The EV6 GT can recharge regeneratively on the run and the driver can influence the level via paddles on the steering wheel. At minimum there is virtually no brake effect when you lift off. At maximum you can single pedal drive, which means rarely if ever having to use the brake pedal.
As the performance flagship of the EV6 range, it's no surprise the GT has the highest consumption claim at 20.6kWh/100km and the shortest range at 424km (both claims are WLTP).
The EV6 GT also offers a vehicle-to-load (V2L) function that means it can recharge devices such as laptops and even other EVs from its battery pack.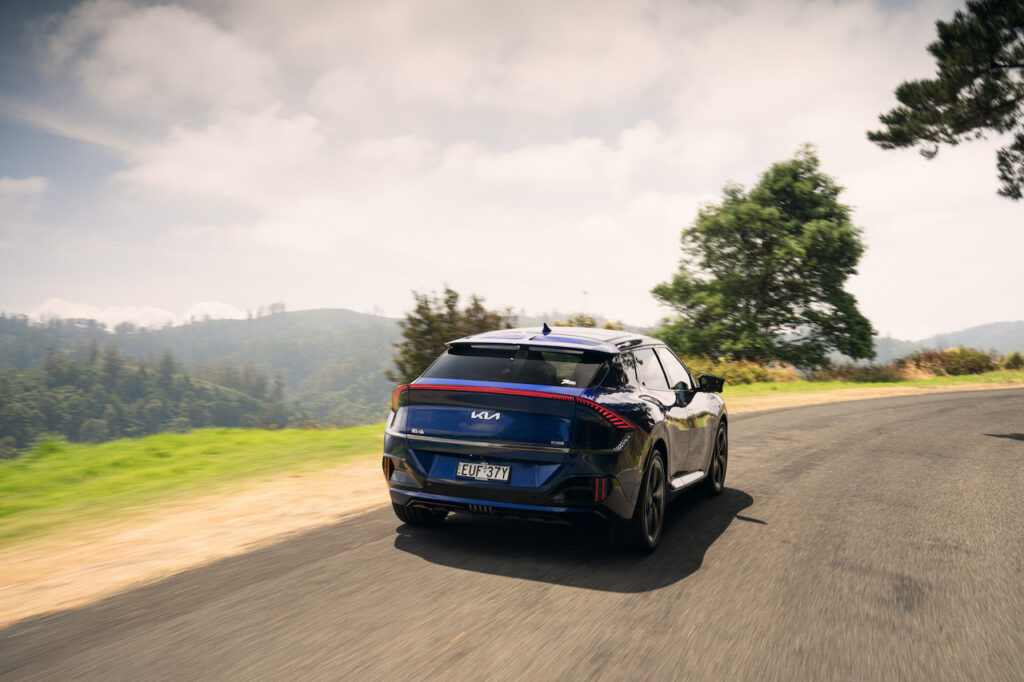 Ride and handling
Reflecting its performance capability, the EV6 GT comes with bigger mechanical brakes than other EV6 models as well as a stronger regenerative effect. The brakes can be set in normal or sport mode and come complete with neon-green callipers.
The GT also has body bracing, and a unique tune of its electronically-controlled adaptive suspension and electronic-assist variable-gear steering aimed specifically at Australian conditions.
Speaking of which, Kia Australia has prided itself in recent years in developing unique chassis tunes to suit our rough and tough.
Apparently, because this is a small sales volume car, it was a bit of a tough fight to convince HQ in Korea that the local tune should be developed.
Well, be thankful the Aussie team won, because the EV6 GT is a beautifully resolved sporting car to drive. In its thrifty Eco mode it dawdles, in Normal it cruises comfortably, in Sport it gets up and pays attention and in track-focussed GT mode its whip-crack responsive and eager to punch out its full kilowatt count.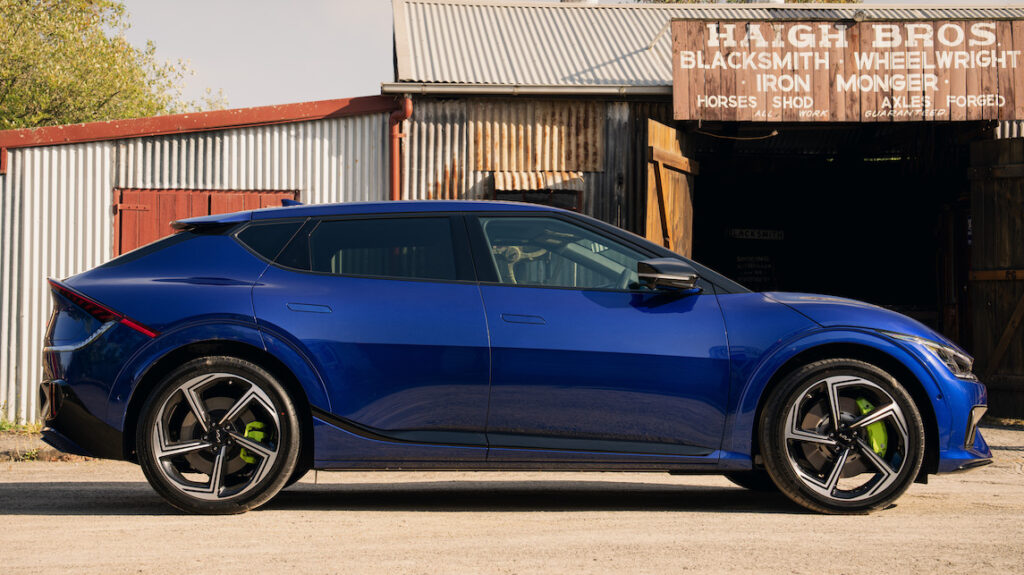 Its super-fast in acceleration response as an EV is meant to be and it has great cornering capability because of its low centre of gravity created by the big and heavy battery sitting so low in the body.
But its beauty is it's not just nailed to the road. There's compliance built into the body and the steering that helps you understand the pace it can travel at.
It ranks right up there as one of the best battery electric vehicles to swiftly drive on country roads. Yet it is also refined enough to be cope unpretentiously in snarled city traffic.
All this from a vehicle that is 4695mmm long, 1890m wide and weighs in at nearly 2.2 tonnes. It's a truly impressive achievement.
Of course, being so quiet and lacking the mechanical connection an engine and gearshift delivers, it is not as engaging as some great petrol-powered sporting cars.
But it's certainly more enjoyable to drive than some super-fast EV sleds that are commanding higher price tags at the moment.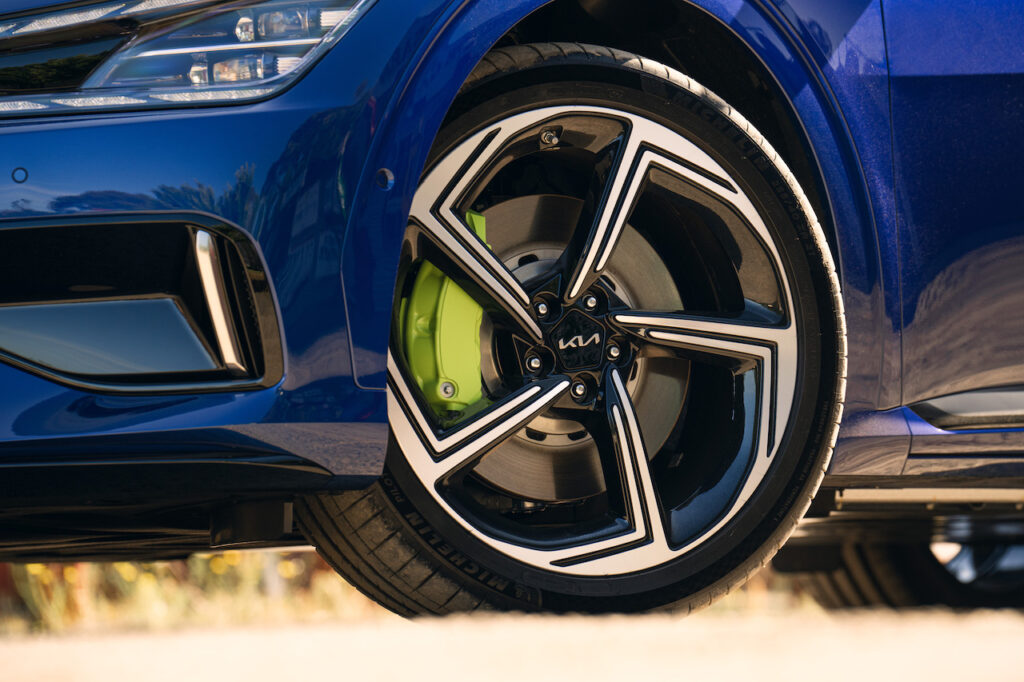 Talking point
For trackwork the Kia EV6 GT includes a drift mode that sends most of the torque to the rear wheels, allowing slideways driving.
Also, on the track when in GT mode and driving hard, the EV6 GT also maximises the regenerative brake effect over the hydraulic brakes, peaking at over 300kW regeneration (something that also preserves discs and pads).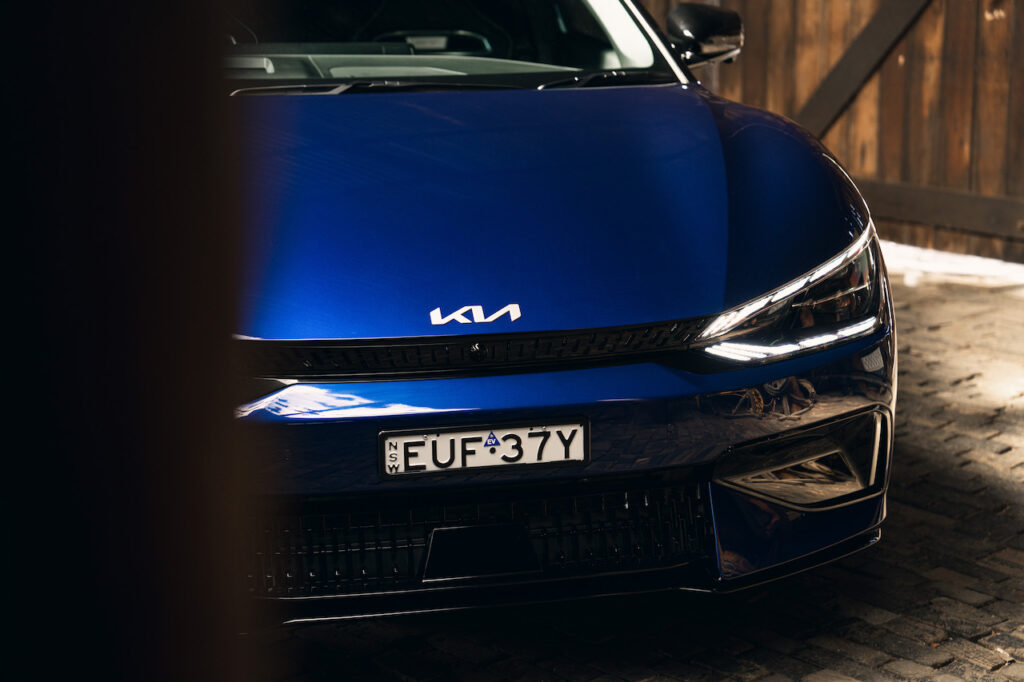 Safety
The swap to one-piece sports seats means the Kia EV6 GT is not rated by ANCAP.
These seats are sculpted to allow helmeted heads to be comfortably accommodated and that redesign would have marked the EV6 GT down from the maximum five stars to four stars.
Lesser EV6 models do get five stars and they would have been dragged down to four stars by the GT, so Kia basically thought that would be a dumb thing to do.
But as the GT is effectively the same construction and has the same safety equipment as the rest of the EV6 line-up, it would be hard to argue it's a dangerous car.
Key safety equipment includes autonomous emergency braking with junction turning and adaptive cruise control. The EV6 GT, has the ability to monitor blind spots, traffic behind you when reversing, keep centred in its lane and advise on tyre pressures.
The EV6 GT comes with six airbags. Because of the sports seats misses out on the front-centre airbag the rest of the range gets.
The GT gets a head-up display, a 360-degree camera, front and rear parking sensors and shows the left- or right-side of the car in the instrument panel depending on which indicator is activated.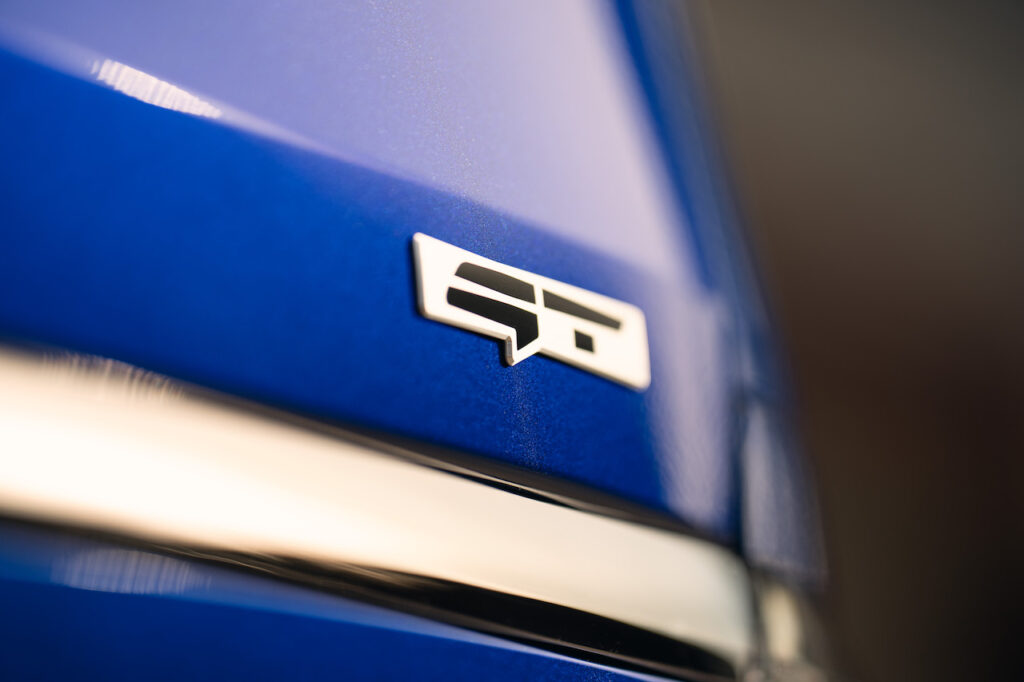 Verdict
Only a fool or the stubbornly recalcitrant would deny the overwhelming need for the wholesale replacement of fossil fuel vehicles by EVs.
In fact, there is absolutely no doubt EVs are more suitable for the the vast bulk of commuter driving most of us do. OK, there are price and availability issues, but the actual driving experience is entirely appropriate.
The problem for some of us has been a yawning chasm when it comes to driving for enjoyment as well as need. The promotion of performance EVs has boiled down to slot-car handling and ridiculous 0-100km/h times.
But emotionally satisfying driving is about so much more than that.
The all-encompassing feel, the holistic 360-degree experience a great ICE vehicle provides cannot be replicated by an EV because it does not have an engine, a gearbox and the sound, fury and foibles they deliver.
Drive a Porsche 911 and Taycan back-to-back to get what I mean. The Taycan is impressive, the 911 is immersive, challenging, engrossing, intoxicating.
The point of this ramble is this; the EV6 GT is the closest a performance EV has come to be that sort of experience. It moves, it reacts, it conveys, it demands your attention and rewards it. And that's before you add in pricing that adds up better every time you go for a drive.
For me, it's this simple. The Kia EV6 GT is the closest any car manufacturer has yet come to a truly great performance EV. There's hope people.
Kia EV6 GT specifications
Price: $99,950 plus on-road costs
Basics: EV, 5 seats, 5 doors, large SUV, AWD
Range: 424km (WLTP)
Battery capacity: 77.4kWh
Battery warranty: 7 years/150,000km
Energy consumption: 20.6kWh/100km (WLTP)
Motors: 1 front (160kW/350Nm), 1 rear (270kW/390Nm), combined outputs 430kW/740Nm
AC charging: 10.5kW, Type 2 plug
DC charging: 230kW (approx), CCS Combo plug
0-100km/h: 3.5 seconds (claimed)