The Abarth 500e is a faster, louder Fiat 500e that comes in brighter colours. It's due in Australia three or four months later than the tiny Fiat EV. Expect it to arrive around November or December. As with the Fiat, only the hatchback body style will be imported.
There's nothing else like it in the marketplace right now. The BMW i3s was likewise a quicker version of a city-focused EV, but it's no longer produced. And while mainstream European brands like Renault and VW are planning performance versions of their coming small EVs, they're years away from production.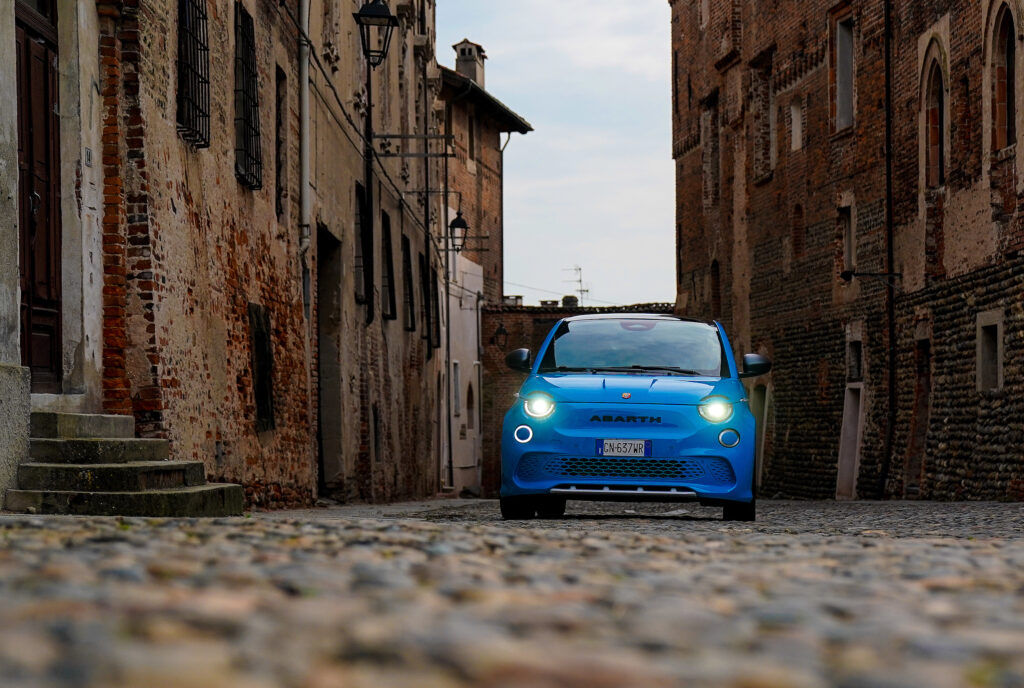 Value
Australian pricing for the Abarth 500e hasn't been announced. The car's positioning in Europe suggest it should not be too much more than the $52,500, plus on-road costs, that will be asked for the Fiat 500e.
The Fiat will be sold here only in top-grade La Prima form. Abarth execs say there will be some price overlap in Europe between the bottom end of their 500e range and the upper reaches of Fiat's line-up.
This indicates the Abarth 500e in less costly Turismo trim could be close to that of a Fiat 500e La Prima. If this turns out to be the case, it'll add to the Abarth's appeal.
But the Abarth 500e will be offered initially only in fully loaded Scorpionissima form. In Italy this costs $7000 more than the equivalent Fiat 500e La Prima. But should the Turismo for Australia more or less duplicate Scorpionissima equipment levels it would mean a price around the $60,000 mark.
Scorpionissima is impossible to translate exactly. 'Most scorpion-ish' gets close. Abarth is only producing 1949 of these worldwide. The number is no accident; it's the year Abarth was founded.
Australia's Scorpionissima allocation is 219. Once these are gone the potentially more affordable Turismo will take over.
Abarth is Fiat's performance sub-brand, and the changes they've made to the 500e are extensive.
The Abarth has a more powerful and faster spinning electric motor, for a start. It drives the front wheels through a different gear ratio that improves acceleration.
The liquid-cooled 400-volt lithium-ion battery pack is the same 42kWh (gross) capacity in the Fiat, but is upgraded to supply the higher current required by the more powerful motor.
Disc brakes are fitted on the rear axle. The Fiat has drum rear brakes. The Abarth also gets different shock absorbers and electric power steering software. Stickier tyres with a lower profile on 18-inch wheels are also fitted.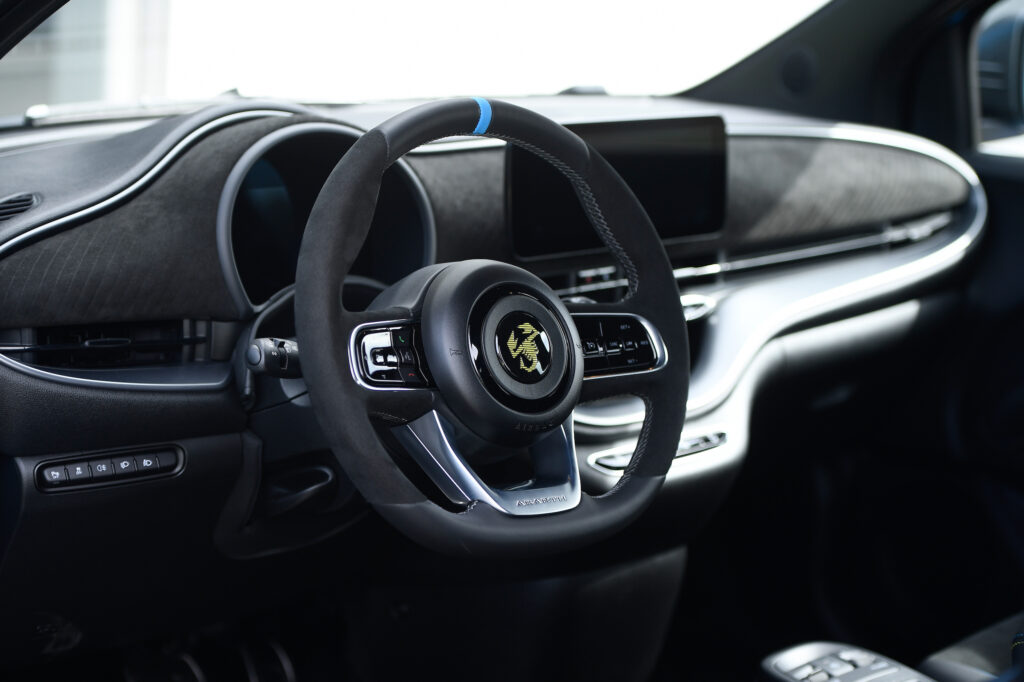 Inside
There are more upgrades inside. The Abarth 500e gets sports front seats, partly covered in Alcantara, and an Alcantara-and-leather-wrapped steering wheel. More Alcantara is used to trim the cabin.
There are plenty of visual reminders, including scorpion logos in the centre of the steering wheel and on the front seats.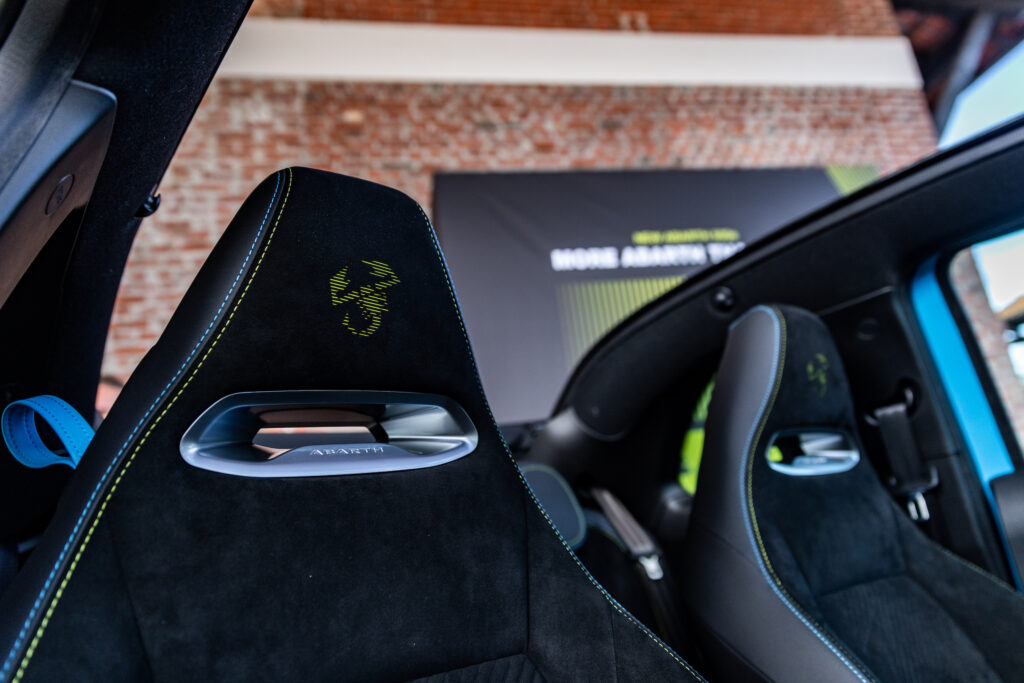 The suite of infotainment, driver-assist and safety tech is pretty impressive, including auto emergency braking, cruise control, lane-keeping assist and rear-view camera. There's a premium six-speaker sound system from JBL, plus nice-to-haves like automatic wiper, high-beam and rear-view mirror dimming tech.
Wireless Apple Carplay and Android Auto are included and there are Type A and Type C USB ports, plus an inductive phone charging tray.
Interior space, it goes almost without saying, is the same as in the Fiat 500e. Which means there's not a lot of it, especially in the very cramped rear seat.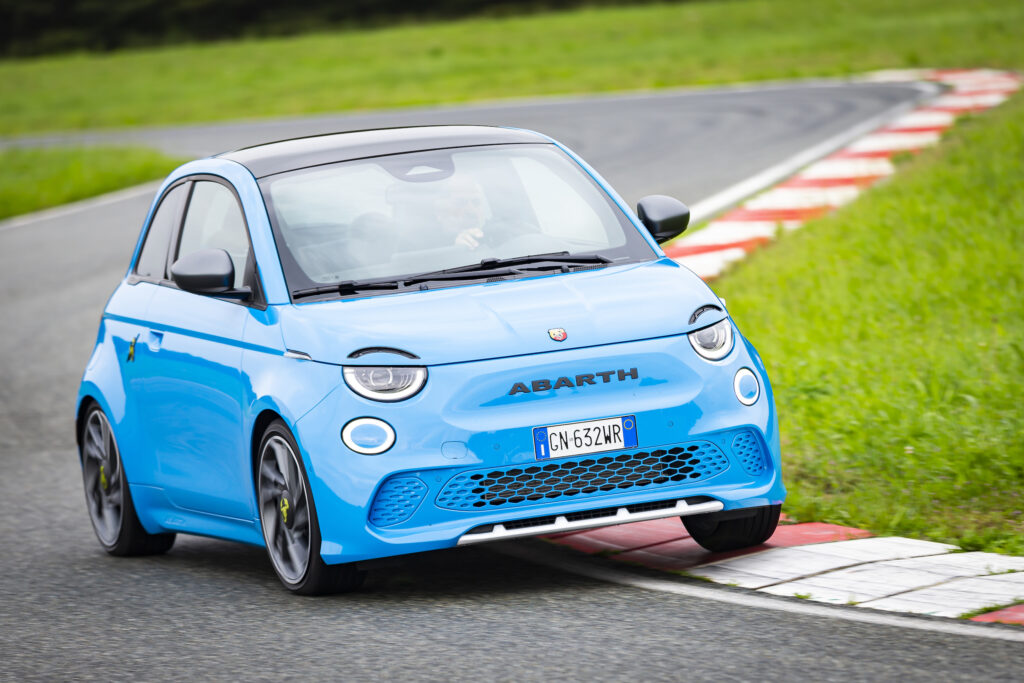 Performance and efficiency
Abarth claims its 500e takes exactly 7.0 seconds to accelerate from 0-100km/h, making it two seconds swifter than the Fiat 500e.
Behind the wheel it feels eager to please. There's a strong surge from standstill, and it winds up quickly to illegal-in-Australia speeds. Top speed is limited to 155km/h, just five km/h higher than the Fiat 500e.
On wet roads the 114kW and 235Nm motor of the Abarth will easily spin the front wheels, at least until the car's rather slow-acting traction-control system intervenes.
As with an ICE-powered car, the Abarth's stronger performance increases energy consumption and reduces driving range. Compared to the Fiat 500e, with basically the same battery pack, the Abarth loses around 50km of range.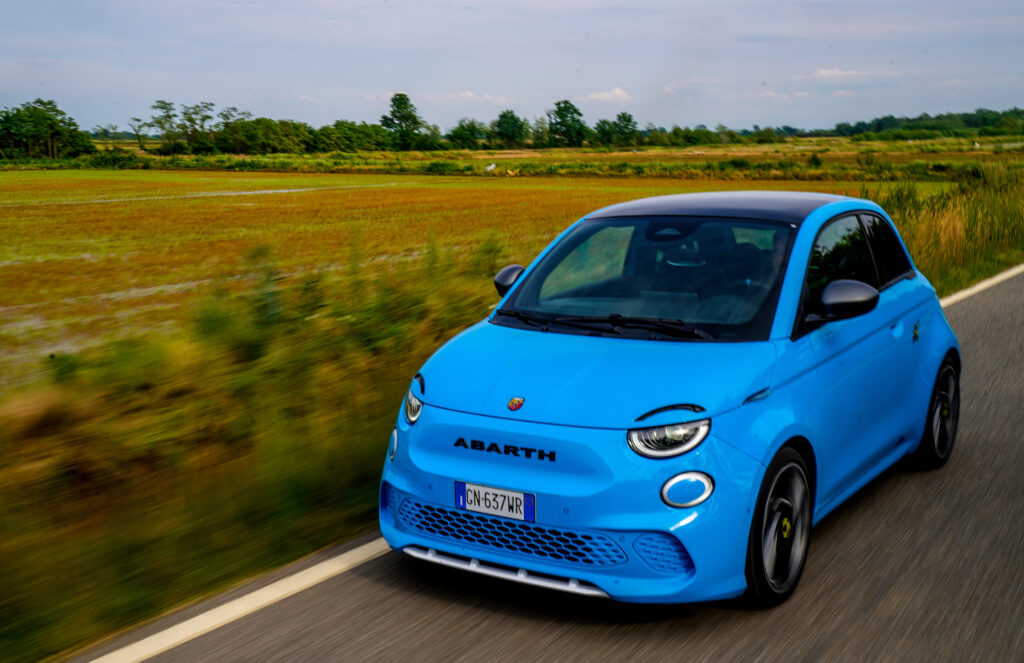 Charging
Like the Fiat, the Abarth is a decently quick charger. Not having a huge battery pack helps here.
As with the Fiat there's a CCS charging port which handles both AC and DC. There's an 11kW on-board AC charger, and the Abarth can take up to 85kW from a DC fast charger.
This means a 10-80 percent recharge will take only 25 minutes when plugged into a 150kW DC fast charger, or around 10 minutes longer if hooked up to one of the more common 50kW DC chargers.
An 11kW wallbox will deliver a complete 0-100 percent recharge in four hours, while a less costly 7.4kW wallbox will take six hours.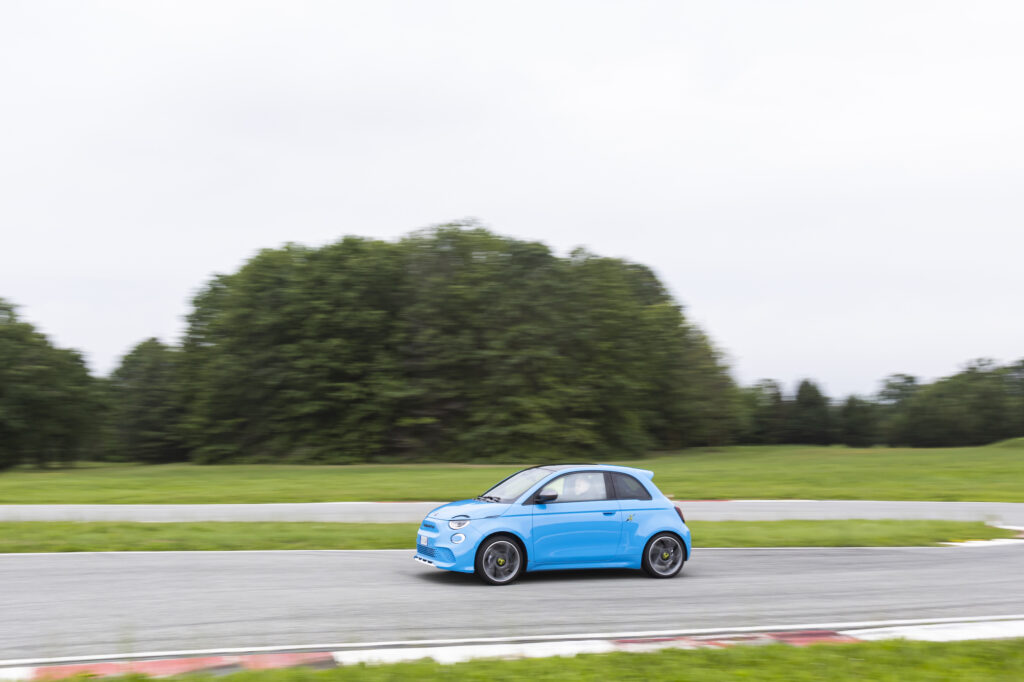 Ride and handling
It's a hoot. With its off-the-line snap, tight turning circle and tiny dimensions the Abarth 500e is the kind of EV to make city driving almost enjoyable.
Win traffic-light drag races! Do a u-ey where others have to do a three-pointer! Fit into parking spaces too tight for almost every other car on the road!
But confining the Abarth to city limits would be a waste of its talents. It's a fine little corner-carver, especially on a road with tight corners and hairpins. The steering is good, and so is the level of grip.
The suspension is well set up, too. The Abarth isn't that much stiffer than the Fiat, so it handles bumps and lumps surprisingly well for such a small car.
The 500e vastly better to drive than Abarth's version of the ICE-powered 500. It's a nasty little bucker, as a back-to-back run around Stellantis's proving ground in the north of Italy demonstrated.
Abarth does somewhat over-sell its 500e's hot-hatch credentials. The EV is actually a little slower 0-100km/h than the turbo-four-powered 595 that's currently sold in Australia. But there's no doubt about which is the better car overall.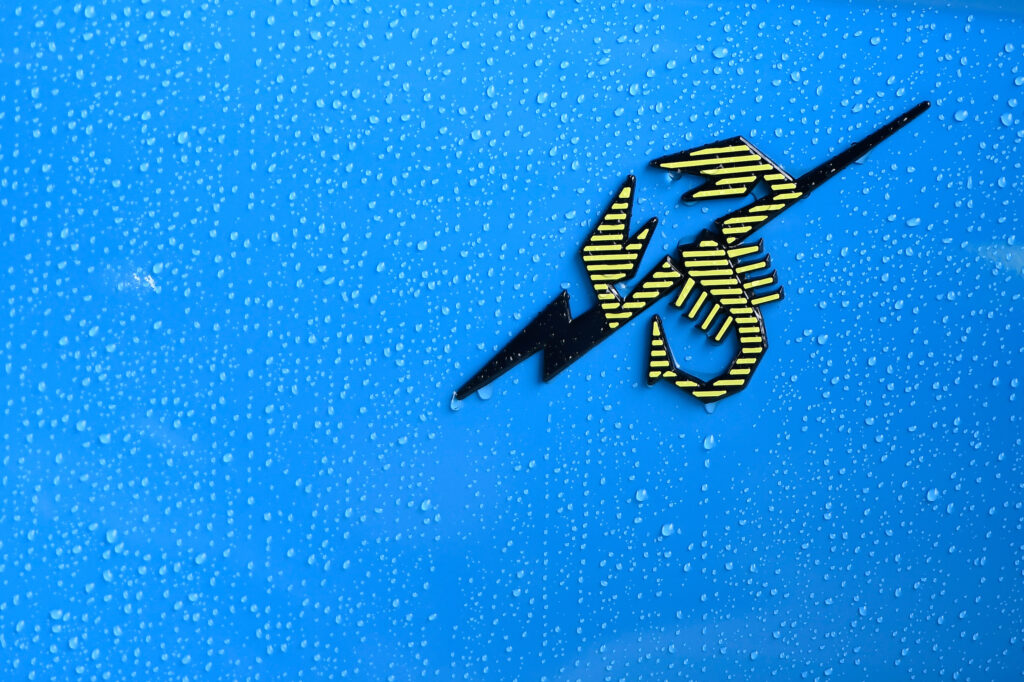 The Abarth has three driving modes; Turismo, Scorpion Street and Scorpion Track. Both Turismo and Street feature fairly heavy regenerative braking, and it can't be adjusted or disabled.
These modes are only for diehard fans of one-pedal driving. Turismo also reduces maximum power to 100kW, which defeats the purpose of choosing the Abarth over the Fiat. This all adds up to make Scorpion Track the best driving mode for everyday road driving.
Talking point
Under the Abarth's tail is a waterproof speaker. The noise it makes imitates one of the company's famed fours, and it's quite loud.
While the 200mm woofer might seem a good idea to buyers reluctant to give up the racket of internal-combustion, it's not.
Like almost every other EV on sale today, the Abarth has a single-speed transmission, so it never changes gear.
The noise from the sound generator rises and falls accord with road speed, and at a constant speed that's not too high – say 60km/h or so – it sounds like the car is in too low a gear.
It's a grating annoyance, and can only be switched off when the car is stationary.
Safety
The Abarth has a four-star safety rating from ANCAP, based on 2021 testing by EuroNCAP, which also awarded the car a four-star rating.
Verdict
Not knowing the price of the Abarth 500e makes it difficult to provide a definitive verdict.
But whatever it costs, this small package of EV joy from Italy is sure to make those who buy it smile wide and smile frequently.
It's not exactly a hot hatch in the old-fashioned sense, but it is an electric entertainer that's unlike anything else.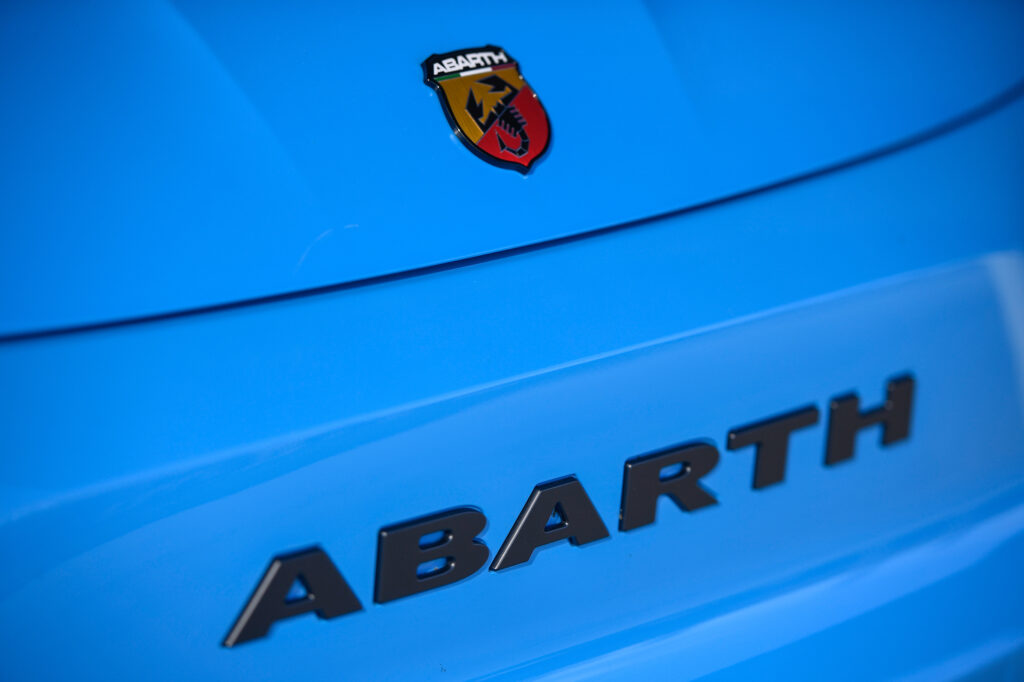 Abarth 500e specifications
Price: $60,000 (est.)
Basics: EV, 4 seats, 2 doors, small hatchback, FWD
Range: 253 to 265km (WLTP)
Battery capacity: 37kWh
Battery warranty: 8 years/160,000km
Energy consumption: 17.1 to 18.1kWh/100km
Motors: 1 front, 114kW/235Nm
AC charging: 11kW, Type 2 plug
DC charging: 85kW, CCS plug
0-100km/h: 7.0 seconds