MG4 2023 review: Excite 51 – battle of the budget electric vehicles as GWM Ora and BYD Atto 3 rival steps up
The MG4 is the first electric car from the value-focused brand to be built on a dedicated EV architecture. The all-electric five-door hatchback is also one of the most affordable electric cars on the market, with prices starting at around $41,000 drive-away for the MG4 51 Excite tested here. That makes it one of the cheapest electric cars you can buy right now.
MG4 refers to the newcomer as a "hot hatch", which is a big call given some of the feisty five-doors we've had access to in this country.
Does it live up to the marketing hype? Read on…
READ MORE: Electric price war! GWM Ora, MG4 and BYD Dolphin in battle to be cheapest EV
First up, though, some background. The car we've driven here is a UK-spec car that drives as it should but has minor differences with some of the equipment (there's no reverse camera, for example, whereas Aussie cars get that standard).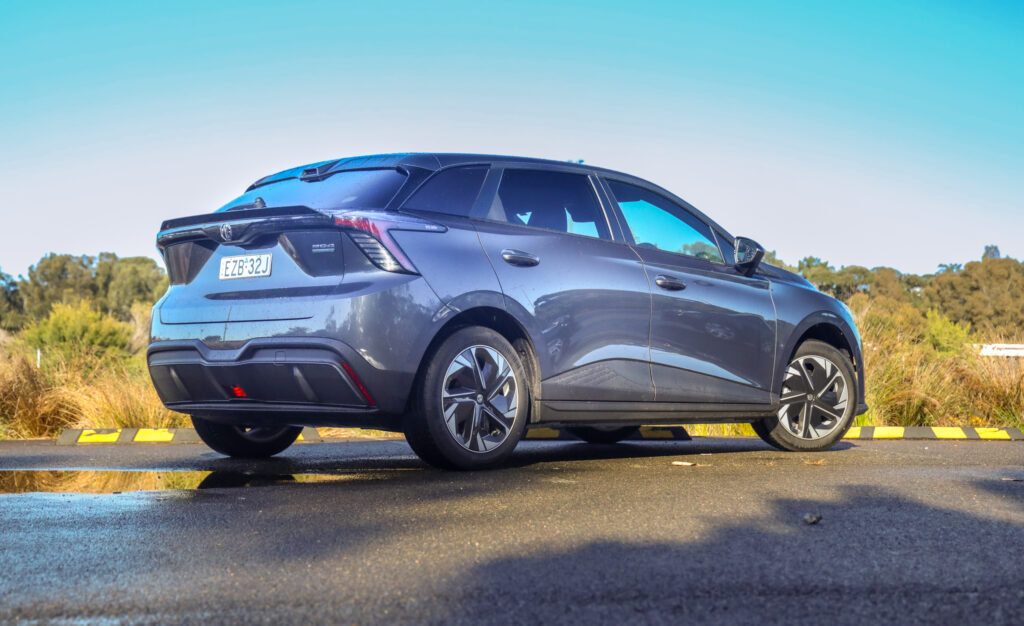 The MG4 competes with the upcoming BYD Dolphin and just-released GWM Ora. However, it will also no doubt get some sideways glances from those shopping for mainstream hatchbacks such as the Toyota Corolla, Mazda3, Hyundai i30 and Kia Cerato.
Value
The MG4 range comprises four models but it's the most affordable 51 Excite that is of most interest, courtesy of its sharp pricing.
The 51 Excite (the number refers to the capacity of the battery pack in kilowatt-hours) is $38,990 plus on-road costs. That translates to drive-away pricing of:
$40,287 in the ACT
$40,709 in NSW
$42,127 in Victoria
$41,197 in Queensland
$41,711 in South Australia
$42,618 in Western Australia
$40,284 in Tasmania
$40,289 in the Northern Territory
For that you get 17-inch alloy wheels, smart key entry, a 7.0-inch digital instrument cluster and a 10.25-inch central infotainment screen with Apple CarPlay and Android Auto.
It's a hefty $6000 hike to the MG4 64 Excite, which looks and smells the same at the 51 model but gets a 64kWh battery for 450km of range.
For another $3000 ($47,990 plus on-roads) the Essence uses that same 64kWh battery but adds a 360-degree camera, rear spoiler, 18-inch alloys, wireless phone charging, sat-nav and rear speakers. There are also 18-inch wheels, which drop the range to 435km.
At the top of the MG4 lineup is the Essence Long Range. It gets the same look and feature set as the regular Essence but gets a 77kWh battery good for 530km of range.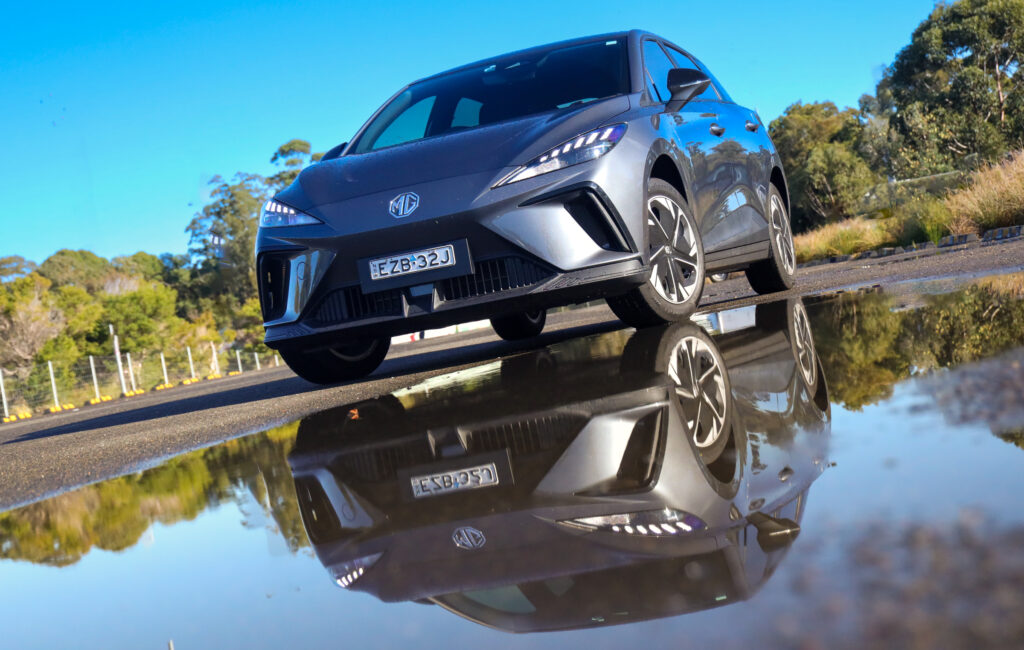 The MG4 is covered by a seven-year, unlimited kilometre warranty, which also covers the battery. It's a tad misleading, though, because if you use it for commercial purposes (including ride sharing) then the warranty is capped at 160,000km. So really, it's a seven-year, 160,000km warranty.
Plus there's iSmart app connectivity. It allows you to connect to the car via a smartphone and activate basic features such as ventilation and locks, while also remotely providing details on the charge status.
Inside
The MG4 looks after those up front nicely. The front seats are cossetting and supportive and there's ample head and legroom.
Some blue stitching and hardy modern grey materials are functional and inoffensive.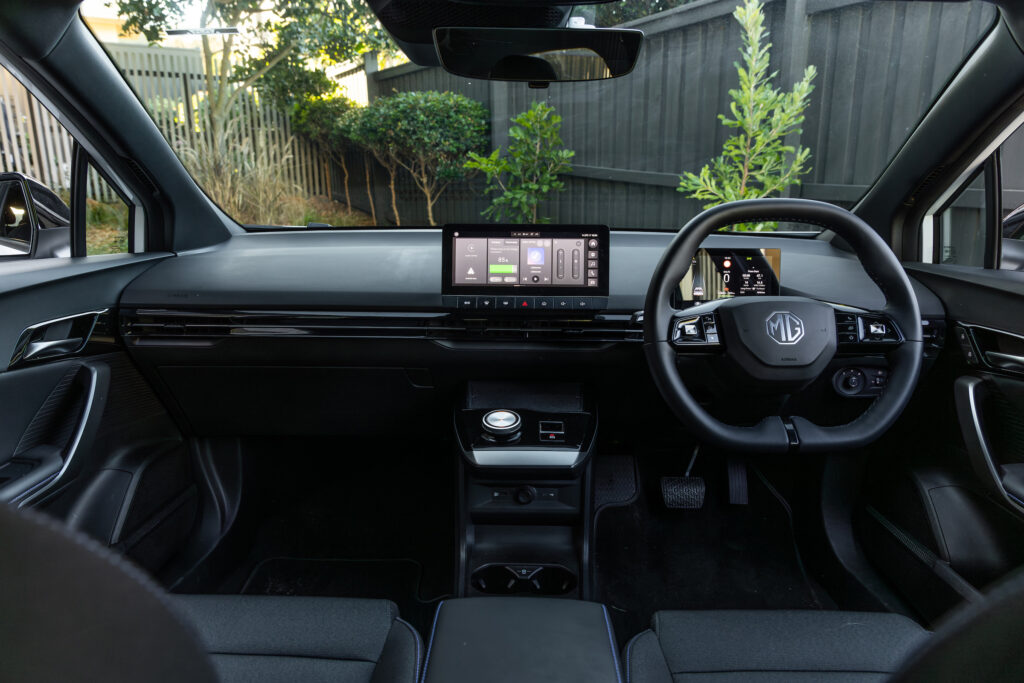 The dashboard is clean save for the 10.25-inch infotainment screen perched on top.
There are some main menu buttons below, but we want more; a volume dial and quicker access to the ventilation controls, for starters.
We also found the screen was occasionally laggy once you pressed one of its virtual buttons.
The drive controller is housed on a ledge that extends from the centre of the dash. Twist the dial to select between forward and reverse, something that occasionally required a couple of tries to get it to select what we were asking of it.
There's also a handy pad for a phone (it's a wireless charger in more expensive models) but it doesn't do a great job of keeping the phone in place.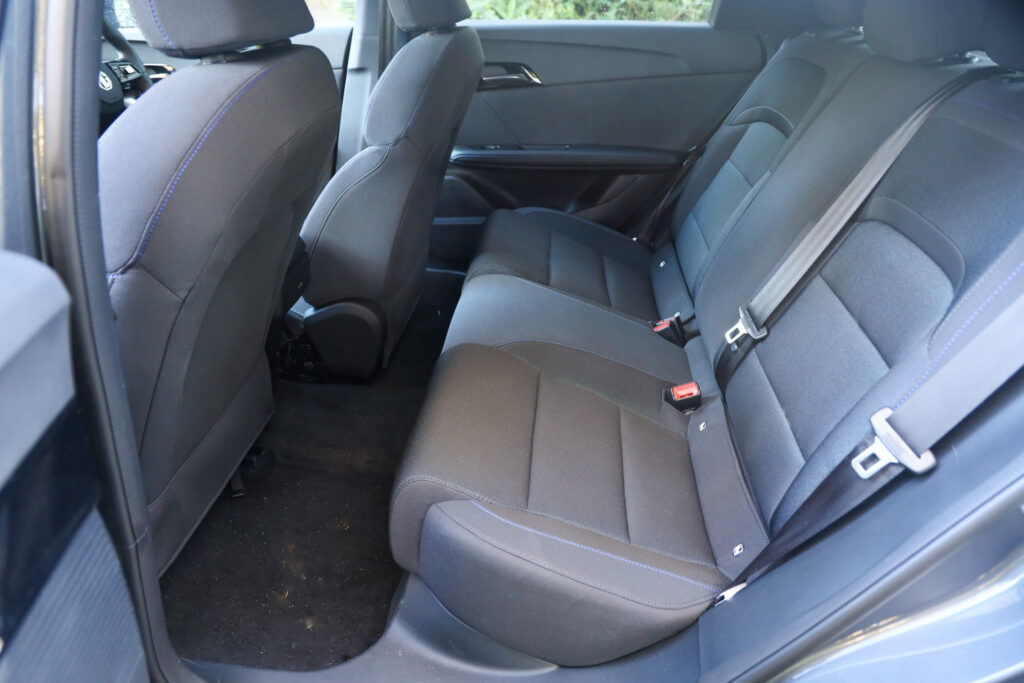 There are also a couple of cupholders and a covered centre binnacle.
Those in the rear don't have it quite as good.
There's no air vents, for example, and head room is tight-ish due to the higher seat base (blame that on the batteries underneath). At least there's generous knee room, while squeezing three across the back is easier thanks to a near-flat floor.
Those in the back also miss out on speakers; the sound system has four speakers up front, but sounds tinny and basic.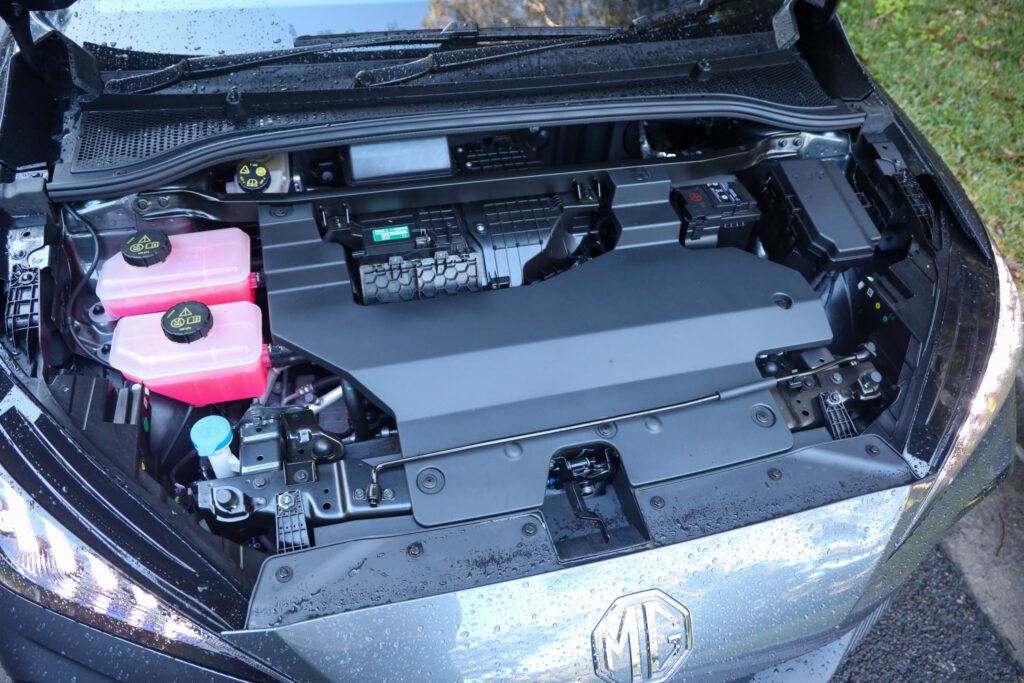 The boot holds 363 litres of luggage, which is modest but fine by hatchback standards. A 60/40 split-fold function makes it easier to load bulky items.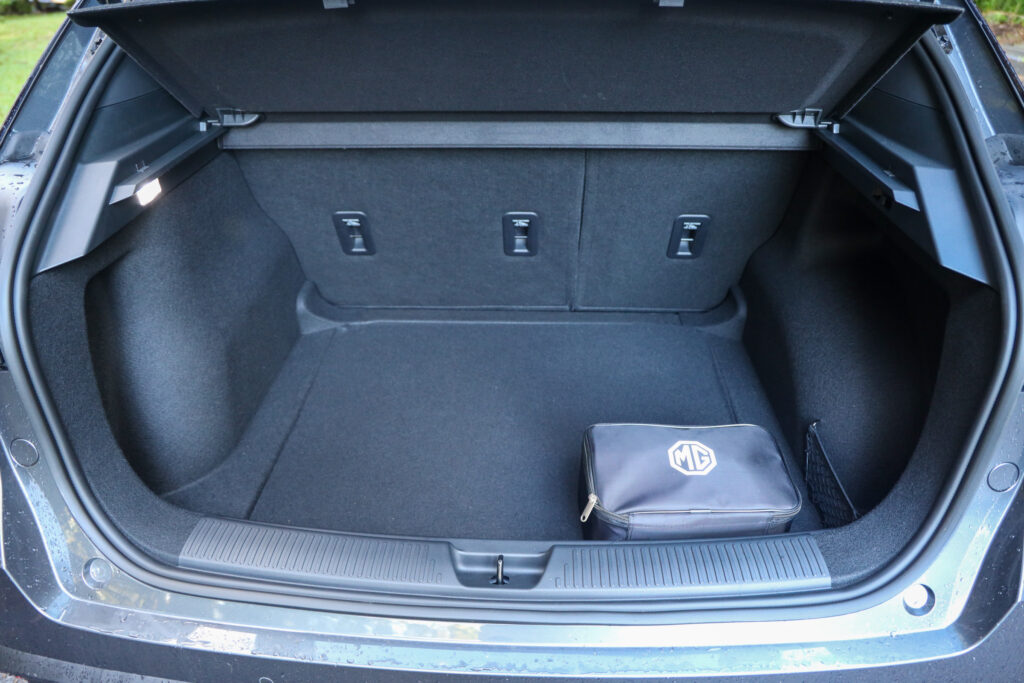 While some EVs get storage under the bonnet, the MG4 does without, instead leaving that to electrical components and cables.
Beneath the boot is a tyre repair kit (there's no spare).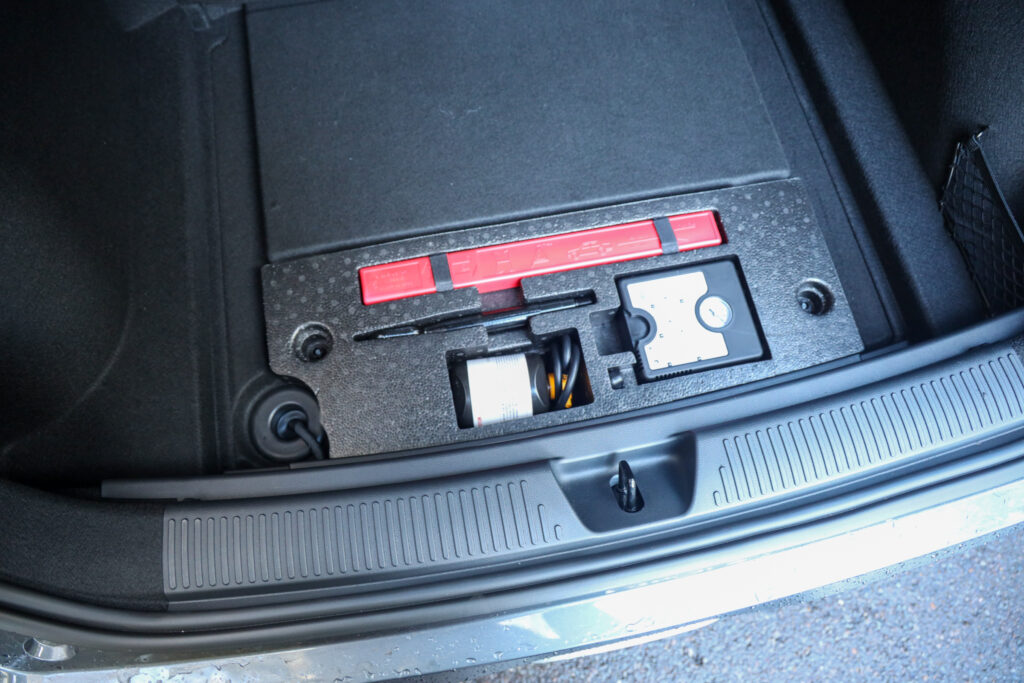 Performance and efficiency
The MG4 gets a single electric motor driving the rear wheels. It makes 125kW and 250Nm.
It's that torque figure that gives it a lovely surge off the line. It's easy to access and quick to respond.
Is it a hot hatch? Hardly. The claimed 0-100km/h is 7.7 seconds, which is a long way short of hot hatches.
Still, it's absolutely fine for zipping around town.
Claimed WLTP range is 350km, although we found closer to 300km was more realistic for everyday driving.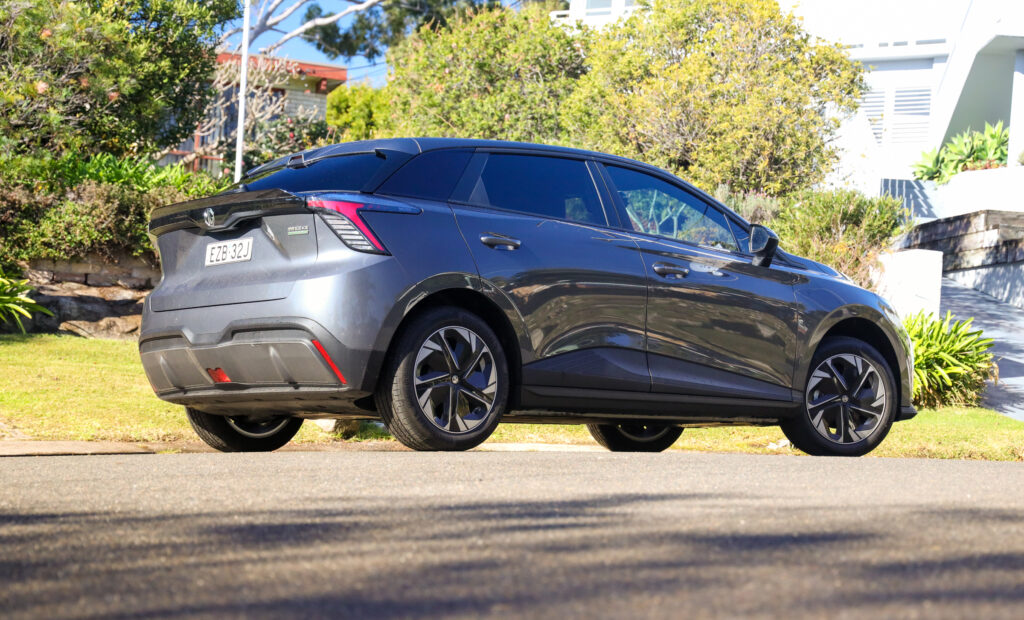 That suggests it'll use something like 17kWh per 100km, which is close to what we achieved.
Charging
The MG4 Excite 51 gets a 51kWh battery, which can be charged at up to 6.6kW using a wallbox charger. That means a full charge in about eight hours or 25 hours if using a regular home powerpoint.
DC charging can be done at up to 88kW and MG claims it'll charge from 10 to 80 percent in as little as 31 minutes.
The MG4 also has vehicle-to-load (V2L) functionality, allowing it to power household 230V devices and camping gear. But there's a rather large catch: it doesn't come with the cable. You have to pay hundreds of dollars extra for that to enable it.
Ride and handling
The MG4 is refreshingly fun to drive. Thank the underpinnings for that.
Sending the power to the rear wheels means it easily harnesses the torque of the e-motor, while letting the front wheels focus solely on steering.
It's a neat setup and one that makes for a five-door that's fun to drive.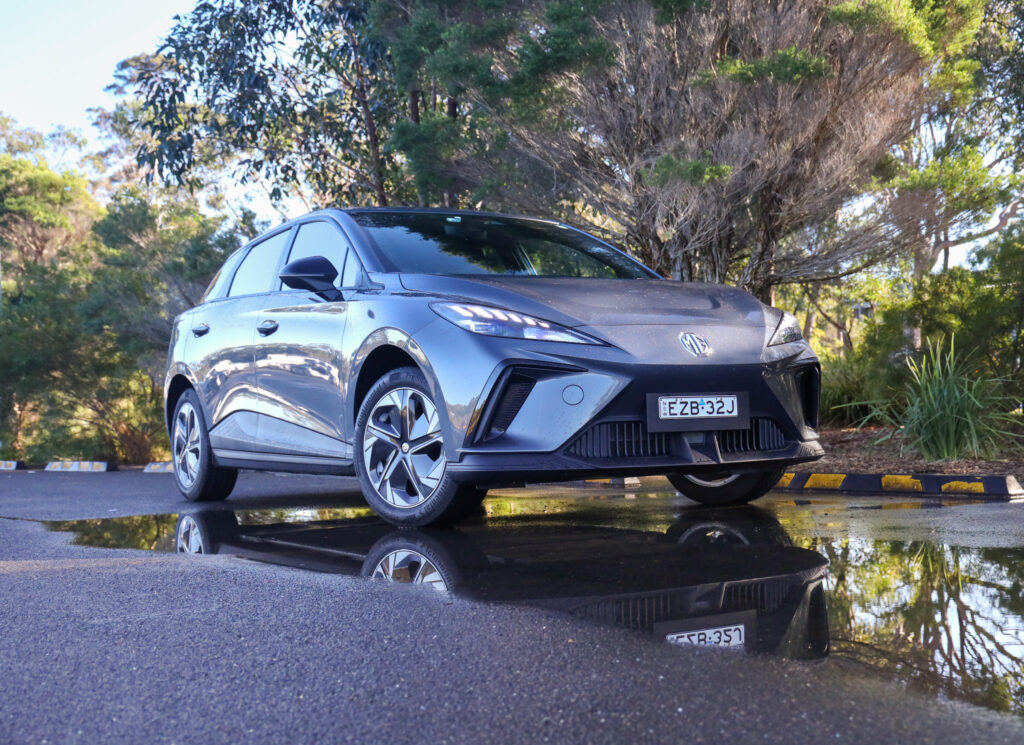 It's backed up by responsive steering and a planted feel.
The suspension tends towards firm but it works with the playfulness of the car; the mild edge it takes off the ride quality is paid back with an athletic demeanour.
Ours was riding on Continental tyres, which were respectably grippy.
Talking point
The MG4 has an unusual layout in that it's a rear-drive hatchback. Most hatchbacks for decades have driven only the front wheels or, in some instances, all four (previous versions of the BMW 1-Series are a rare rear-drive exception).
Whereas rear-wheel drive in an internal combustion engine car adds weight and robs interior space – due to a drive shaft running from the engine to the back wheels – there are no such issues with an EV.
That's because the electric motor is very compact and can easily slot beneath the boot while only requiring short driveshafts to each of the back wheels.
Safety
The MG4 electric hatch comes with MG Pilot, which packages together a range of driver assist features.
But the MG website is a tad misleading in listing a raft of gear, some of which is only fitted to more expensive models.
This 51 Excite model gets autonomous emergency braking, speed sign recognition and lane departure warning. There's also front, front-side and curtain airbags.
However, it misses out on blind spot monitoring, rear cross traffic alert and exit warning (which alerts you to vehicles approaching from behind when the car is parked).
It's scored a five-star Euro NCAP rating according to the 2022 protocols, which suggests it'll also achieve a five-star ANCAP rating (the tests are identical between each organisation).
Verdict
The MG4 sets a solid foundation with good driving manners and a fun demeanour. Benefitting from its all-EV architecture means maximising interior space and driving manners.
Is it a hot hatch? Hardly. Mildy warmed over, maybe, but there's not much scorching about it.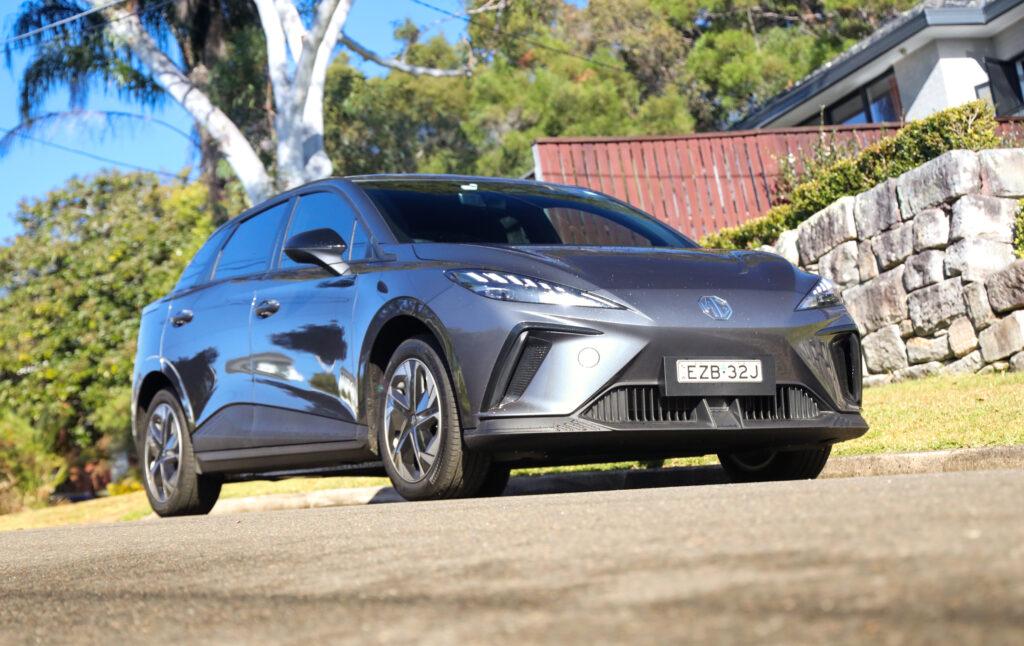 Not that it detracts from those sound fundamentals.
But it comes at the expense of equipment, which is sparse on this entry-level Excite 51.
Sure, you can add more gear by stepping up through the range, but at that point you're edging closer to bigger, more mature electric cars.
2023 MG4 Excite 51 specifications
Price: About $41,000 drive-away (depending on state or territory)
Basics: EV, 5 seats, 5 doors, hatchback, RWD
Range: 350km (WLTP)
Battery capacity: 51kWh
Battery warranty: 7 years/160,000km
Energy consumption: TBA, but about 17kWh/100km
Motors: 1 rear 125kW/250Nm
AC charging: 6.6kW, Type 2 plug
DC charging: 88kW, CCS combo plug
0-100km/h: 7.7 seconds