2023 Kia EV9 review: What do you get if you mix a Mazda CX-90 with a Toyota LandCruiser and a Nissan Pathfinder? This electric SUV might just be better than all of them | review
The Kia EV9 electric SUV is the latest in the expanding EV-branded family of electric cars. It's also by far the largest, utilising the 800-Volt E-GMP architecture in a large SUV body designed to accommodate up to seven people. With all that in mind, read on for our Kia EV9 review.
While it's not cheap, the EV9 comes loaded with equipment and technology to help justify a circa-$100K starting price when it arrives in Australia in the fourth quarter of 2023.
Plus it comes with a bold design inside and out that punches above its mainstream branding.
The Kia EV9 will have no direct competitors in the electric car space; it's closest rival on space and luxury trinkets will be the Mercedes-Benz EQS SUV, although that will be about triple the price and have a much bigger focus on luxury.
That leaves the upcoming Mazda CX-90 as its most likely contender, although it will also compete with any sizeable SUV, from the Nissan Pathfinder and Toyota Kluger to a Toyota LandCruiser or Nissan Patrol.
READ MORE: The electric year ahead: Every EV coming to Australia in 2023
READ MORE: The five best family EVs under $100K: From Tesla and Hyundai to Kia and Mercedes-Benz
READ MORE: Can the Model Y outsell the HiLux and Ranger?
Price and features
The Kia EV9 represents a giant leap for the Korean brand. It will instantly catapult Kia into the luxury SUV air occupied by big name luxury brands.
But the Kia EV9 promises plenty in return to justify its luxury price tag.
While details are yet to be announced, it looks as though there will be three core models to the EV9 range when it goes on sale in Q4 2023. A fourth model – a high performance EV9 GT – will likely arrive around 2025.
The most affordable model will be the Kia EV9 Air.
It will get the smaller of the two available battery packs (with 76.1kWh of capacity) and get a single electric motor driving the rear wheels.
While the EV9 Air will be the entry-level model it will come with plenty of kit. That includes a 12.3-inch digital instrument cluster and matching 12.3-inch central touchscreen. In between them is a 5.0-inch screen dedicated to ventilation controls.
The Air will also get an eight-speaker sound system and 19-inch alloy wheels.
Plus there will be Kia Connect, which allows for over-the-air software updates and the possibility of a basic subscription service for additional features.
The mid-grade Kia EV9 will be called the Earth and will likely step up to 20-inch wheels as well as some extra equipment. It also looks set to get the dual-motor system and larger 98.1kWh battery pack.
The EV9 GT-Line will get 21-inch wheels, dual sunroofs, electric front seats and a 14-speaker Meridian sound system.
It will also get a digital key, something that could also make its way onto other model variants. That key allows you to program your phone as the car key and also send digital 'keys' to friends.
All EV9s will get Kia's seven-year warranty that also covers the high-voltage battery pack for up to 150,000km.
Expect service intervals of 12 months or 15,000km.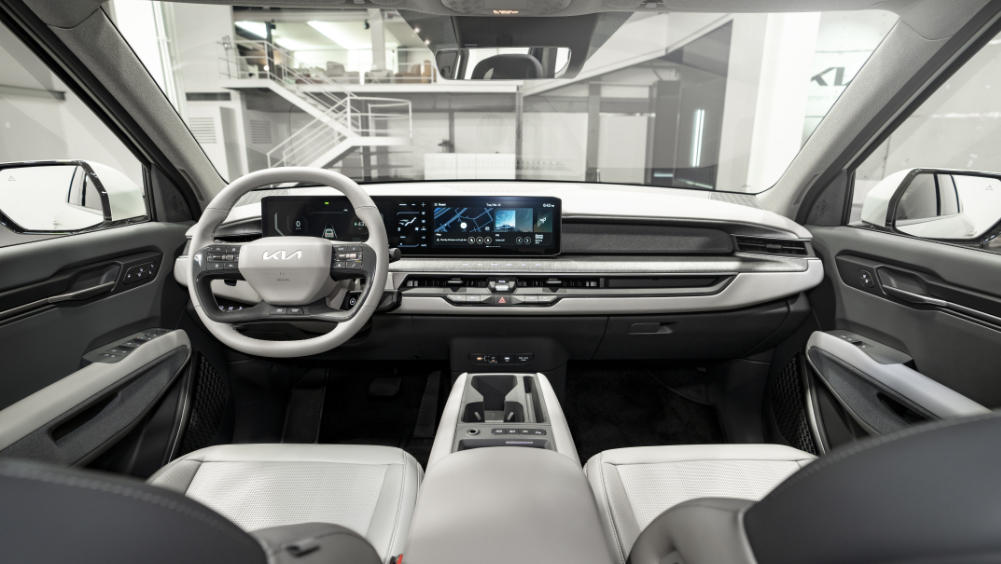 Interior space
The Kia EV9 is a big car and feels it. Its exterior dimensions sit between a Toyota LandCruiser and Nissan Patrol. However, it has a longer wheelbase than either of those, something that benefits occupant space due to the relatively compact electric motors.
Up front there's a broad dash and chunky centre console. As well as physical buttons for the main ventilation controls there are touch buttons built into the dash; press them and there's a mild kick to reinforce you've had the desired result.
It's indicative of the attention to detail, something that flows through to lighting. On the GT-Line we drove there was subtle but effective ambient lighting as well as a Kia badge onv the steering wheel that glowed when you start the vehicle.
Most of the storage space in that centre console is closer to ground level in an open binnacle.
That's because some of the storage space is reserved for those in the middle row, with a deep pocket delving into the front centre console.
While the EV9 will be offered with a pair of lounge-like captain's chairs for overseas markets, Australia will only get the rear bench that takes three people, for an overall seating capacity of seven.
The sheer width of the EV9 means it won't be an issue fitting three across that middle row. And all will have ample headroom, although there's a high-ish floor due to the battery pack underneath.
Press a button to tilt the middle seat forward and there's relatively easy access to the third row. Even in there it's adult friendly for headroom. Leg space is less forthcoming, though, and it'll be a trade off with the sliding middle row to ensure everyone in the rear is comfy.
Speaking of comfort, the front seats are terrific for support, with the driver's seat of the EV9 GT-Line even getting adjustable bolsters; dial up Sport mode and they lower the central seat base slightly and raise the supports holding your kidneys.
The EV9 also has a strong sustainability focus, with fake leather used and various bio-materials. There are some interesting finishes across the dash, including a wood-like strip and another modern plastic that has some visual interest.
Performance and efficiency
The EV9 is available with two battery packs and either single- or dual-motor configurations.
The EV9 Air gets the smaller 76.1kWh battery pack with one electric motor driving the rear wheels. It provides maximums of 160kW and 350Nm and the driving range is 418km according to the WLTP standard.
That same motor can be hooked up to a larger 98.1kWh battery to extend the range to 541km. However, that's a combo it looks like Australia won't initially get. That could in part be because performance suffers due to the extra weight and a change in voltage; the bigger battery runs at a lower 552V maximum versus 632V for the smaller battery. That in turn lowers the peak power to 150kW while maintaining the full 350Nm.
Acceleration to 100km/h of the rear-drive models is 8.3 seconds for the single-motor/small battery combo and 9.4 seconds with the heavier, larger battery.
The EV9 Earth is likely to get the dual-motor all-wheel drive system that increases combined system outputs to 283kW and 600Nm. An OTA software update increases the torque peak to 700Nm as part of a Boost mode, which costs extra.
With the standard 283kW/600Nm it's claimed to hit 100km/h in 6.0 seconds while Boost mode lowers that to 5.3 seconds.
What's not know is what tyres will be fitted to that EV9 Earth. If it comes with the 19-inch wheels from the Air then the claimed WLTP range is 497km. But if it gets 20- or 21-inch wheels then that range drops to about 470km.
That 470km range is what you can expect from the EV9 GT-Line, which will get the largest 21-inch wheels available on the car.
It was that EV9 GT-Line model that we drove in Korea recently.
Despite the portly 2634kg of the dual-motor EV9 – yep, it's a seriously heavy machine – the GT-Line darts off the line with the enthusiasm of something far sportier.
It thrusts occupants back into the seats nicely and continues that surge towards triple futures.
While there's less punch when it's up to speed, there's never a time when the EV9 feels undernourished.
It's a brisk machine, and one that always responds with easy, effortless grunt.
While physics have their say in ensuring it's not as efficient as smaller electric vehicles, by large SUV standards it's impressive.
Claimed consumption is about 25kWh per 100km and we bettered that by around 2kWh/100km during a couple of days of driving, much of it done on a freeway (which is never particularly friendly on an EV).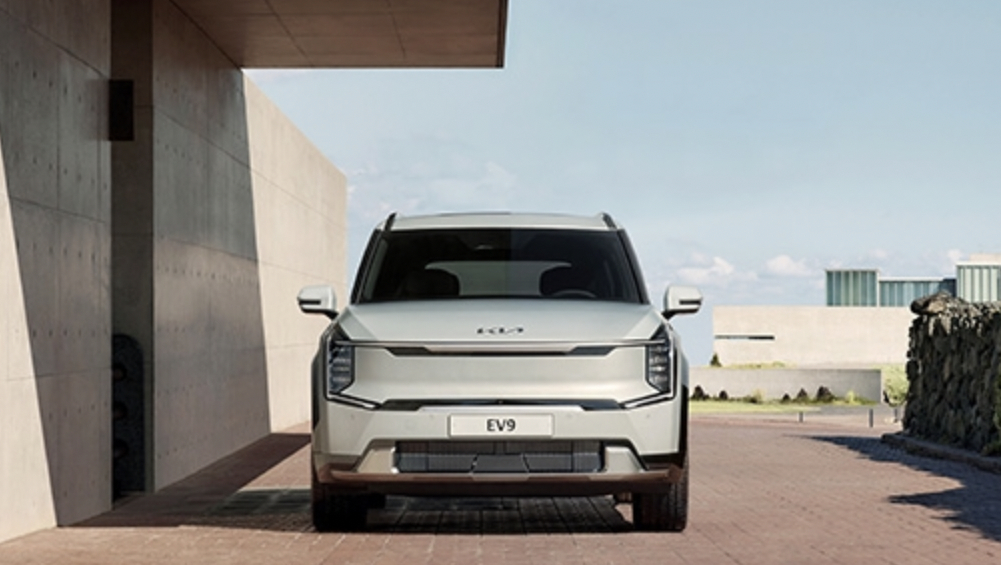 Charging
Underpinning the EV9 is a larger version of the E-GMP architecture that also sits under the Kia EV9, Hyundai Ioniq 5 and Ioniq 6 as well as the Genesis GV60.
It's the largest model yet built on that architecture, but that doesn't change the fundamentals, which include an 800V charging system.
It means the EV9 can benefit from the 350kW charging stations (when they're working…) and draw up to 230kW in the process.
Kia says it can charge from 10 to 80 per cent in as little as 25 minutes.
Charging is done via a Type 2/CCS combo plug on the right rear of the car.
The EV9 will also have the hardware required for vehicle-to-grid (V2G) and vehicle-to-home (V2H) technology, allowing the battery to be used to power a house of feed back into the grid. However, it won't initially be operational, with that functionality to be added as part of an OTA software update.
Instead, the EV9 will get the same vehicle-to-load (V2L) capability of other electric Kias and Hyundais. That allows it to provide up to 3.68kW via a household powerpoint in the boot.
Ride and handling
It's a big, heavy body in the Kia EV9 but one that has plenty of dynamic talent embedded.
We only drove on 21-inch wheels, which occasionally pick up sharper bumps to create some jiggling in the ride.
But over larger ripples and bumps it's impressively compliant and comfortable, swiftly recovering in a single motion.
Of course, a lot of the EV9's weight is down low in the battery pack, something that keeps the centre of gravity low.
So despite its boxy appearance it's beautifully planted through corners, with minimal leaning.
There's also loads of grip from those 21-inch tyres, so when you lean on them they deliver.
It's clear there's loads of capability in the EV9 – and it's capability not yet fully exploited. That's because cars coming to Australia will have a local suspension tune designed to better prepare them for our roads and tastes.
Perhaps the most impressive part of the EV9 is its refinement and cabin comfort.
Even on a freeway it's suitably quiet, hushing not only tyre noise but wind noise. It makes it a seriously relaxed SUV.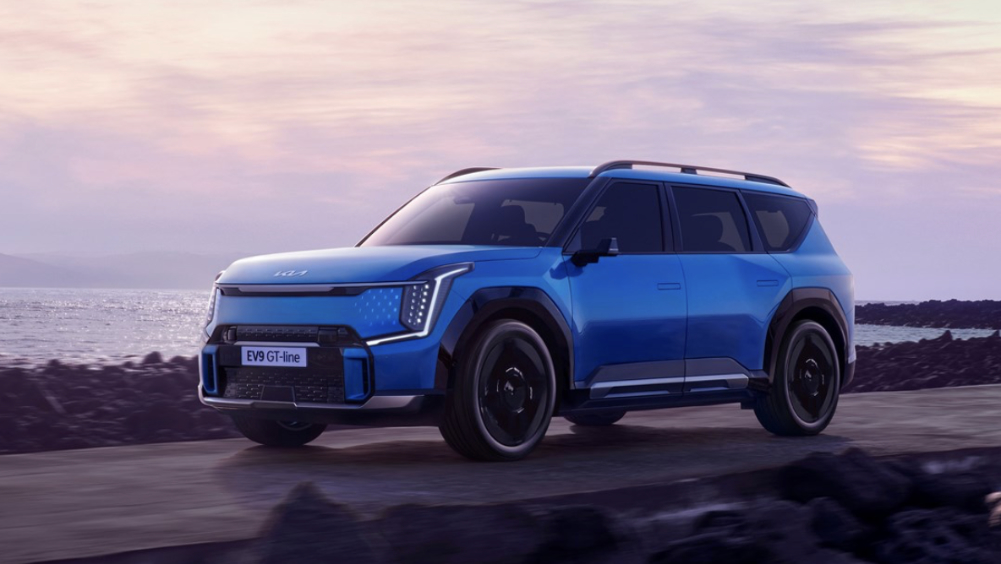 Talking point
Can it tow a house, win a drag race, great off-road, turn heads at Mardi Gras, etc
The Kia EV9s that come to Australia will miss out on some of the more advanced tech available in the electric SUV elsewhere, at least initially.
That includes the "digital tiger face", which has lighting embedded behind the plastic strip that replaces the grille. It's designed to emulate a traditional grille and can even have changing patterns. But it won't be coming here.
Safety
Passive and active safety gear, independent ratings, issues, what it misses out on, etc
The Kia EV9 comes loaded with standard safety gear, starting with nine airbags; dual front, front side, rear side, side curtain and a centre airbag separating the two front occupants. Australia misses out on the driver's knee airbag being fitted in some other markets.
There's also a load of active safety gear, including autonomous emergency braking, blind spot warning, rear occupant detection, exit assist, rear cross traffic alert and speed sign recognition.
The EV9 will be available with level three autonomous driving capability in some markets. But it won't initially be offered in Australia, in part because our cars won't get the two lidar (laser radar) in the lower part of the grille.
So instead it's the level two autonomy that allows for mild self-steering and speed adjustment. During our drive it seemed to work reasonably well, although the lane keep assist system is occasionally too eager to take control.
Verdict
Score: 8.5/10
The Kia EV9 electric SUV is a big car with big aspirations for the brand – and it comes with a big price tag.
It's the price tag that could frighten some off, although Kia still believes it will have people queuing to own an EV9.
Those who can stretch the budget will be rewarded with one of the most spacious EVs on the market – and one that delivers on bold design.
It's also a car loaded with substance, from excellent driving credentials and a long list of standard equipment and tech.
Kia EV9 GT-Line
Price: About $130,000 (estimated)
Basics: EV, 7 seats, 5 doors, SUV, AWD
Range: 470km (estimated)
Battery capacity: 99.8kWh
Battery warranty: 7 years/150,000km
Energy consumption: 25kWh/100km (estimated)
Motors: 1 front, 1 rear, combined outputs of 283kW/600Nm (700Nm with Boost mode)
AC charging: 11kW, Type 2 plug
DC charging: 230kW, CCS combo plug
0-100km/h: 6.0 seconds (or 5.3 seconds with Boost mode)