2023 Peugeot e-Partner review: New electric van arrives to help green your fleet – at a price…
EV Central's 2023 Peugeot e-Partner review: The Peugeot e-Partner compact electric van adds another contender to the small but growing light commercial EV segment.
It's also the first battery electric model from the French brand in Australia, with three more EVs due before the end of 2024, including the larger e-Expert medium van.
Peugeot is confident the zero emissions capability of the e-Partner will appeal to both sole traders and company fleet operators.
But the price is high, the equipment content is lower than the cheaper petrol Partner range and load carrying also takes a hit.
READ MORE: The electric year ahead: Every EV coming to Australia in 2023
READ MORE: The five best family EVs under $100K: From Tesla and Hyundai to Kia and Mercedes-Benz
READ MORE: Ford E-Transit Custom could become one of Australia's most affordable EVs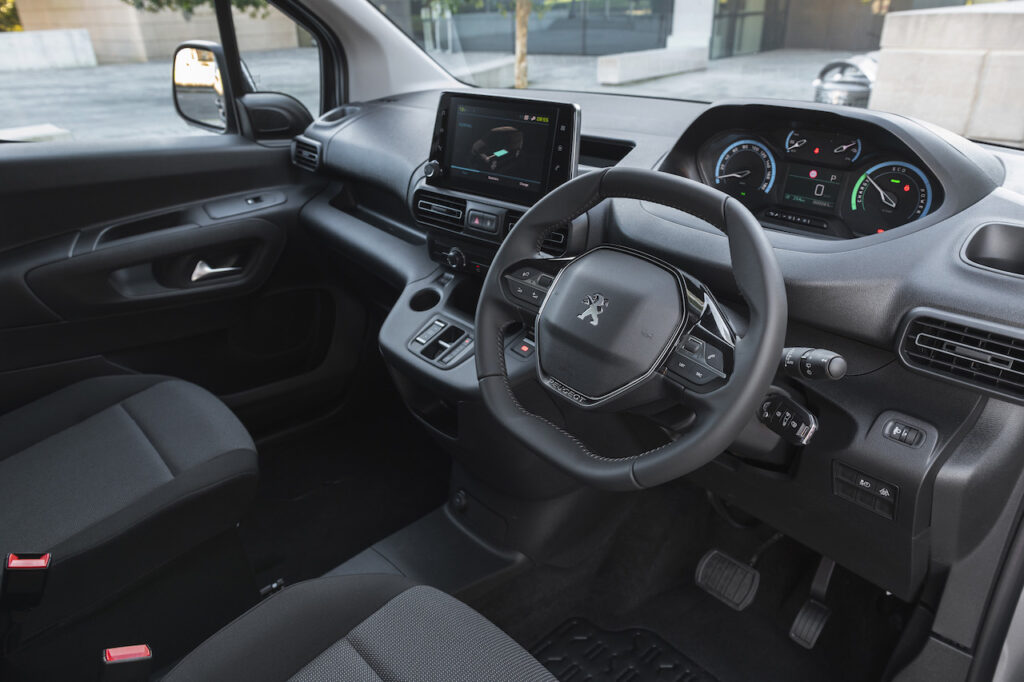 Price and features
There is a single Peugeot e-Partner model on offer in Australia for $59,990 plus on-road costs. In many states, of course, it qualifies for EV rebates, while at a federal level there will be FBT and other tax discounts.
But it's still a big ask considering the most expensive 1.2-litre turbo-petrol Partner is the $40,878 (plus on-road costs) long wheelbase Premium.
In addition, the e-Partner foregoes alloy wheels (although 16-inch steelies aren't a real problem are they?), keyless entry, dual-zone climate control, a middle seat, rotating worktable, a load-through flap from the box and AM radio.
The e-Partner does get two grey fabric bucket seats, a multi-function leather steering wheel, air-conditioning (via a PTC water heater rather than a heat pump), cruise control, satellite navigation displayed on an eight-inch touchscreen, cabled (USB-C) Apple CarPlay, Android Auto and Bluetooth connectivity, a four-speaker audio system, voice recognition, an electric parking brake, power windows and a full-size spare tyre.
Only white exterior paint is standard. Three metallic choices (black and two greys) charge an extra $690).
The e-Partner comes protected by a five-year/200,000km warranty and the battery pack is covered for eight years/160,000km.
Service intervals are 25,000km/12 month and average out at $346 across the first give visits to the workshop. You cab prepay for three years at $600 or five years for $1000. That's all very affordable and reflects the simplicity of EV powertrains.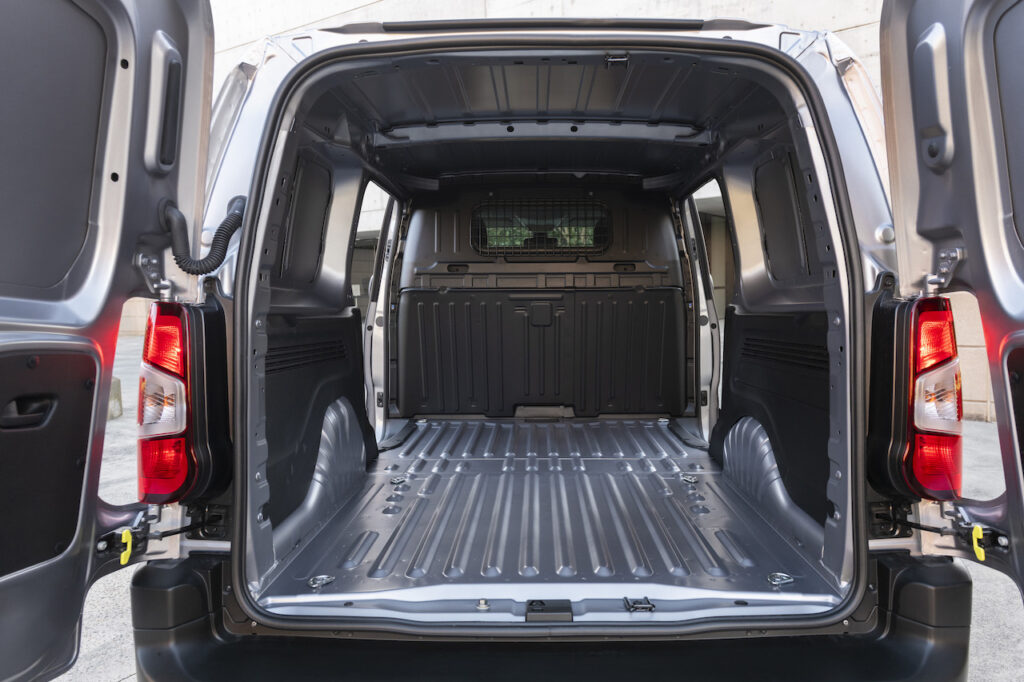 Interior space
Let's start in the important part of any van's interior. The box on the back.
The e-Partner we get in Australia is the long wheelbase model – there is a short wheelbase offered in Europe – so the maximum load length (2167mm). height (1243mm), maximum width (1527mm) width between the wheel arches (1229mm) and 3.9m cubic load volume are all the all the same as the orthodox Partner LWB.
However, that van adds the load-through capacity in the bulkhead to carry items up to 3440mm long.
The e-Partner's 753kg maximum payload is the second lowest of the entire Partner line-up. Petrol models are rated up to 1037kg. It doesn't help the e-Partner is almost 250kg heavier than any other model.
The towing capacity is 750kg, the lowest of any Partner.
The e-Partner comes with two sliding side doors and two 180-degree rear doors making access easier. Windows for all doors are optional and are quoted at around $450-$470 on the Peugeot website. Alternatively, an interior LED light kit is also on offer, which would be helpful as its pretty dingy in the back.
There are six load hooks in the rear, down on the 10 offered in the standard Partner.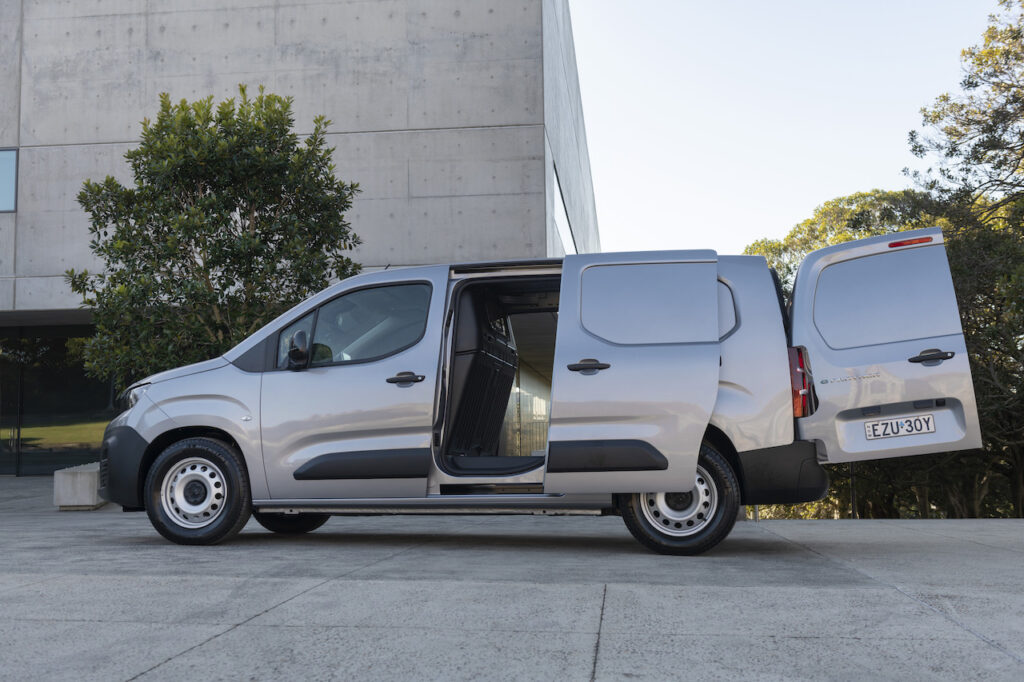 Up-front the e-Partner's useability is aided by multiple storage spaces, including substantial overhead bins and an upper dashboard tray.
There is height and reach adjustment of the steering column, a left footrest and height and a little backrest adjustment of the seat. All that helps the driver get comfortable – something very important in an urban delivery vehicle like this.
The e-Partner also comes with Peugeot's unique i-cockpit, which means a high-mounted instrument cluster and a small squared off steering wheel so you can look over it.
This concept works much better now than it did in its earlier iterations when the wheel had to be dumped into your lap if you wanted an uninterrupted view of the gauges.
Performance and Efficiency
The 2023 Peugeot e-Partner drives its front wheels via a 100kW/260Nm permanent magnet synchronous e-motor and single speed gearbox.
The claimed maximum speed is 135km/h and the 0-100km/h can be achieved in 11.2 seconds.
The e-motor is fed by a 50kWh lithium-ion battery pack for a claimed WLTP range of 258km.
The performance and efficiency of the e-Partner can be varied depending on which drive mode is selected via the tab on the centre console.
Eco delivers 60kW/190Nm, Normal 80kW/210Nm while full fat and flavour is provided by Power mode.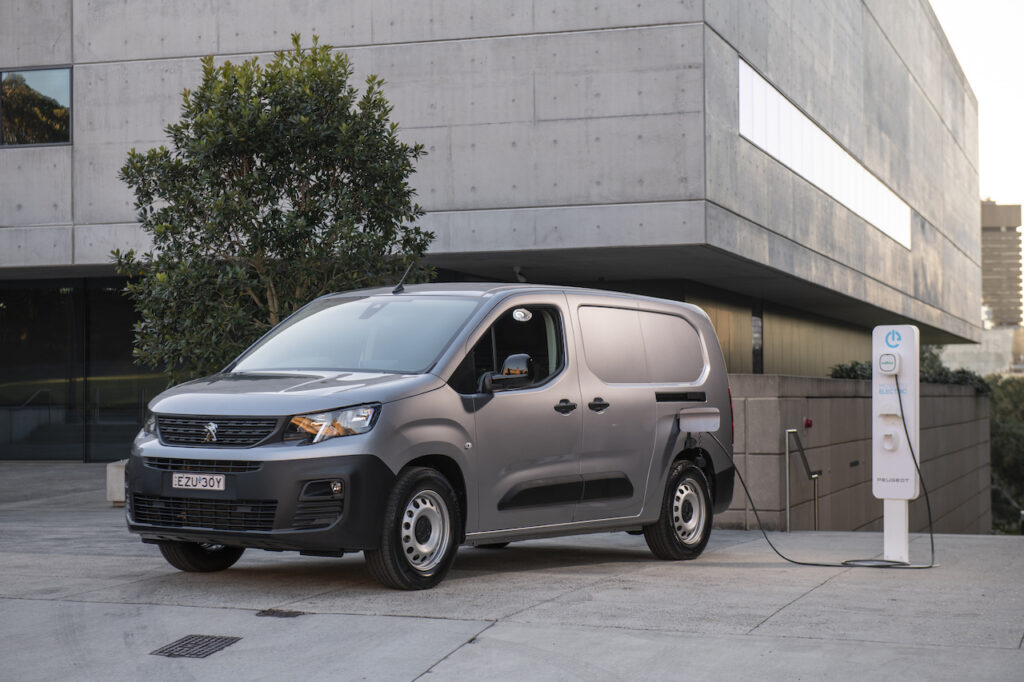 Charging
A power consumption average of 21.8kWh/100km for the e-Partner is the official claim along with a range out of the 50kWh lithium-ion battery pack of 258km WLTP.
The DC fast charge rate for the e-Partner is 101kW, which isn't that fast. But then the battery is not that big, so a 0-80 per cent charge can be completed in as little as 30 minutes.
The e-Partner's onboard charger allows an AC charging rate up to 7.4kW, which translates to a 0-100 per cent recharge using the appropriate wallbox in about 7.5 hours. So that's easily achievable overnight between days on the job.
A full 230V trickle charge will take about 24 hours.
The e-Partner is delivered with a Mode 3 cable and has a Combo2/CCS plug mounted on the left-rear quarter panel above the wheel arch.
There is a B (for brake) mode on the transmission lever that maximises the level of energy regeneration. It's really noticeable and brings the car almost to a stop.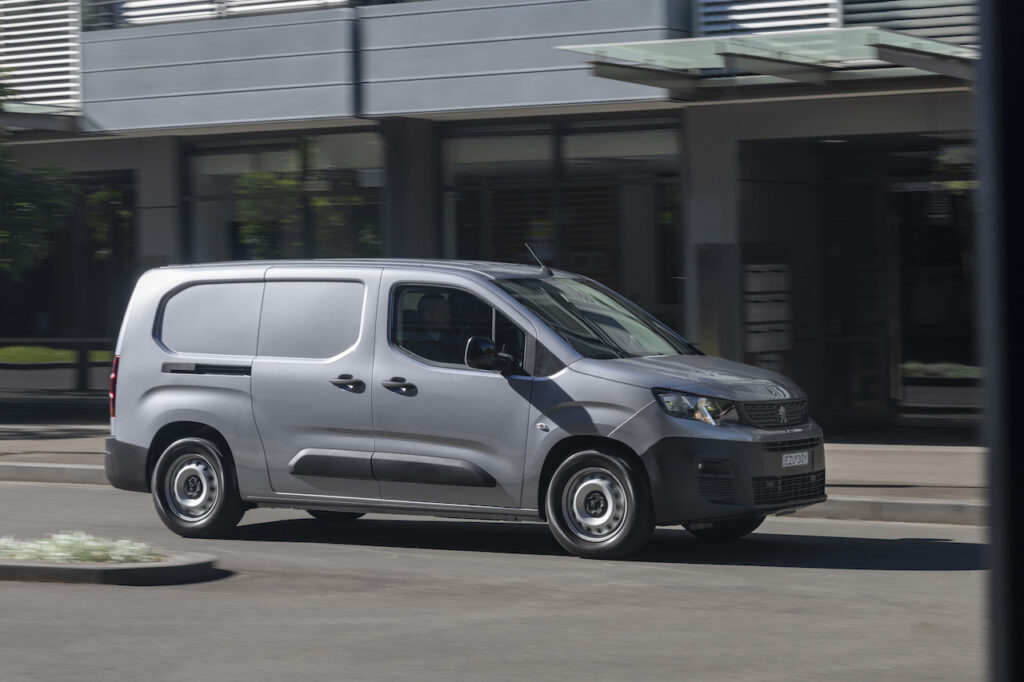 Ride and handling
As the Peugeot e-Partner is a specialised vehicle, the launch drive was pretty specialised too.
Intended to reflect the e-Partner's working life, it covered a 37km loop through Sydney's inner south and west. It included plenty of stop-start driving and a bit of unfettered running up to 80km/h.
After experimenting with Normal and the most satisfying Power modes, the vast bulk of the journey was completed in Eco with B engaged as well.
The rationale was that range was all important. The good news was eco still provided enough urge to out-accelerate other traffic off the lights let alone keep up as long as you hammered the throttle to the floor.
Plenty of friction and whirring was apparent as a result of this demand, but its liveliness from launch, the lack of internal combustion noise and clunky gearchanging still made this a more effortless and calming drive.
With a 200kg load strapped in, the e-Partner completed the drive averaging 16.5kWh/100km. That's pretty decent, although it will surely go up with load weight and if it's driven with less regard to power conservation.
But if you're going to get 200-300km consistently out of the e-Partner before draining the battery then it could work for clean, green inner-city delivery work. You've just got to factor in added charging time compared to a refuel.
The e-Partner completed the drive without too much fuss. It's a great platform to see out of looking forward, while it's a bloody chore trying to see out the back.
With its 4753mm length, 1880mm height, 2107mm width (with mirrors extended) and 11.4m turning circle its clearly not small. But it's still manoeuvrable enough to get around in relatively tight spaces.
Blind spot monitoring or a digital reversing camera would be helpful.
Riding on a modified version of Peugeot's EMP2 platform to fit its electric powertrain, the e-Partner also has its own tune of the electric-assist power steering and the MacPherson strut front- and torsion beam rear-suspension.
Inevitably, considering its load carrying requirements, ride quality was harsh with some big thumps from the rear, especially at low speeds.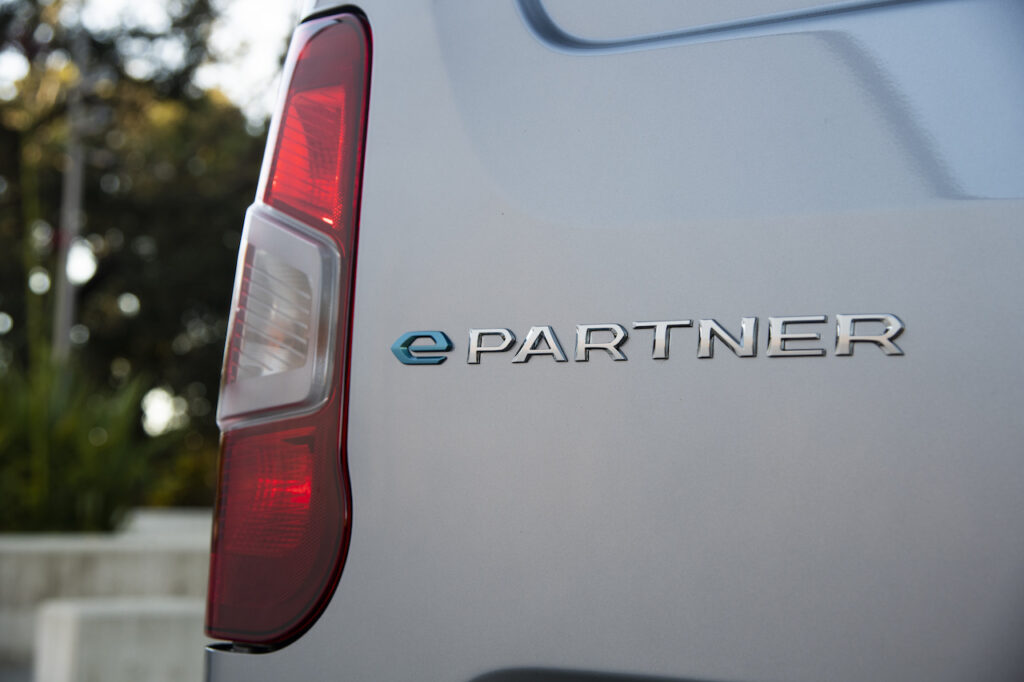 Talking point
It was a trip back in time with the e-Partner because it required a key to be inserted into the ignition in the steering column to be started. No push button starts here!
Safety
The Peugeot e-Partner does not have an ANCAP safety rating. The Partner does get four stars (out of a possible five) against superseded 2018 protocols, but that specifically excludes the EV.
Not good news if an ANCAP rating is required or recommended for a fleet purchase.
Safety equipment fitted to the e-Partner includes front, side and curtain airbags, autonomous emergency braking, lane keep assist and lane departure warning, a reversing camera, rear parking sensors, driver attention monitoring, traffic sign recognition and tyre under-inflation detection. Headlights are halogen rather than more powerful LED.
There is also an acoustic alert system below 30km/h that warns pedestrians of the e-Partner's approach.
Verdict
Score: 7.0/10
Peugeot is asking a lot of people with its pricing of the e-Partner, even if there are some rebates to be reclaimed, servicing costs are low and electricity costs are lower than fossil fuels.
If it was an emotional decision driven by environmental factors alone, it would be an easier vehicle to sign off.
It is also Peugeot's first EV in Australia, so that's great. And there's no doubt it is a quieter and more pleasant drive than its ICE compatriots.
But as most buyers will be primarily considering the cost-benefit analysis then this expensive vehicle with its mediocre equipment list, reduced payload and range and lack of an ANCAP rating is a very hard sell.
There are more electric vans on the way to Australia, so the e-Partner will face more competition. Hopefully, that will prompt a future price reduction.
Peugeot e-Partner
Price: $59,990 plus on-road costs
Basics: EV, 2 seats, 6 doors, compact delivery van, FWD
Range: 258km (WLTP)
Battery capacity: 50kWh
Battery warranty: 8 years/160,000km
Energy consumption: 21.8kWh/100km (WLTP)
Motors: One on front axle, maximum output 100kW/260Nm
AC charging: 7.4kW, Type 2 plug
DC charging: 101kW, CCS Combo plug
0-100km/h: 11.2 seconds (claimed)