2024 Mazda CX-60 PHEV review: Mazda's electric upmarket gamble
2024 Mazda CX-60 PHEV review: Mazda has been telling us for years it wants to be a premium brand. The CX-60 medium SUV is proof of that in the metal.
It is the first of four SUV models it is launching to the world based on a new platform with all-new engines and featuring Mazda's first petrol-electric plug-in hybrid drivetrain.
Of course, it's the latter we're focussed on here, so let's get into it.
READ MORE: The electric year ahead: Every EV coming to Australia in 2023
READ MORE: The five best family EVs under $100K: From Tesla and Hyundai to Kia and Mercedes-Benz
READ MORE: PHEV technology explained
What does the Mazda CX-60 PHEV cost?
There are nine Mazda CX-60 models, three of which are plug-in hybrid.
The PHEV (or P50e) is available in three equipment trims – Evolve, GT and Azami. It's the same story for the mild-hybrid inline six-cylinder turbo-petrol (G40e) and turbo-diesel (D50e) CX-60s as well.
In each equipment grade the PHEV is the most expensive model, charging a $12,500 premium over the P40e and a $10,500 premium over the D50e.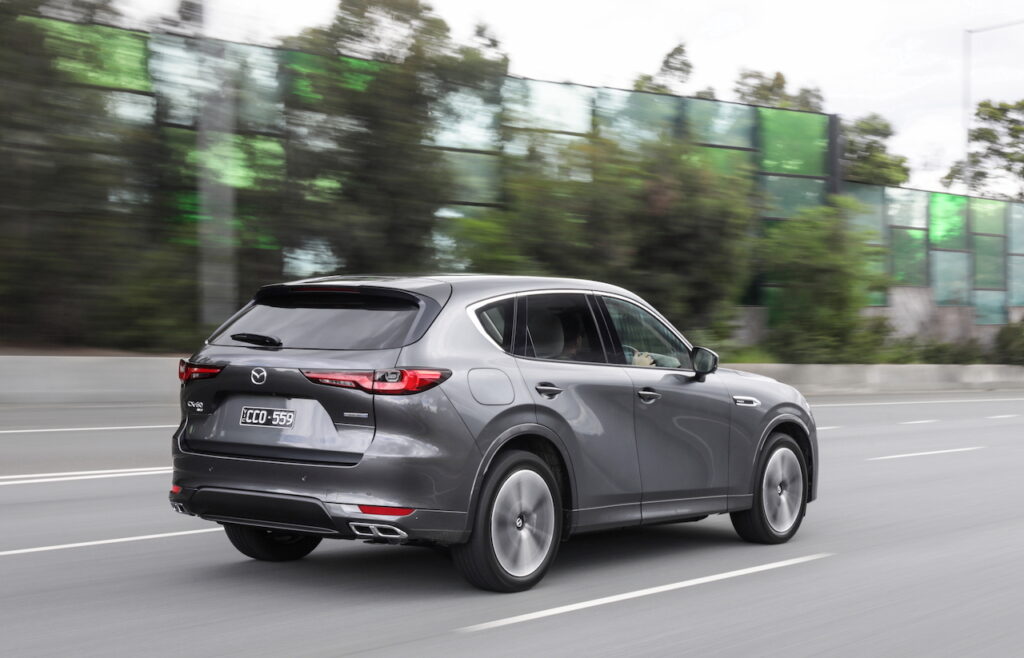 The cheapest CX-60 PHEV Evolve kicks off at $72,300 plus on-road costs, the GT is $80,300 and the Azami $85,500.
Given Aussies are opting for hybrids or EVs and aren't that interested in PHEVs – let alone high-priced ones – it's no surprise there isn't that much competition for the CX-60 PHEV.
The Kia Sorento PHEV and Lexus NX 450h+ are in the pricing vicinity. But so is the Tesla Model Y battery electric SUV, which actually dominates sales in the premium medium SUV segment. Just saying…
What do you get in the Mazda CX-60 PHEV?
All CX-60s get alloy wheels, keyless entry, dual-zone climate control, embedded satellite-navigation, wireless Android Auto and Apple Carplay connection, wireless smartphone charging and four USB-C points.
Safety equipment standard across the range includes autonomous emergency braking and suite of airbags that includes near-side (to prevent head knocks between front passengers) and rear side airbags. It launches in Australia with a five star ANCAP rating based on 2022 protocols.
The CX-60 can adaptively set its speed, self-steer in its lane, monitor blind spots, avoid or minimise junction and reversing collisions, warn the driver if it judges attention is wandering, read traffic signs and advise passengers if it's safe to exit.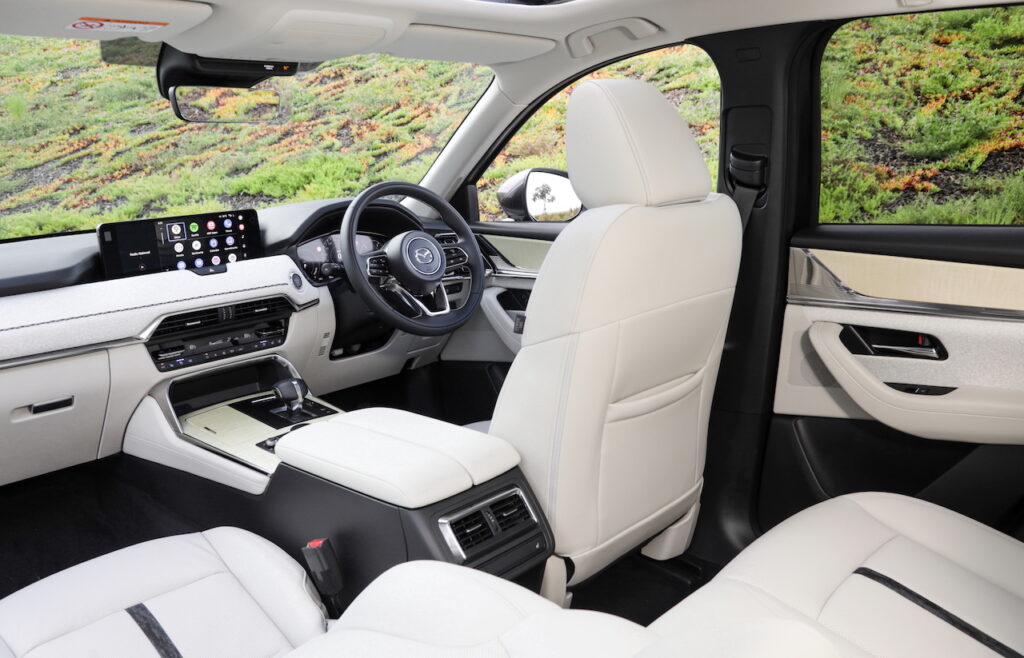 The GT adds leather seat trim and power adjustment of the front seats, a larger 12.3-inch fully digital infotainment screen and 12.3-inch instrument cluster, powered steering wheel adjustment, a panoramic sunroof and a new facial recognition system that sets driver preferences for seat, steering wheel, external mirror positioning and the head up display.
Among other things, the flagship Azami adds seat ventilation, Nappa leather, ambient lighting, a more sophisticated form of the facial recognition system and a new see-through view for the 360 degree camera.
All models come with a space saver spare tyre supported by tyre pressure monitoring.
What is powering the Mazda CX-60 PHEV?
The CX-60 PHEV is powered by a 141kW/261Nm 2.5-litre four-cylinder engine mated to an eight-speed wet clutch (as opposed to torque converter) transmission that drive all four wheels permanently.
It is supplemented by a 100kW/270Nm e-motor fed by a 17.8kWh lithium-ion battery pack.
Combined, the CX-60 PHEV boasts the most powerful powertrain Mazda has ever sold in Australia (until the larger CX-90 launches), offering 241kW at 6000rpm and 500Nm at 4000rpm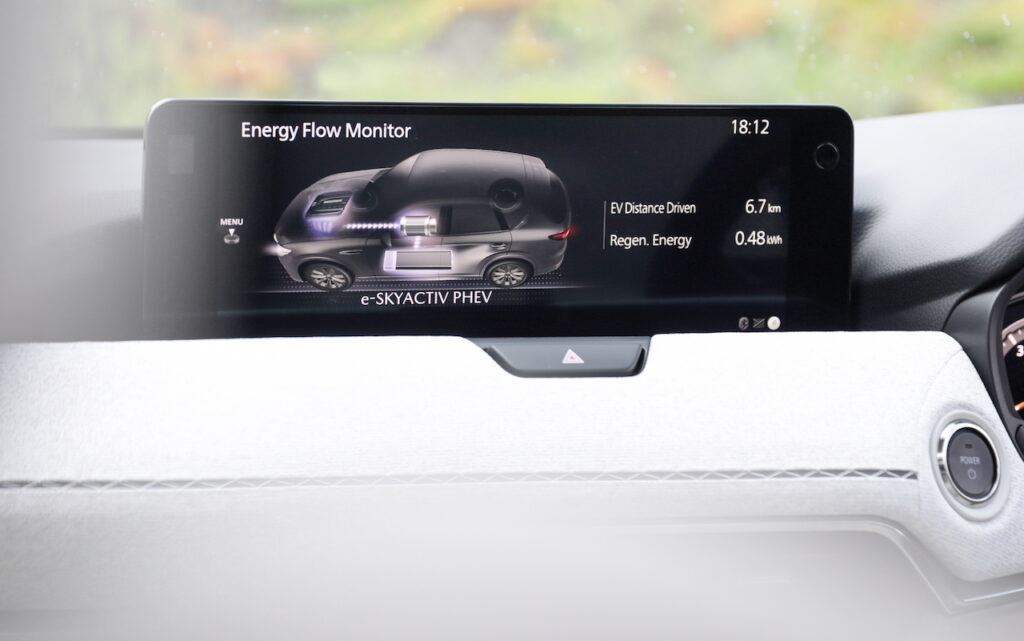 The PHEV prefers 95 RON petrol and claims a miserly 2.1L/100km. Of course that's based on a lot of EV-only running. In the real world we saw a still excellent 3.5L/100km.
The claimed electrical consumption rate is 14.8kWh/100km. During our drive – which included country and urban roads – the average came in at 21.8kWh/100km.
How big is the Mazda CX-60 PHEV's battery, what is the driving range, and how long will it take to charge?
The 17.8kWh lithium-ion battery pack in the Mazda CX-60 PHEV is claimed to deliver a driving range up to 76km at speeds up to 100km/h.
Using a 7.2kW AC charger it can be fully recharged in 2.5 hours. On 220-240V it should take around nine hours.
How does the Mazda CX-60 PHEV drive?
The Mazda CX-60 PHEV does not drive as well as expected considering how much tech and effort Mazda has thrown at it.
Mazda has established a reputation for itself in the last couple of decades as it has risen up the sales charts for building high quality, well resolved cars that are enjoyably cohesive to drive.
The CX-60 PHEV feels like it still has some way to go to reach that level of resolution.
The drivetrain doesn't feel as strong as it promises to be on paper with a 5.9 seconds 0-100km/h claim. It isn't especially refined either.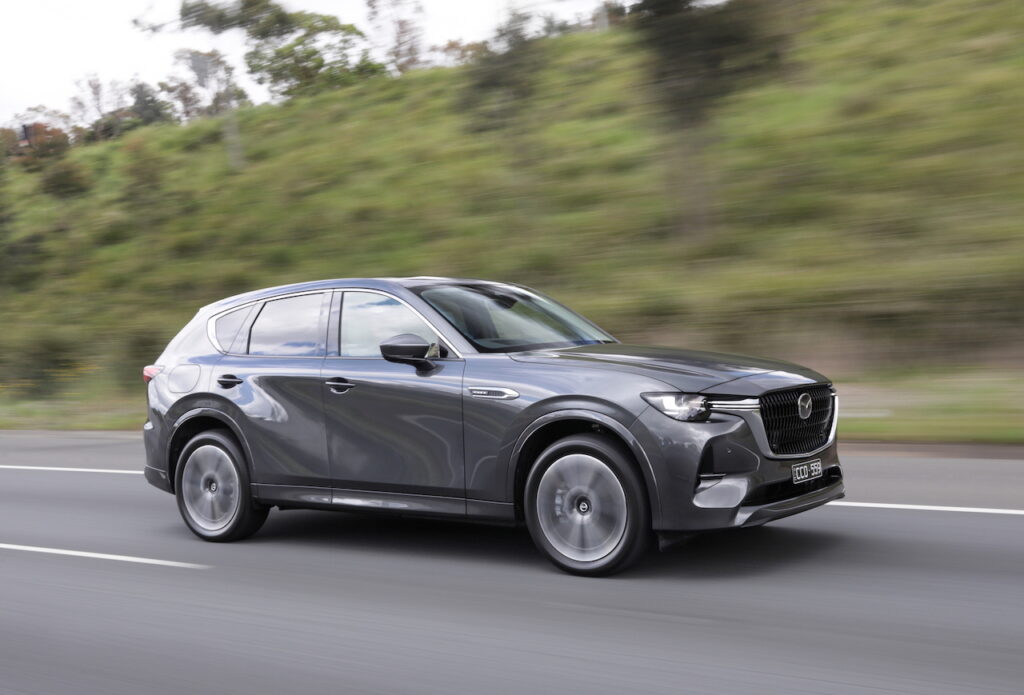 It shuddered and clunked and sometimes reacted with pauses and surges when asked to accelerate with vigour.
The ride quality was also compromised significantly once off smooth surfaces. It was aggressively firm and without adaptive dampers, not tuneable by the driver.
The ride issues were exacerbated by the 20-inch wheels and tyres used by the GT and Azami. The Evolve's 18s offered a calmer experience.
On smooth roads the CX-60 hinted at what it could be; handling neatly and steering accurately. Trouble is, Australia has heaps of rough roads…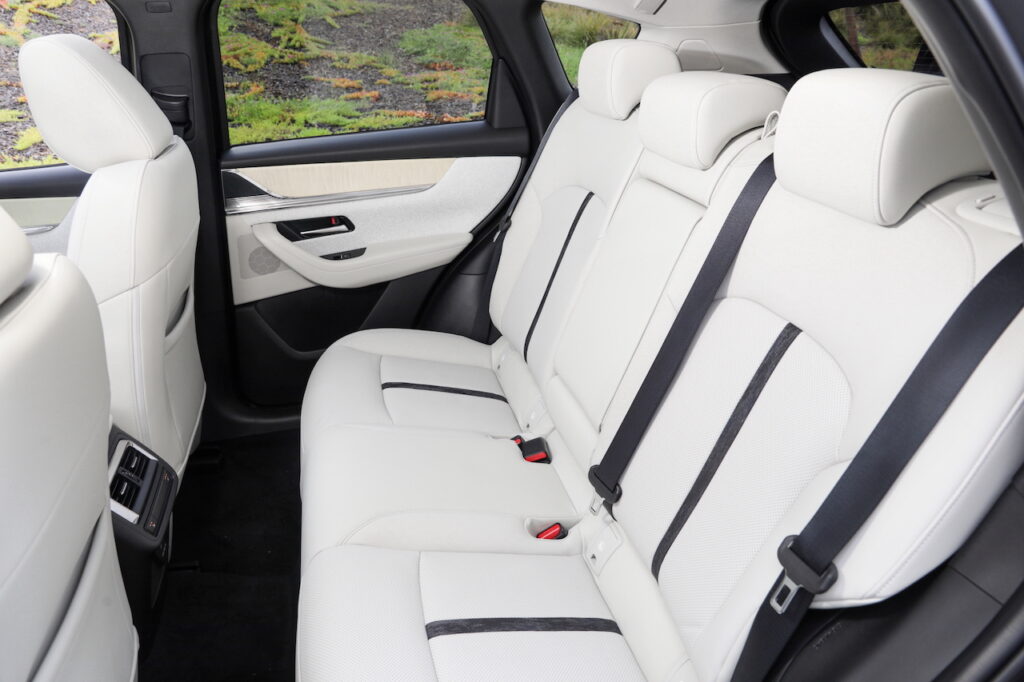 Inside the cabin the rear seat offered less space than you might expect from a vehicle 4740mm long. The boot is 477 litres, which is good but not exceptional in the class. It seems the decision to follow the premium route and position the engine longitudinally rather than transverse across the engine bay has eaten into cabin space.
The CX-60 cabin is at its best upfront where the simple, elegant presentation is recognisably Mazda with higher-grade materials added to the usual Japanese build quality.
A key aspect of living with a Mazda is understanding the company's strategy of keeping driver distraction to a minimum. So the infotainment screen is not a touchscreen, the instrument display doesn't have endless configurations and a HUD on the windscreen relays essential information without eyes having to be diverted from the road.
What is ownership of the Mazda CX-60 PHEV like?
The CX-60 comes protected by a five-year/unlimited kilometre warranty and five years roadside assistance. The battery pack is protected by an eight year/160,000km warranty.
The service intervals are 12 months or 15,000km, whichever comes first. All three powertrains come with capped price servicing programs. The first five services average out at $518 for the PHEV.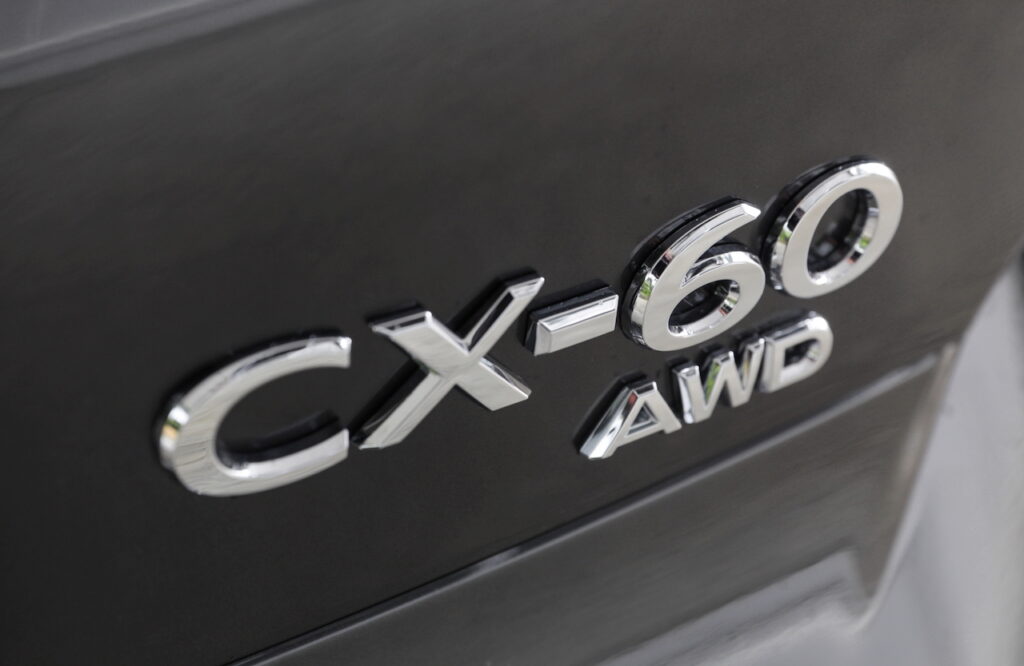 The Mazda CX-60 PHEV review: verdict
You can debate the basic proposition that Mazda should have gone EV rather than PHEV with the CX-60. You can read Mazda's explanation here.
But whichever way it judged the right way to proceed as an automotive business, Mazda should have done a better job of the first of its critical new-generation models.
It's a disappointing drive that comes across as unfinished. There could be a great car in here, but Mazda is yet to unlock its full capability.
Mazda CX-50 PHEV specifications
Price: From $59,800 plus on-road costs
Basics: PHEV, 5 seats, 5 doors, SUV, AWD
EV range: 76km (ADR)
Battery capacity: 17.8kWh
Battery warranty: 8 years/160,000km
Energy consumption: 14.8kWh/100km (ADR)
Fuel consumption: 2.1L/100km (ADR)
E-motors: One in transmission tunnel, maximum output 100kW/260Nm
Engine: 2.5-litre four-cylinder, maximum output 141kW/261Nm
Combined output: 241kW/500Nm
Maximum output: 100kW/270Nm
AC charging: 7.2kW, Type 2 plug
0-100km/h: 5.9 seconds (claimed)