2024 Audi Q5 55 TFSIe plug-in hybrid EV review
The Q5 55 TFSIe is the most powerful Audi Q5 ever created and also the most fuel efficient. As with other plug-in hybrid electric vehicles (PHEVs), the Q5 promises the best of both worlds, delivering all-electric motoring for short distances and the freedom of having a fuel tank for those longer adventures.
But does the Audi Q5 55 TFSIe deliver?
After all, it arrives at a time when sales of battery electric vehicles are booming and PHEVs continue to struggle.
Perhaps helping the TFSIe's cause is Audi pitching the PHEV as a performance vehicle as much as one for low emissions motoring.
Competitors include just about any mid-sized premium SUV, from the Tesla Model Y to the BMW iX3 and Mercedes-Benz GLE – or even one of Audi's other Q5s.
READ MORE: 2024 Mazda CX-60 PHEV review: Mazda's electric upmarket gamble
READ MORE: Audi confirms more than 10 EVs by 2025, including entry-level model
READ MORE: The $1 million Rolls-Royce Spectre reviewed: Is this the best electric vehicle ever made?
Value
The Audi Q5 55 TFSIe Quattro starts at $102,900 plus on-road costs. That makes it by far the most expensive of the regular Q5 models, with only the SQ5 inching above it.
It's about $20,000 more than the 45 TFSI Sport, which is slower (0-100km/h in 6.3 seconds) but has similar levels of equipment. And it's about $10,000 less than the SQ5, which is quicker (0-100km/h in 5.1 seconds) and more focused dynamically.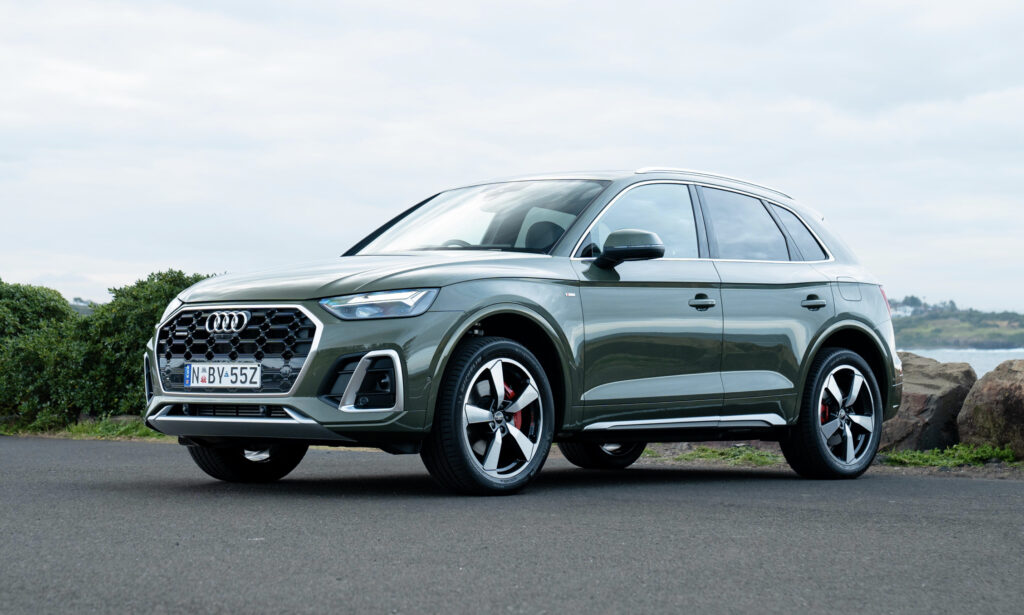 A Q5 55 TFSIe Sportback model – with a sleeker roof profile – is priced from $110,200 plus on-roads and gets matrix LED headlights but misses out on roof rails.
Otherwise, the two share a high level of equipment. There's 20-inch alloy wheels (no spare wheel), tri-zone ventilation, a mix of real and fake leather, 360-degree camera, smart key entry, panoramic sunroof, powered tailgate, heated front seats, 30-colour ambient lighting and a 10-speaker sound system.
Roof rails are standard on the SUV but are deleted for the Sportback.
All get a 12.3-inch configurable digital instrument cluster and a 10.1-inch central infotainment screen incorporating Apple CarPlay and Android Auto.
Options include a head-up display and Bang & Olufsen sound system.
Brakes are larger to deal with the additional weight and the calipers are painted red.
The Q5 PHEV is covered by a five-year, unlimited kilometre warranty, although the battery pack has a separate eight-year warranty.
Inside
It's pure Q5 inside, from the front and back seats to the boot. The only inkling this one is any different are some additional displays within the digital display screens.
That translates to a comfortable cabin, but one that's showing its age. It's nicely done, but lacking the fizz of newer models.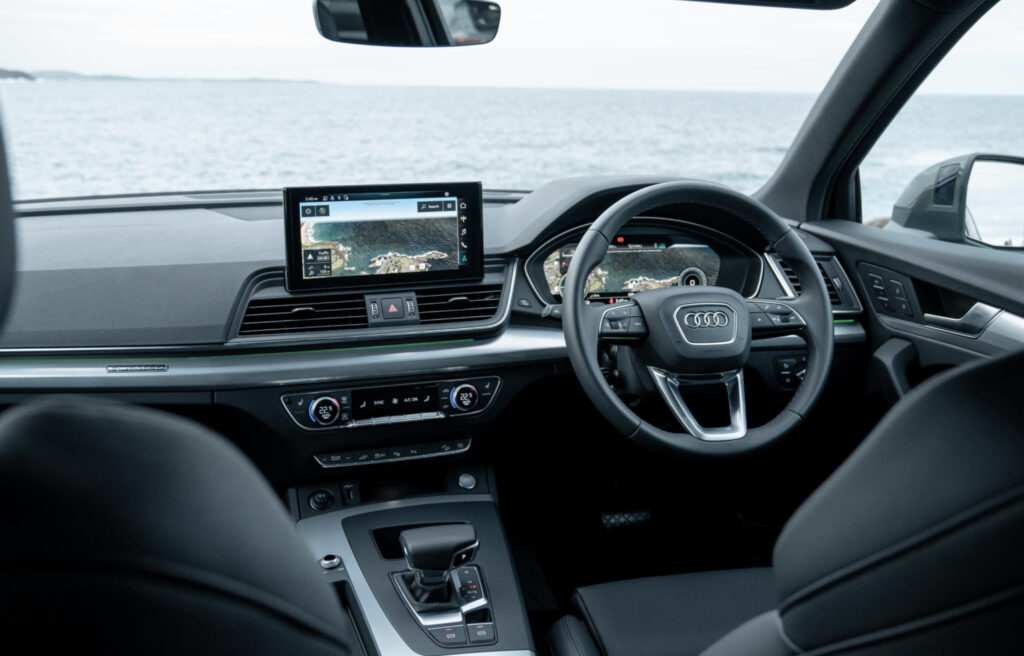 The basics are done well, from the assortment of buttons and controls to the dash layout and storage options.
But some of the finishes and materials merely fall into the acceptable camp. Inoffensive and upmarket, but not exactly pushing any boundaries.
Highlights include the Nappa leather-wrapped steering wheel and genuine aluminium inserts to break up the grey.
Memory settings on the driver's seat are handy and the seats themselves are supportive and nicely padded.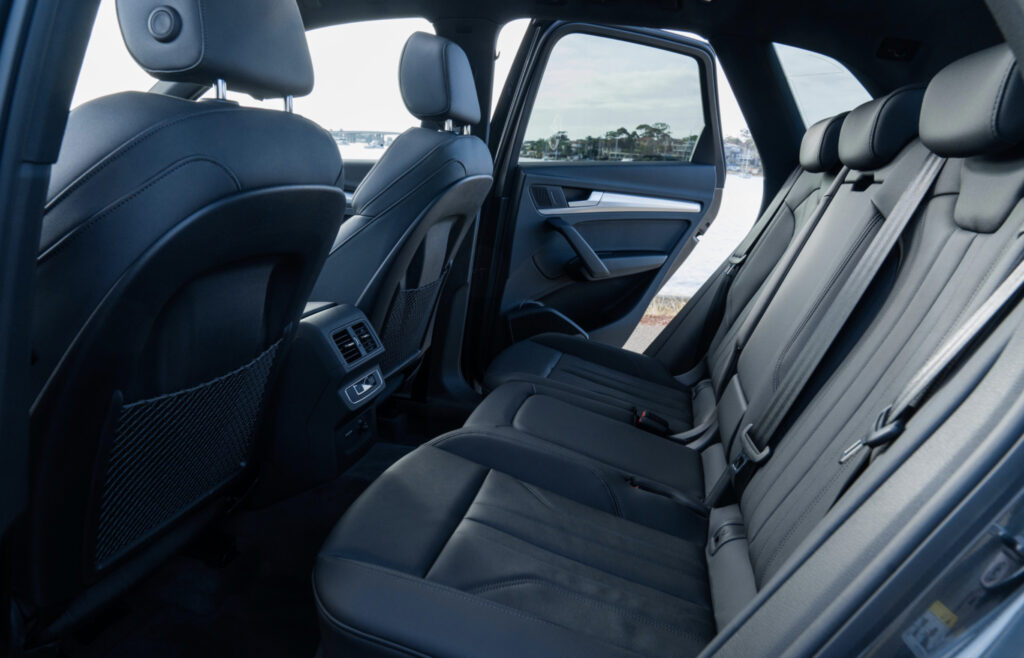 In the rear it'll easily accommodate a couple of adults, but with three across the back they'll be in close quarters.
The 465-litre boot is usefully broad and can be expanded with split-folding back seats.
Performance and efficiency
There's a familiar 2.0-litre four-cylinder turbo petrol engine making 195kW and 370Nm and it's teamed to an equally familiar seven-speed twin-clutch transmission.
The big difference is that there's also an electric motor integrated into the transmission, adding another 105kW and 350Nm to the equation.
Combined, the two powerplants can make up to 270kW and 500Nm.
That makes it the most powerful Q5 ever, although the diesel-fed SQ5 wins in the arm wrestle over torque.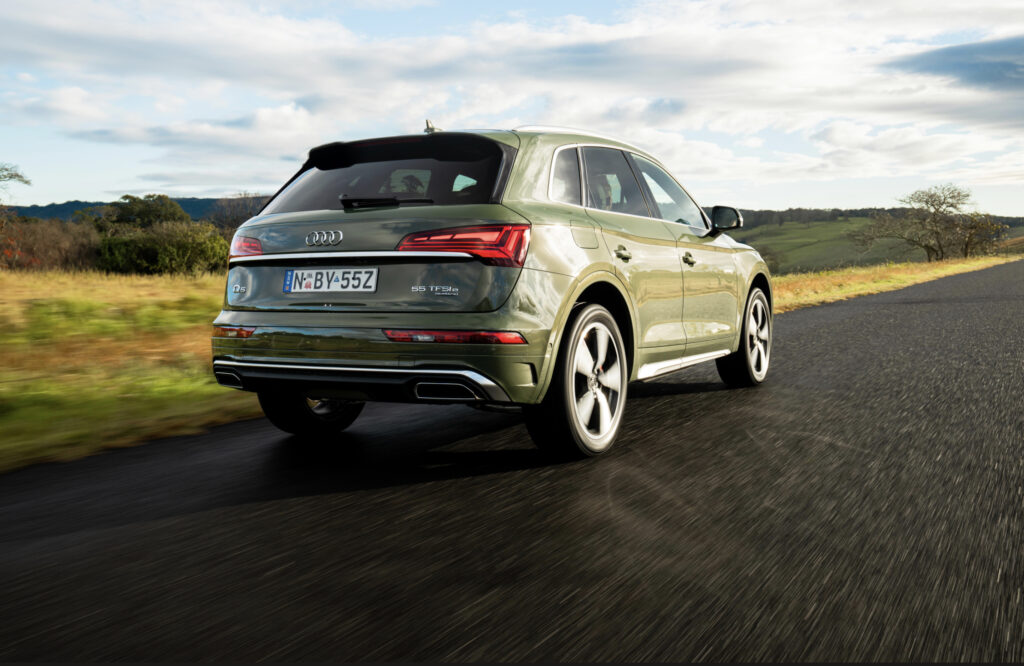 Still, the pitch from Audi is that there are six-cylinder-like outputs, something that leads to a 0-100km/h time of 5.3 seconds.
But that performance depends on an enthusiastic right leg and having both propulsion systems working together.
Left to its electric motor the Q5 is respectable and responsive but a long way from fiery. And if you want to overtake or win that traffic light grand prix you'll need to wake the petrol engine.
Blame it partly on weight. The PHEV is about 300kg heavier than a regular Q5 due to the additional weight of batteries and a motor.
If you need to, it can also tow up to 2000kg.
As always, the PHEV fuel consumption claim is all but unachievable. It's claimed to use 2.0 litres per 100km, a figure derived from a laboratory test unlikely to mimic anyone's driving.
But in EV only mode you'll use no fuel, whereas in hybrid mode you'll use a whole lot more than that. While it's claimed to provide up to 55km of electric motoring, we found 45km is more realistic.
Various drive modes adjust how enthusiastically it kicks down a ratio and how much assistance the petrol engine will provide. You can also select Sport mode by popping the gear selector rearward, in turn adding more petrol assistance.
EV mode prioritises electric motoring – with that associated drop in performance – while Battery Charge allows you to charge the battery while driving; it's a made-for-Europe mode where PHEVs are sometimes forced to run only on electricity in some major centres. In Australia all it will do is use a lot of premium unleaded charging the battery.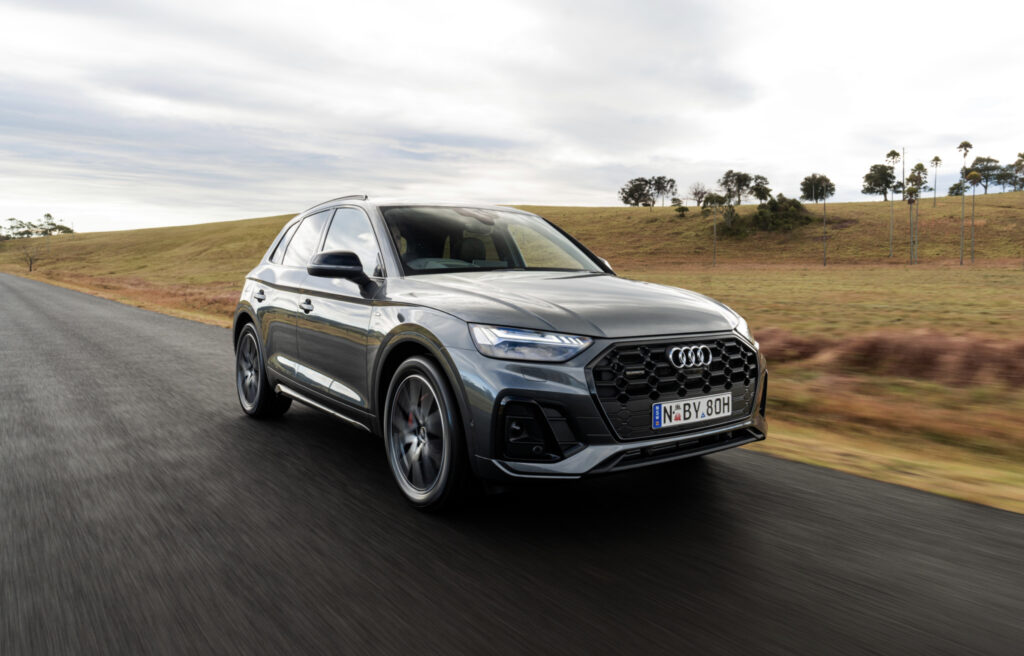 Dynamic also forces the TFSIe to use all-wheel drive (in other modes it can temporarily disconnect the rear wheels) and leans more heavily on petrol for added punch.
Charging
It's AC charging only for the 55 TFSIe, done through the additional fuel door behind the back door on the passenger side. That's not unusual for plug-in hybrids and will work fine for most owners, easily providing a full charge overnight.
Audi supplies a charging cable for a regular powerpoint as well as a three-phase adapter. Plus there's a Type 2 to Type 2 cable in case you're using a public charger that requires you to BYO.
There's a 17.9kWh battery under the boot floor but only 14.4kWh of that is usable.
Full charging from a wallbox takes about 2.5 hours, or you can plug into a regular powerpoint for a circa-eight-hour charge.
Ride and handling
The Audi Q5 PHEV doens't deviate wildly from the regular Q5 dynamic equation.
Despite its additional kilos it still has a liveliness on the road. Steering is accurate and direct and there's ample grip.
All of which makes for a surefooted and engaging driving experience.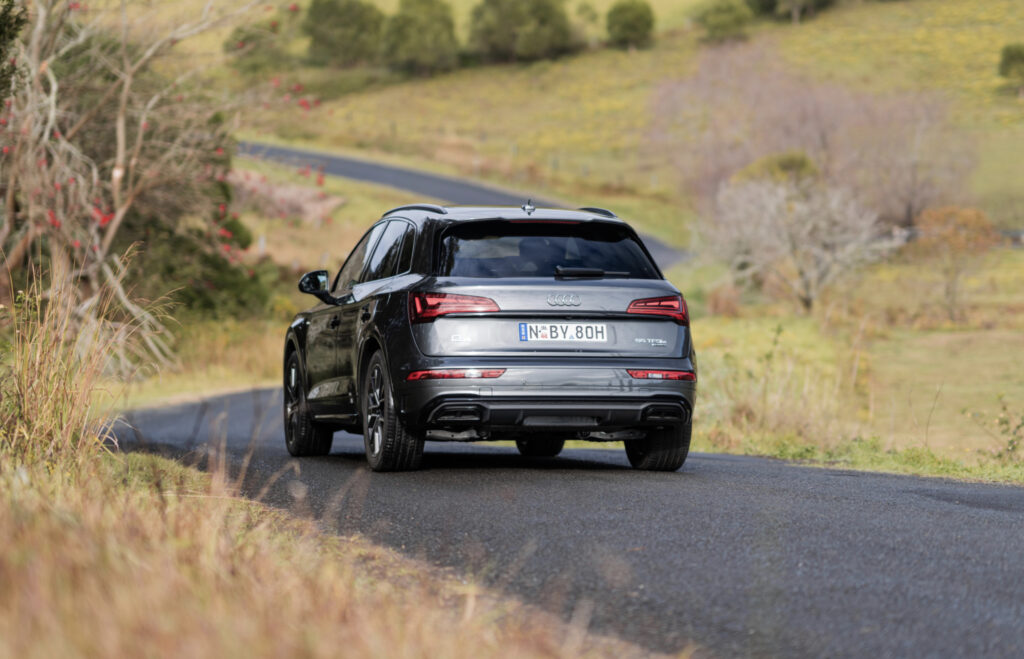 The Q5 55 TFSIe feels solid and user-friendly around town while dealing admirably with a change of pace on a country road.
Suspension is towards the firmer side by luxury SUV standards, but it's thoroughly acceptable given the inherent athleticism.
Talking point
The cabin of the Q5 PHEV has some unique hybrid-specific readouts within the dual screens.
The vehicle data displays the split between petrol engine and electric motor while also showing the efficiency of your driving.
It can also alert you to how much additional EV range you could save if you turned off some features, such as heating systems or ventilation.
Safety
The Audi Q5 55 TFSIe gets airbags all around as well as a knee airbag for those up front. There's also a bonnet that rises slightly in an impact to protect pedestrians or cyclists.
The different mechanical components of the PHEV mean it doesn't share the five-star rating (from 2017) of other Q5s. Don't expect it to be retested, either.
Driver assist systems include autonomous emergency braking, blind spot warning, exit warning, rear cross traffic alert and lane departure warning.
However, the Q5 does without a speed limit recognition system.
Verdict
The Audi Q5 55 TFSIe delivers luxury SUV normality in a package that provides an easy – if compromised – transition to an EV motoring world.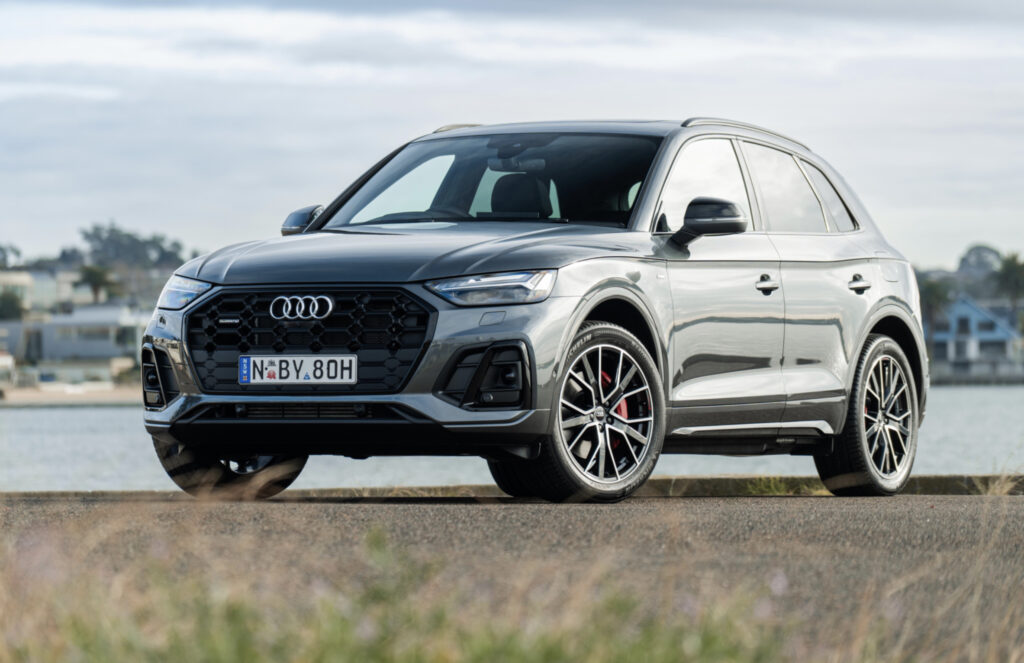 While it falls short of an EV for performance and efficiency, it makes up for it with the ability to travel further using petrol – and decent acceleration in Hybrid mode. Just be prepared for it to be thirsty by hybrid standards when running in hybrid mode.
All of which suggests the Q5 PHEV is an acquired taste – and one for people with very specific use cases.
2024 Audi Q5 55 TFSIe PHEV specifications
Price: From $102,900 plus on-road costs
Basics: PHEV, 5 seats, 5 doors, SUV, AWD
EV range: 55km (WLTP; 45km is more realistic)
Battery capacity: 14.4kWh (usable)
Battery warranty: 8 years
Energy consumption: 23.9kWh/100km (when in EV mode)
Engine: 2.0-litre four-cylinder turbo, 195kW/370Nm
Motor: 1 integrated into the transmission, 105kW/350Nm; combined output of 270kW/500Nm
AC charging: kW, plug type
DC charging: NA
0-100km/h: 5.3 seconds