2023 Kia EV6 GT review: Mega-popular electric vehicle put to the seven-day test
Snaring a Kia EV6 GT for test is like scoring F1 race day pit passes.
Demand for these rapid electric GTs is off the charts, so car folk look at you wondering how many brown envelopes were handed over so you could jump the queue.
For those on a waiting list, here's what you can expect from the first week of EV6 GT ownership.
Our more grown-up review of the flagship Kia EV is here. This report covers some of the quirkier, real-life findings our family experienced over seven days of EV6 GT life.
READ MORE: 2023 Kia EV9 review
READ MORE: The electric year ahead: Every EV coming to Australia in 2023
READ MORE: The five best family EVs under $100K: From Tesla and Hyundai to Kia and Mercedes-Benz
Day 1: Look at Me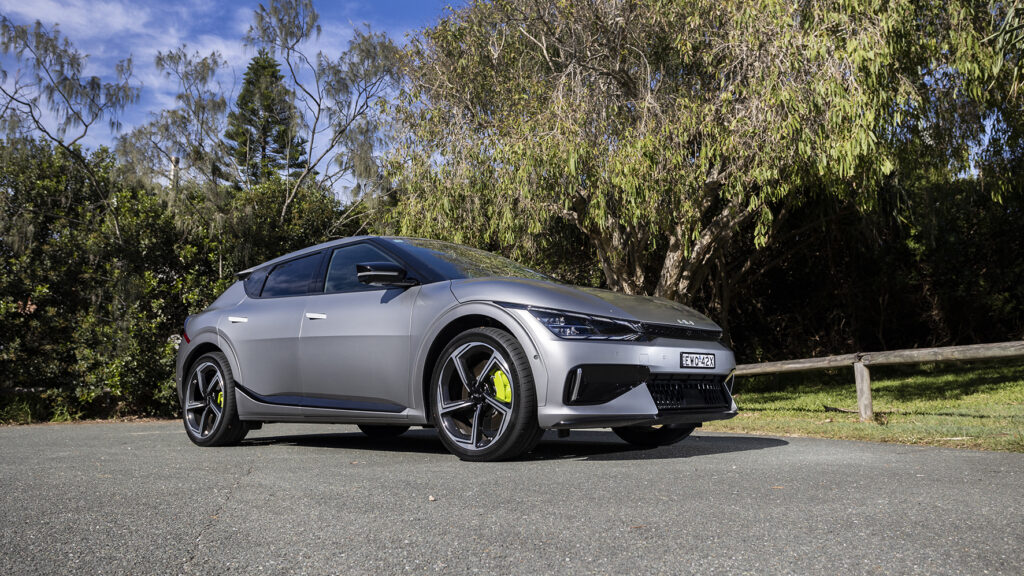 Moonscape. That's what they call this colour. It's an extra $3295, but this matte hero hue is peak 'look at me!' As if the neon green brake callipers weren't enough.
Striking thing, this electric SUV-cum-wagon. Not what I'd call pretty, but certainly spectacular.
You first notice its fat rear arches. Then its stylishly integrated door handles, giant 21-inch five-spoke alloys, clamshell bonnet and strikingly detailed LED lights everywhere (I don't want to think about their replacement cost).
There's serious intricacy to much of the body design – especially around its sculpted, light fantastic rear end. It's as if Kia's designers were properly let off the leash.
Theatrical inside too. The digital driver display and giant infotainment screen are a single, curved item. Looks expensive. Feels very well finished.
Okay, 97 per cent battery life and 387km range. Can I live with that? There's something far more reassuring when getting in the $72,590 Kia EV6 Air and seeing 528km range remaining.
Adjust seats. What? A handle? Where's my electric control? It's a $100,000 Kia rich with cabin luxe, so I'm surprised I must move my seat with a bit of plastic, even if the adjustability action's lovely.
The car's artificial sound's been turned off, so I move into traffic in silence. Feels a big car. But solid, and eager to get on with things.
The Neon green 'GT' button on the steering wheel looms large. On it goes and the stability control turns off. Boom! That's daft acceleration.
The ton is up in 3.5 seconds, which let's not forget is supercar rapid…. in an EV that's a porky 2185kg. It's mind-blowing, if not quite in the re-wire brain territory of the Porsche Taycan Turbo S. It, rather amusingly, is $250,000 more than this bonkers Kia.
It's all highway home from here. Eco mode and radar cruise on, it lives up to its GT name. Suspension damping's decent like this, with only bigger road bumps disturbing the calm with a little spine shake. Shouldn't adaptive dampers be a thing on the EV6 GT?
After 130km of mainly highway, the readout says 20.1kWh/100km. Already under par.
Day 2: License loser
The kids want a test drive before school. Of course they do. You can't bring something home looking like this and expect it to be ignored.
My eight year-old daughter snares the front seat first. Sadly, I realise too late her head is at the same level as the seat harness strap holes, which are plastic lined.
I floor it for full acceleration madness and her head is pinned on the seat. This means her bonce hits plastic rather than soft leather. Oops.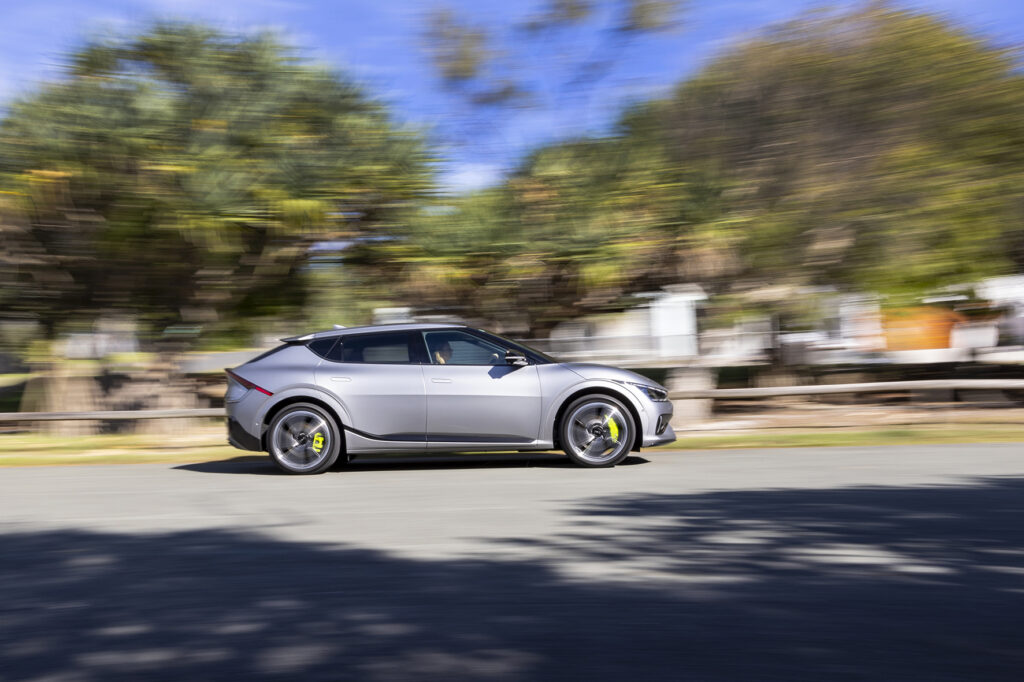 Kids like EVs to sound like spaceships, rather than me who likes them to be silent. I go into vehicle settings through the screen and there's 'Active Sound Design'.
I put this synthetic sound into 'Enhanced' and, as I put the shoe in once more, there's quite a low, throaty sound. It's fun when accelerating, but a bit droney when cruising.
There's a cosmic whirr while I'm in the fun-packed GT mode, and I am continually blown away by the pickup of this thing. The performance and speed are incredible, and I'm fearing for the health of my licence.
What a great getaway car. Speed builds monumentally, but if I want, it makes barely a peep while doing so. Nobody can hear you flying away from the scene at silly knots.
I spend most of the day driving in GT mode so the economy's not falling. Average is now 20.4kWh/100km… still better than the official figure.
Day 3: Feeling at home
It's the weekend so I get to use the GT as more of a family workhorse.
Seats are quite firm – more sporty than classic grand tourer style. That said, the Alcantara running through the seats and doors feels superb.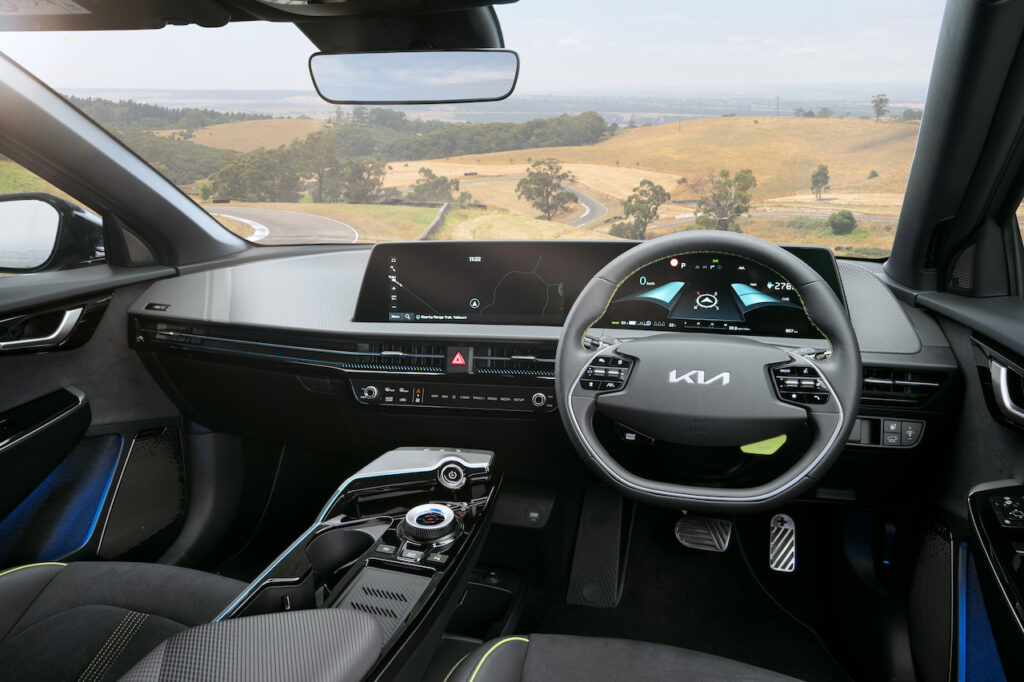 The functionality and cabin room are both standout, and build quality hard to fault. My son says the steering wheel looks like it's a gurning face, which I now can't un-see.
Under the centre console is a giant storage area, ideal for phones, iPads or even a bottle of wine.
My wife says she's not bonded with the interior. She suggests it feels incredibly masculine, there are too many "cosmic Tron graphics" and not enough colour or design flair touches. "It's not warm and fuzzy, more a hard, electric future," I'm told.
The boot's not as cavernous as I was expecting, considering the almost wagon-type rear end. If you want to keep the tyre mobility kit and power cable bags in the boot, this also eats into space. No frunk on offer, either. Not happy.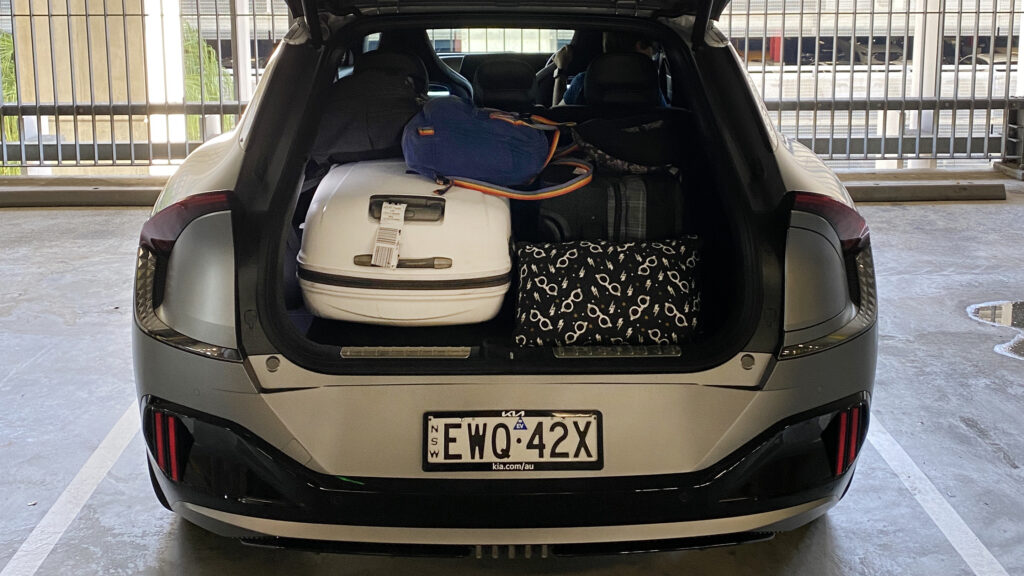 But rear seat space is excellent. The chairs are wide, supportive and do the comfy/firm bit well. Both head and leg room are generous for adults (a third one in here is pushing it), and claustrophobia's kept at bay with the glass roof.
I'm mystified why these rear seats can't slide on runners – something that's becoming increasingly commonplace in new cars, and ups the versatility when you demand more boot space.
Rear seats also don't recline – another luxury this car misses out on.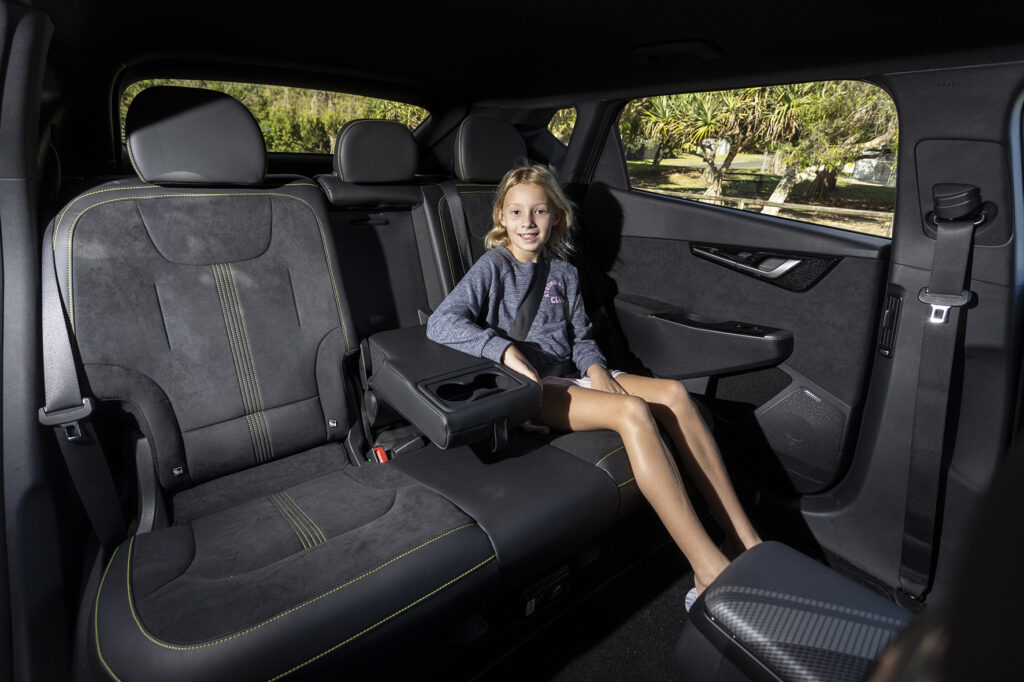 There's a 240V domestic socket under the rear seats. Very cool and ideal to charge phones, your laptop, coffee machine, widescreen TV or even bar fridge. Opportunities galore.
Day 4: Juicing Up
Despite all my driving fun, I'm still returning just under Kia's official consumption figure. I mustn't be trying hard enough.
Regardless, driving range is down to double digits, so it's off to a public charger early on a Sunday morning to boost range rapidly. First effort? The 50kW charger near my home is (still, after three months) out of service, awaiting replacement parts.
Off to the pricier (but working) 50kW Evie public charger. The Kia can handle 230kW charge speed, but I've no ultra rapid charger within 70km of my home, so 50kW it is.
After 1hr 15 mins (I go shopping) I've gained 58kWh and it's cost me $25. Importantly, I'm back to 100% charge and 376km range.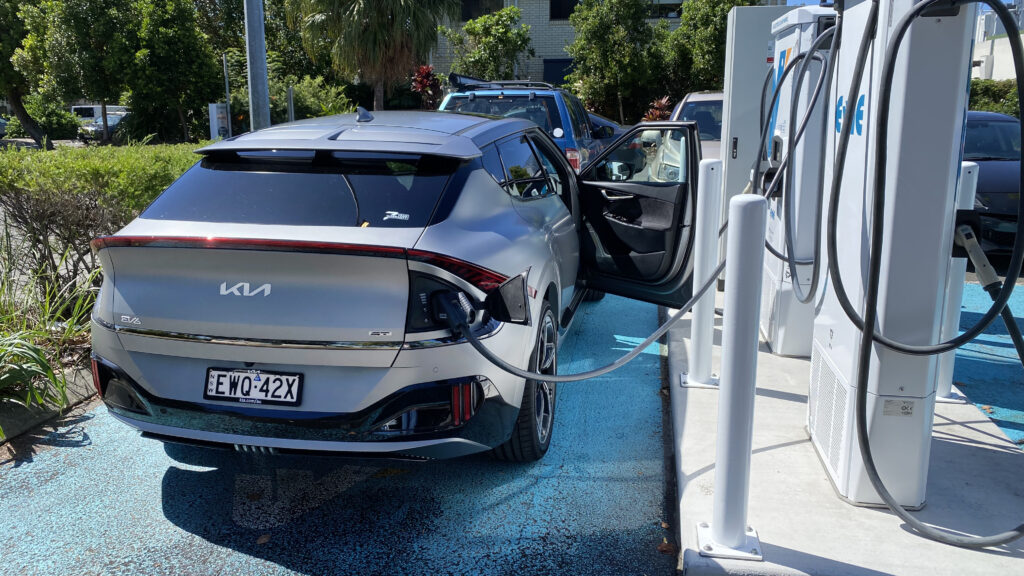 This part of town has some crummy roads, and I really feel the GT's firm, at times crashy ride. It's so stiff it's not that enjoyable in town, although it's here where most eyeballs are drawn to this striking Kia.
I get home and notice a bird has crapped on my ultra-expensive paint option. I figure leaving it there to cook in the sun would be a Very Bad Idea, but I'm pleased to discover the paint surface seems to repel it easily, and it wipes away quickly. No damage.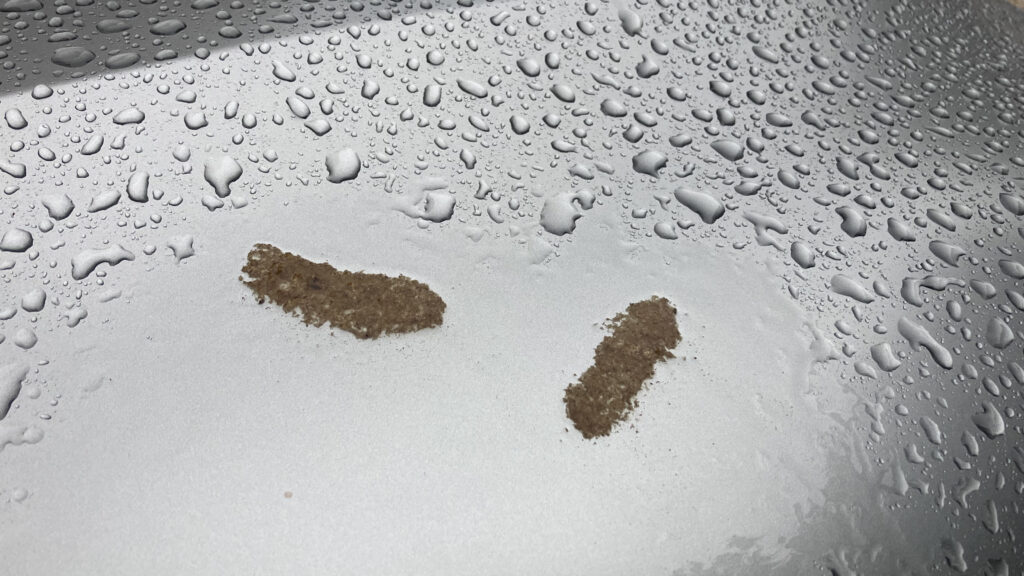 Day 5: Let's find some corners
My motoring writing colleagues had said compelling things when testing the EV6 GT on a race track. I've not got that opportunity, but I reckon I'd be reluctant to track anything weighing the 2185kg this Kia does.
I bet the brakes would take a pasting, and those 21-inch Michelin Pilot Sport 4s aren't going to be cheap to replace after a few track sessions.
Some fun back roads? Very much up for that.
I set out and get amongst the twisties. Brakes are very responsive, but a dash artificial feeling when doing the sensitive accelerator/brake transitions.
In GT mode the traction control really lets you party. This is a properly tail happy big beast, but that's a heavy rear end that flicks out behind you. Caution is advised when you mash the throttle with some lock on.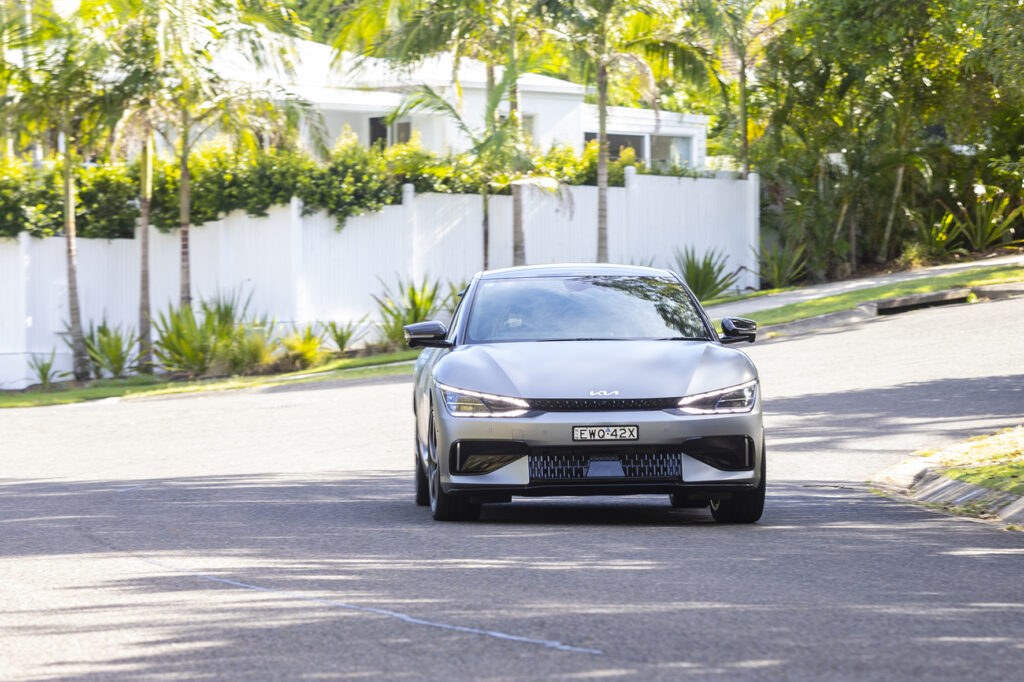 As I push on there's the expected understeer when carrying speed into turns. Lifting off brings in back into line, but in a slightly stuttering way. It feels unnatural to me, I lose confidence and don't love the experience. But I've used this road so many times with fun little lightweight cars, and there's just not that sort of joy with this big GT. It really does feel its weight.
Thats said, exit speed out of a corner is utterly earth shattering. If rapid acceleration rather than satisfying feel through a turn is more your thing, you'll love it.
Ballistic as the EV6 GT is, it's just not a track car. I come up with a perfect plan. I'd pay $27k less for the rear-drive EV6 Air (and get better ride comfort and better EV range), and with the money I'd save, buy a late model track car. Mazda MX-5. Hyundai i30N. Renault Megane RS. Thats sort of thing.
Day 6: Easy to live with
I've decided to save GT mode for short bursts of fun.
I leave the car in Normal, and enjoy the regeneration feeding energy back into the battery with the 'iPedal'. In maximum Level 3 regen it comes to a complete stop when you lift off the throttle – it's brilliant doing the single pedal driving stuff in town.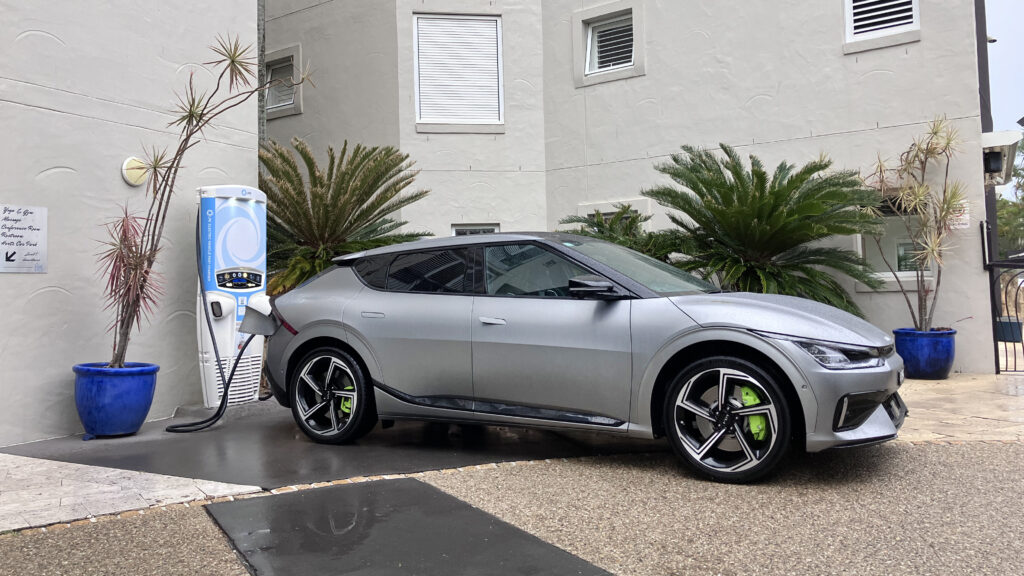 But it's a nicer car to drive on one or zero regen. You feel a dash of retardation, but it just coasts like a normal car.
I try to get on again with the Active Sound. Dynamic's quite a low, cyborg-type thing. It gives the impression of power, and is tolerable.
The kids prefer Cyber – a lower pitched futuristic electric noise – or Custom where you choose from the different tunes and alter volume to suit. I beg enough, and revert back to no noise. I find it all a bit weird if I'm honest.
The Kia's cabin is superbly insulated, and I love town driving in near silence. Looking at the single-piece driver display and infotainment screen – a smart curved item – really adds to the experience. You feel you're in a special and exceptionally high-tech offering.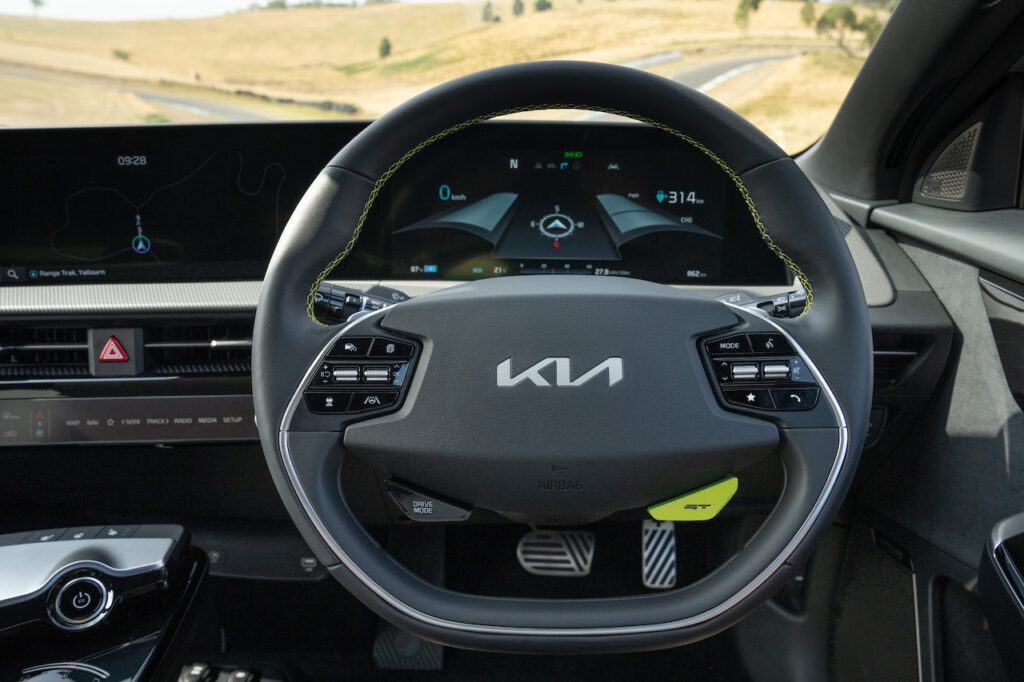 At night the cabin has a lovely ambient light glow, with a mini disco for the footwells, doors and across the dash. Lovely attention to detail.
A 360-degree camera is much needed as it feels a big car to park, and its styling doesn't offer ideal visibility through the glass.
Kudos too to a side view camera – showing your blind-spot – which pops up in your central screen when you put the indicator on. All cars should have this.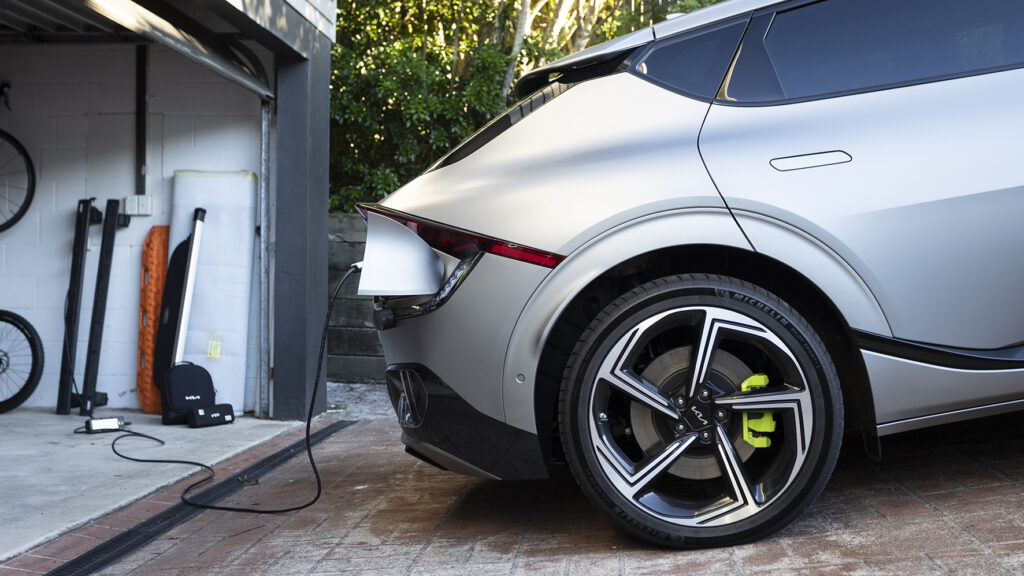 I try home charging overnight as I've got to return the car the next day. With 64 per cent battery remaining (and 253km range), my 2.2kW charge rate through my garage's normal household socket has the car telling me it's 15hr and 40 mins until we get back to 100 per cent.
This highlighting why a home wall box must be on your shopping list when you get an EV.
Day 7: Farewell, you crazy thing
As a daily driver, the EV6 GT has tested my back's tolerance for firm suspension, and my ability to not lose my licence.
Even so, I'm damn impressed. Mostly for the special feeling cabin and acceleration that literally defies belief.
This is a Kia after all, and here we are with supercar performance, all for under $100k.
As a family of four it's an excellent size, but we all agree the Hyundai Ioniq 5 is just that bit more practical with its better boot load space and more versatile back seats.
It's personal preference, but I'm also more drawn to the Ioniq 5's retro looks than the more extrovert EV6 GT.
But if being noticed is your thing, good grief this electric Kia does the job.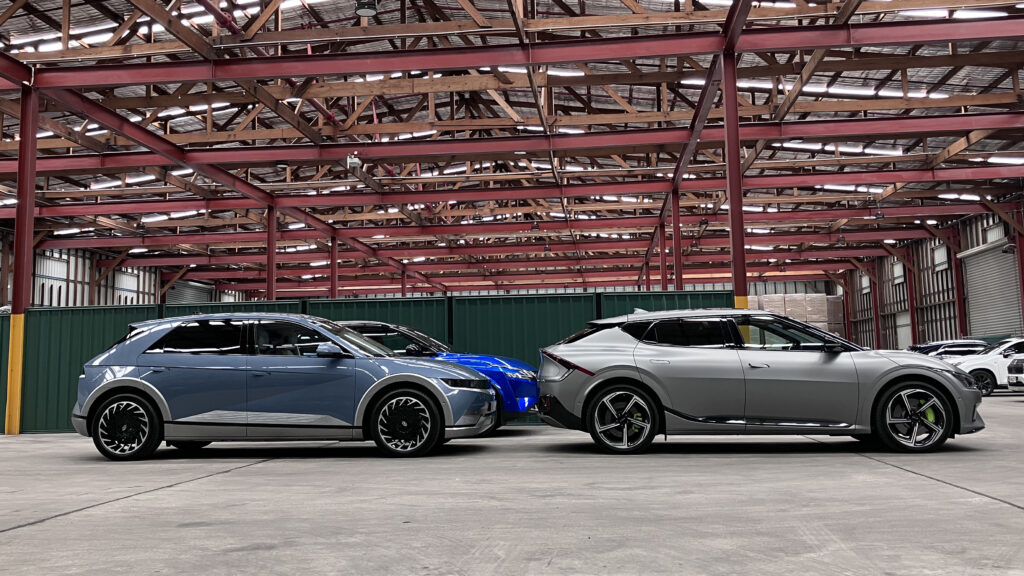 I'd most love this EV6 GT for an across-Europe family epic, with a decent amount of unrestricted autobahn thrown in. It'd be a marvellous grand tourer.
Performance is otherworldly, but it's not a sportscar. It's fun, but not in a way that could rival a little lightweight alternative. It attacks corners more with a sledgehammer than an artisan's precision tool… but many buyers may very well prefer that.
We finish with an average of 20.1kWh/100km across almost 700km. Incredibly, despite far from sympathetic use, this is below Kia's 20.6kWh/100km claim.
Its circa 400km range (if you stay away from the GT button) proved accurate and ample for our family life. That said, I stand by my belief I'd be happier with a comfier, rangier EV6 Air and then buy a fun petrol toy with the money saved.
But the EV6 GT is a special thing: design, cabin class and 3.5-seconds to crack 100km/h.
I shall miss it. But my licence is happy to hand it back.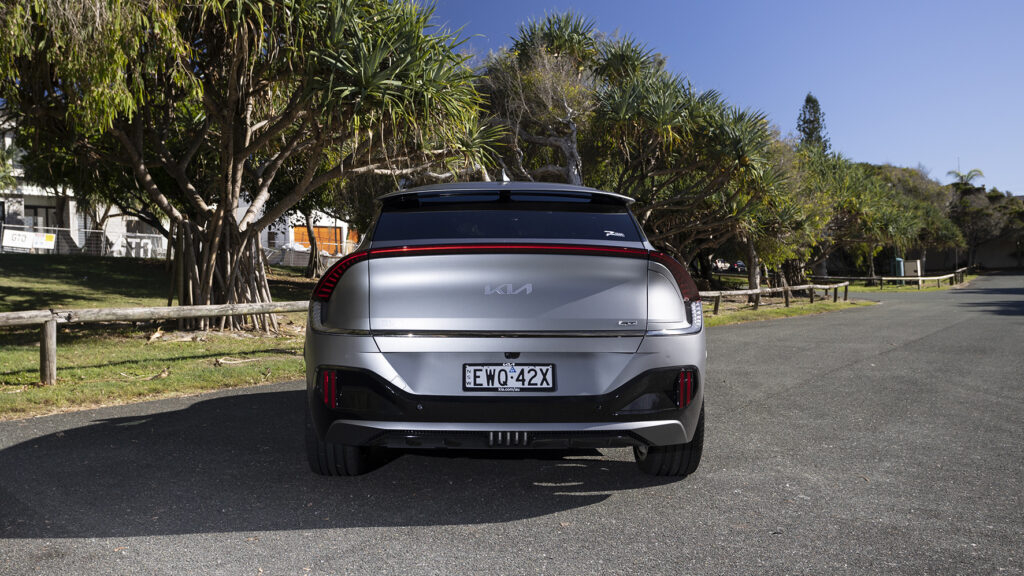 Kia EV6 GT specifications
Price: $99,590 plus on-road costs
Basics: EV, 5 seats, 5 doors, large SUV, AWD
Range: 424km (WLTP)
Battery capacity: 77.4kWh
Battery warranty: 7 years/150,000km
Energy consumption: 20.6kWh/100km (WLTP)
Motors: 1 front (160kW/350Nm), 1 rear (270kW/390Nm), combined outputs 430kW/740Nm
AC charging: 10.5kW, Type 2 plug
DC charging: 230kW (approx), CCS Combo plug
0-100km/h: 3.5 seconds (claimed)