2024 Polestar 2 Long Range Dual Motor with Performance Pack review: Polestar builds a direct rival for the Tesla Model 3 Performance and Kia EV6 GT
2024 Polestar 2 Long Range Dual Motor with Performance Pack review: When it comes to the 2024 Polestar 2 everyone has been getting very excited about the single motor models swapping drive from the front wheels to the back.
It's all about improving performance credentials.
But the Swedish-Chinese electric car specialist already had a pretty impressive sports model in the line-up – the Polestar 2 Long Range Dual Motor with Performance Pack.
And it's been upgraded for 2024 as well. Let's just say it lives up to its (long) name – especially the performance bit.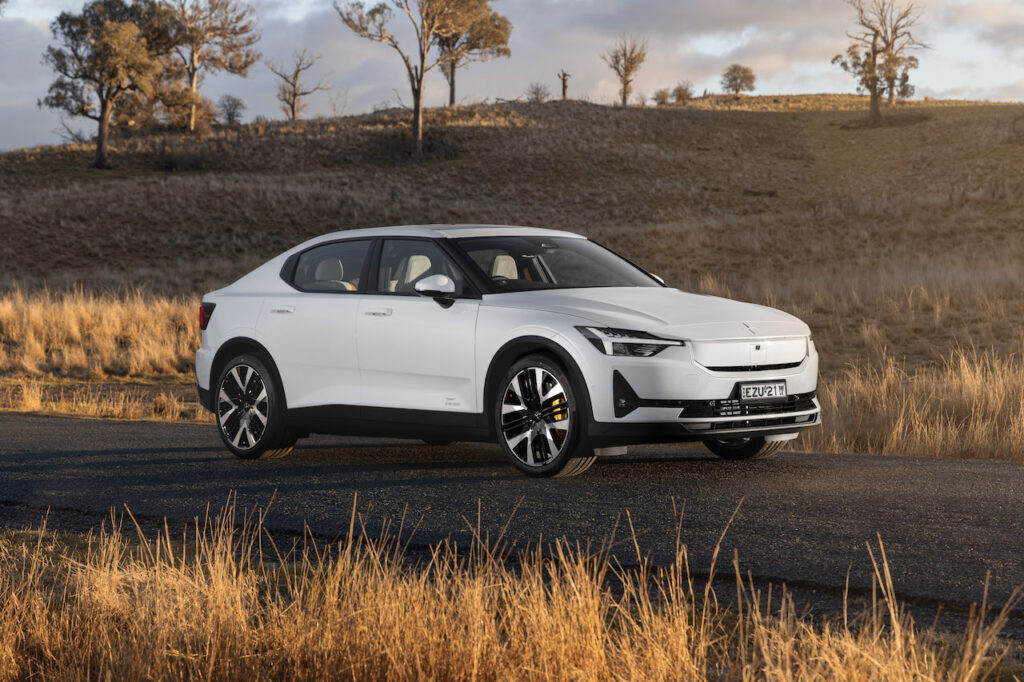 What does the Polestar 2 cost?
The 2024 Polestar 2 Long Range Dual Motor with Performance Pack is priced from $84,500 before on-road costs – a bump of $2400 over the most recent price of its predecessor, which debuted in Australia in late 2021.
It's the flagship of the four model five-door sportback line-up that now kicks off at $67,400 for the Polestar 2 Standard Range Single Motor. As we report here the entry model used to be lineball with the Tesla Model 3, but no more.
This top model has pricing parity with the top-spec Tesla Model 3 Performance, the Hyundai Ioniq 6 Epiq and is cheaper and less powerful than the awesome Kia EV6 GT.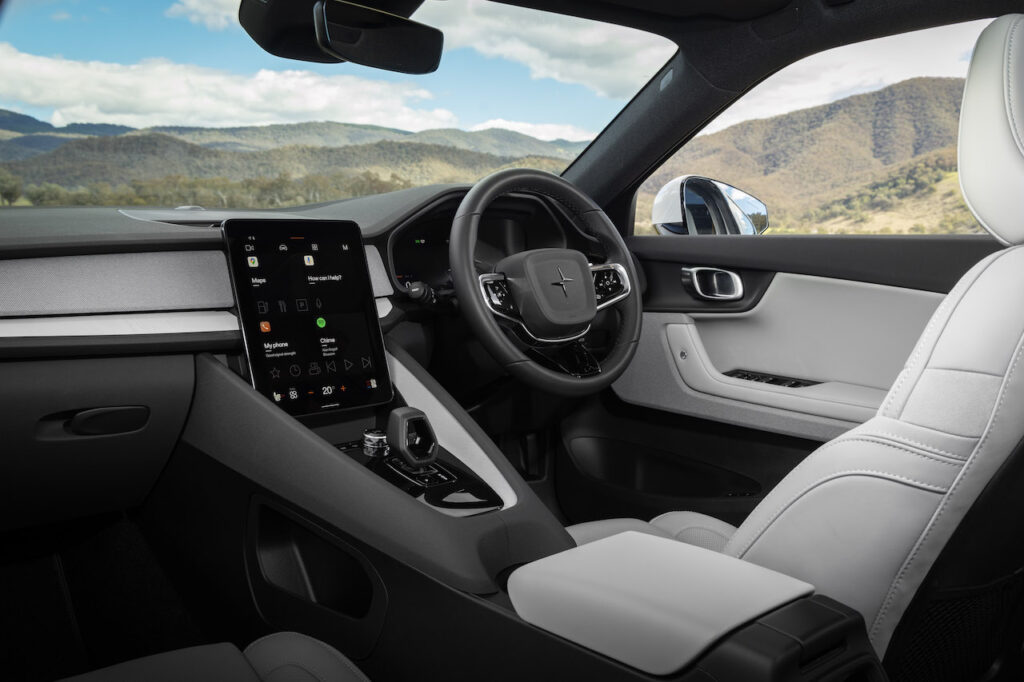 What do you get in the Polestar 2?
Standard 2024 Polestar 2 Long Range Dual Motor with Performance Pack equipment includes an Android operating system for infotainment, dual-zone climate control, eight airbags, a comprehensive suite of driver assist safety aids and a 2021 ANCAP five star safety rating.
In fact, most new standard equipment features for 2024 are safety-related: Blind spot monitoring with steering support, cross traffic alert with brake support, rear collision warning and mitigation and a 360 degree camera.
Visually, the 2024 Polestar 2 is identifies by its new smart zone insert in the front fascia, which is a flat panel housing sensors such as a camera and radar.
The key deal with this model is the Performance Pack, which compared to the standard $76,400 Dual Motor adds a 40kW power boost to 350kW/740Nm from 310kW/740Nm, Ohlins dampers, Brembo four-piston ventilated and drilled discs and new-look 20-inch alloy wheels shod with Continental SportContact 6 tyres.
You can add the 40kW power bump to your standard Long Range Dual Motor for $1600 over the air, or purchase the entire pack for $9000.
You also have to play the options game to get some premium equipment. A $6000 Plus Pack includes big ticket items such as a 13-speaker Harman Kardon stereo, a UV and heat-treated panoramic sunroof and fully powered front seats with weave tech trim, as well as a heat pump and heated steering wheel which should be standard.
A $3500 Pilot Pack includes adaptive cruise control and that should also be standard at this price.
You can also get perforated animal welfare secured Nappa leather upholstery for $6000.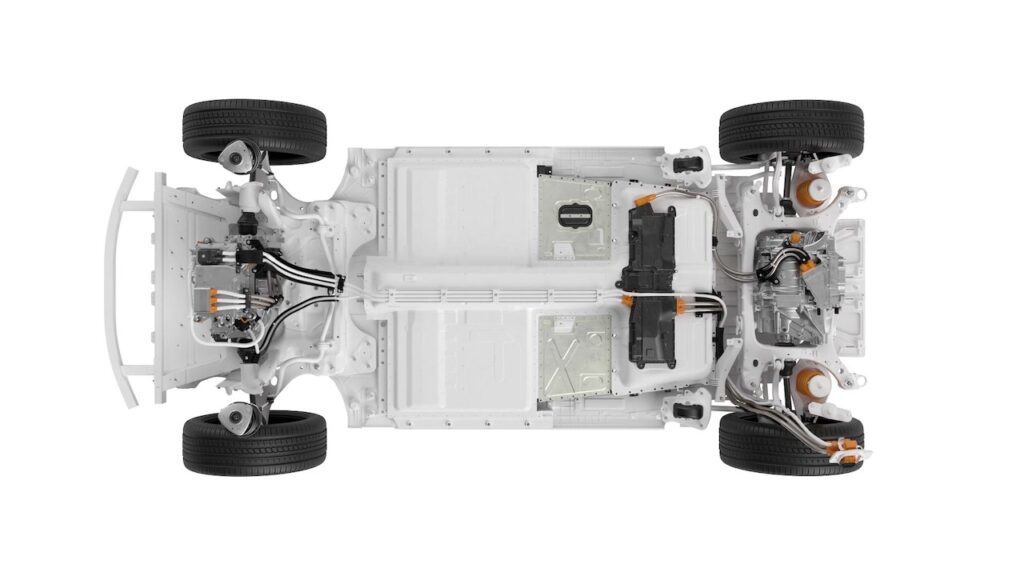 What is powering the Polestar 2?
This is a big story for the Polestar 2 Long Range Dual Motor with Performance Pack because there are significant powertrain changes.
The two e-motors are new and the all-wheel drive system is more rear-biased. It even disconnects the front e-motor to improve efficiency if strong acceleration isn't required. Drive is a via a single speed reduction gear.
The 350kW/740Nm max outputs equate to a 60Nm bump over the old model and a 0.2 sec cut in the 0-100km/h time to 4.2 secs. Maximum power kicks in between 70-130km/h, so it's really useful as an overtaking aid.
Like every Polestar 2 bar the entry-level Standard Range Single Motor, the flagship comes with a new 82kWh lithium-ion battery pack that's 4kWh larger than before.
It helps increase the claimed WLTP driving range 81km to 568km and the max recharging rate from 155kW to 205kW. The max AC charging is rated at 11kW.
DC fast charging 10-80 per cent can be theoretically completed as quickly as 28 minutes. AC three-phase 0-100 per cent charging takes eight hours. On a 220-240V trickle charger, work on about 40 hours.
The Polestar 2 has three-mode regenerative braking that varies from nothing to overwhelming. One pedal driving is strong in the latter.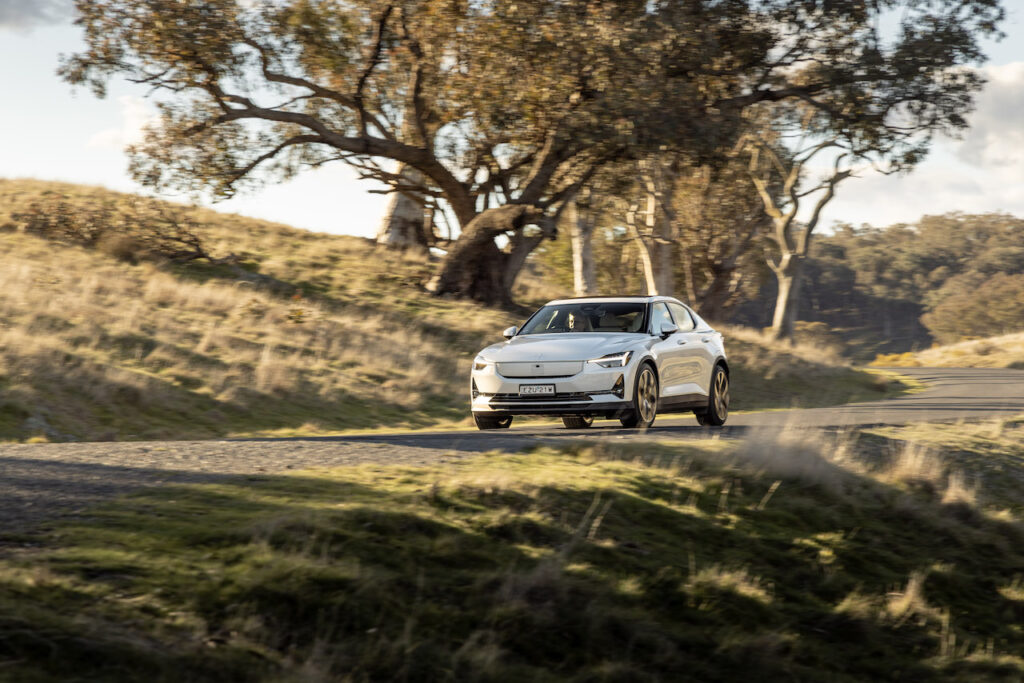 How does the Polestar 2 drive?
Swedish cars have never had a great reputation as performance vehicles, but the 2024 Polestar 2 Long Range Dual Motor with Performance Pack does its best to change that.
This thing is fast. Like, really fast. When the powertrain's putting its entire output into accelerative effort it's a slam you into the driver's seat experience.
Yet, as is typical of an EV powertrain it's whirringly quiet and flexibly happy just to potter along. It's impossible to detect when the front motor chimes in.
The other bit of good news is the Ohlins dampers do a great job of ensuring the whole show doesn't get messy in the corners. At speed, they control inputs from rough roads and the body quite brilliantly. At first you wince for impact as potholes and sharp edges approach, but they just don't intrude.
But here's the downside. The Ohlins provide a very terse ride at low speeds – like the trundling town speeds most of us do most of the time. Then you rightly wince for impact.
Yes they are adjustable dampers with up to 40 settings, but they are retuned by hand and preferably in a workshop by someone who understands all that compression and rebound stuff.
At more than 2100kg the Polestar 2 understandably struggles a bit for lithe connection, something not aided by electric-assist steering that's lacking in feel if not accuracy. The AWD system, however, provides great traction. Grippy Continental rubber helps with that, but also transmits too much noise on coarse surfaces into the cabin.
Disconcertingly, the Brembo brakes require a hefty prod before they start reacting as they should.
It's a pity regenerative braking systems is accessed through the 11.15-inch touchscreen rather than by flappy paddles, because its power would be useful if more easily accessed on the move.
But access to functions via the touchscreen is the Polestar 2's thing and there are very few physical buttons to operate – volume and audio on/off is one. Thankfully most important stuff is only one or two steps away. Basic climate controls sit easily accessed on the bottom of the screen. The 12.3-inch digital instrument panel is easily configurable, swapping between a standard and sat-nav view.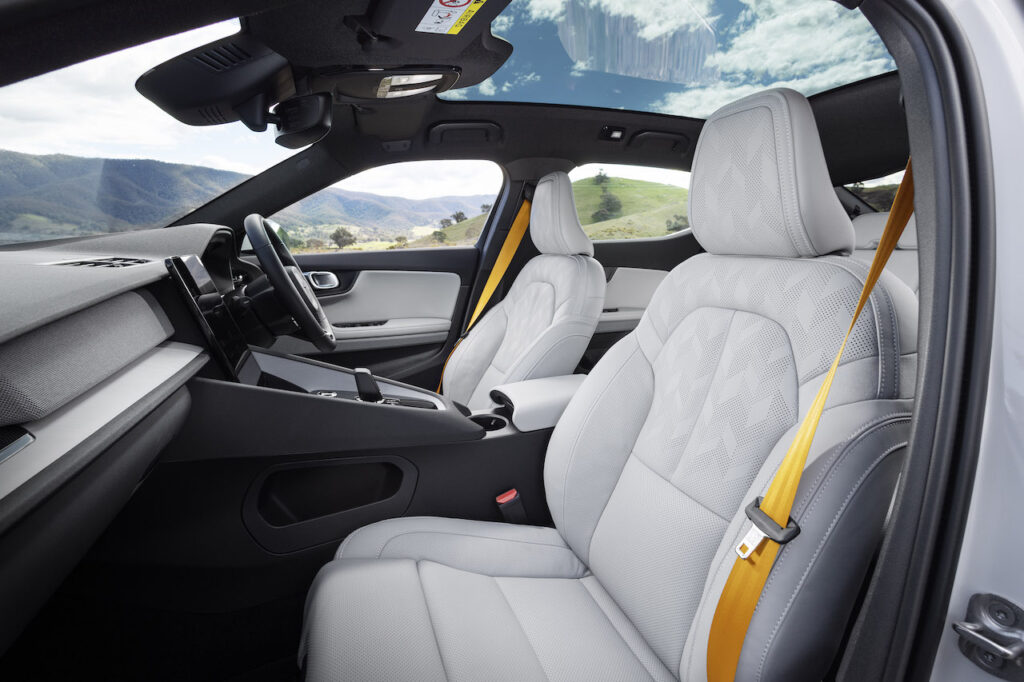 The Polestar 2 features the usual Scandinavian interior design restraint. The materials quality and the way it is put together (in China) is well ahead of the Model 3. To that you can add comfy and supportive seats and decent storage.
The rear seat is a bit limited for knee space and is quite upright. This car is built on a platform shared with ICE cars and the transmission tunnel that blights foot room for middle rear-seat passengers emphasises that.
The boot is accessed via a power tailgate, has a useful pop-up luggage separator, a hidden bin and space is okay (405 litres, expanding to 1095 litres with rear seats split-folded). There is a small frunk as well. There's no spare tyre.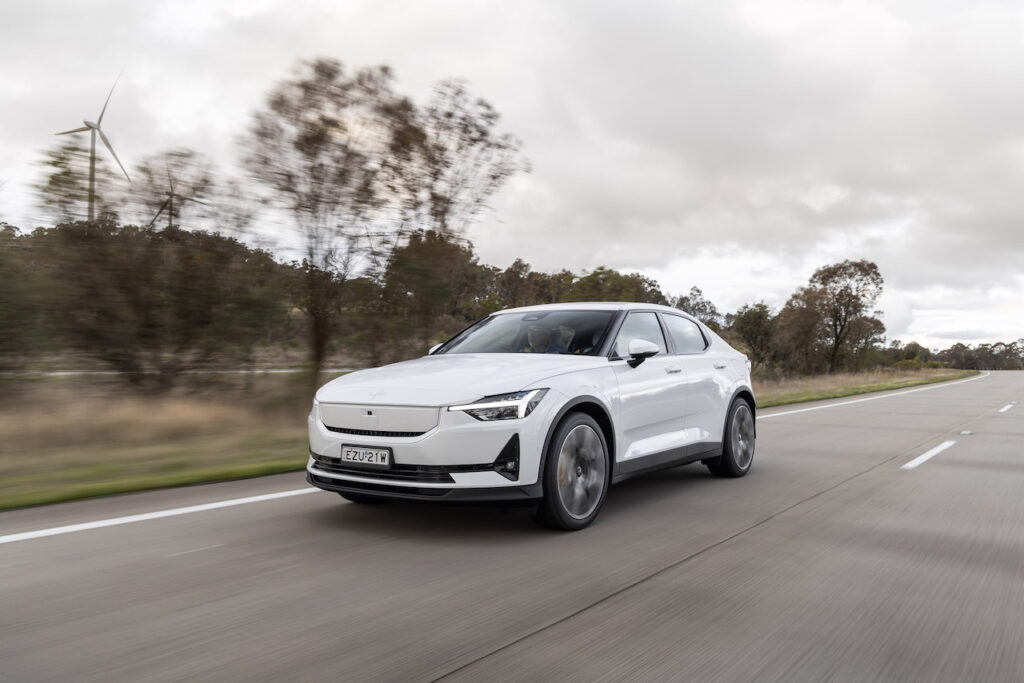 What is the ownership of the Polestar 2 like?
First off, you can't just walk into a dealer and buy a Polestar 2. You can check it out at a Polestar 'Space' and take it for a test drive, but you have to pay for it online.
Bad luck if you live in South Australia or the Northern Territory because there's no Polestar Space there yet. Canberra is coming soon.
The range comes with five years/100,000km free servicing, which is excellent.
A five year/unlimited km warranty, five years roadside assist and an eight year/160,000km battery warranty are all par for the premium course.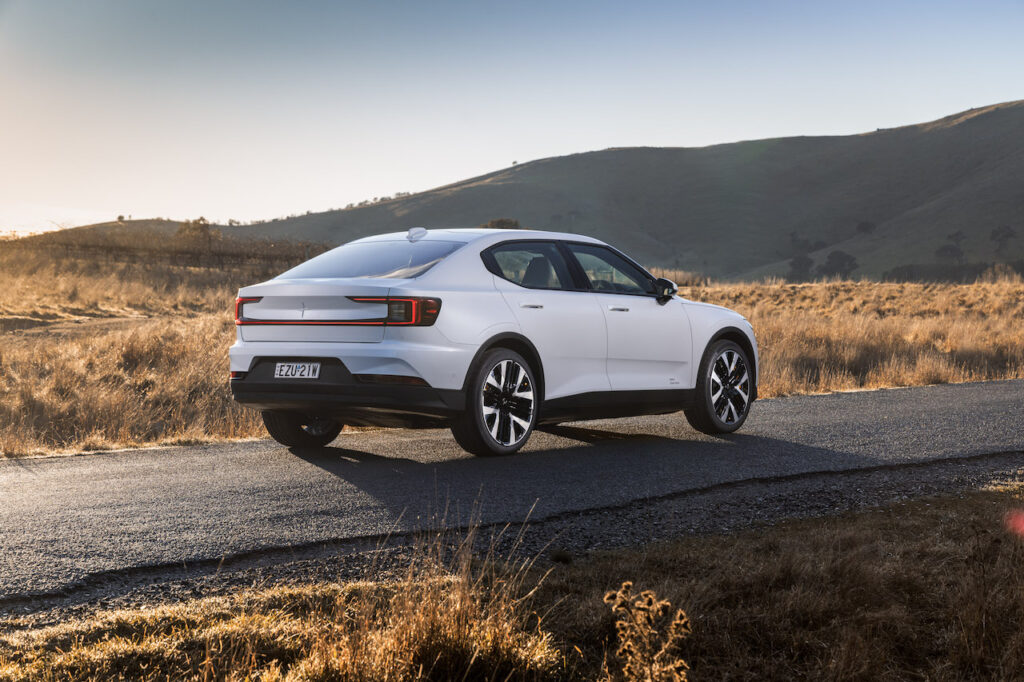 The Polestar 2 review: verdict
3.5/5
The 2024 Polestar 2 Long Range Dual Motor with Performance Pack is an entertaining and fast electric vehicle.
It's got its issues including low-speed ride and some equipment options that should be standard.
But for speedy cross-country driving it's excellent. That it theoretically goes further and recharges faster (we've yet to drive far enough to verify that) than before is more good news.
Bottomline though? As fun and fast as it can be, this is a car pretty focussed in its attributes. It's hard to see why many people would opt for it ahead of the cheaper single- and dual-motor models in the Polestar 2 range.
Polestar 2 Long Range Dual Motor with Performance Pack specifications
Price: From $84,500 plus on-road costs
Basics: EV, 5 seats, 5 doors, hatchback, AWD
EV range: 568km (WLTP)
Battery capacity: 82kWh (79kWh usable)
Battery warranty: 8 years/160,000km
Energy consumption: 16.0-17.2kWh/100km (WLTP)
E-motors: Permanent magnetic asynchronous front axle, permanent magnetic synchronous rear axle, maximum output 350kW/740Nm
AC charging: 11kW, Type 2
DC charging: 205kW, CCS
0-100km/h: 4.2 seconds (claimed)