Introduction
Nissan's EV hatchback was for a long time the world's top selling electric vehicles. These days it's passed that baton to the Tesla Model 3.
But at the affordable end of the market (by EV standards) the Leaf is still very strong.
Direct EV competitors include the Renault Zoe, Hyundai Ioniq Electric and upcoming MG ZS EV – both hover around the $50K mark – although it potentially also runs up against entry-level Model 3s as well as petrol-powered alternatives in what is a busy part of the market.
Value
At $49,990 plus on-road costs the Leaf may be among the more affordable EVs but it plays in the premium end of the hatchback market.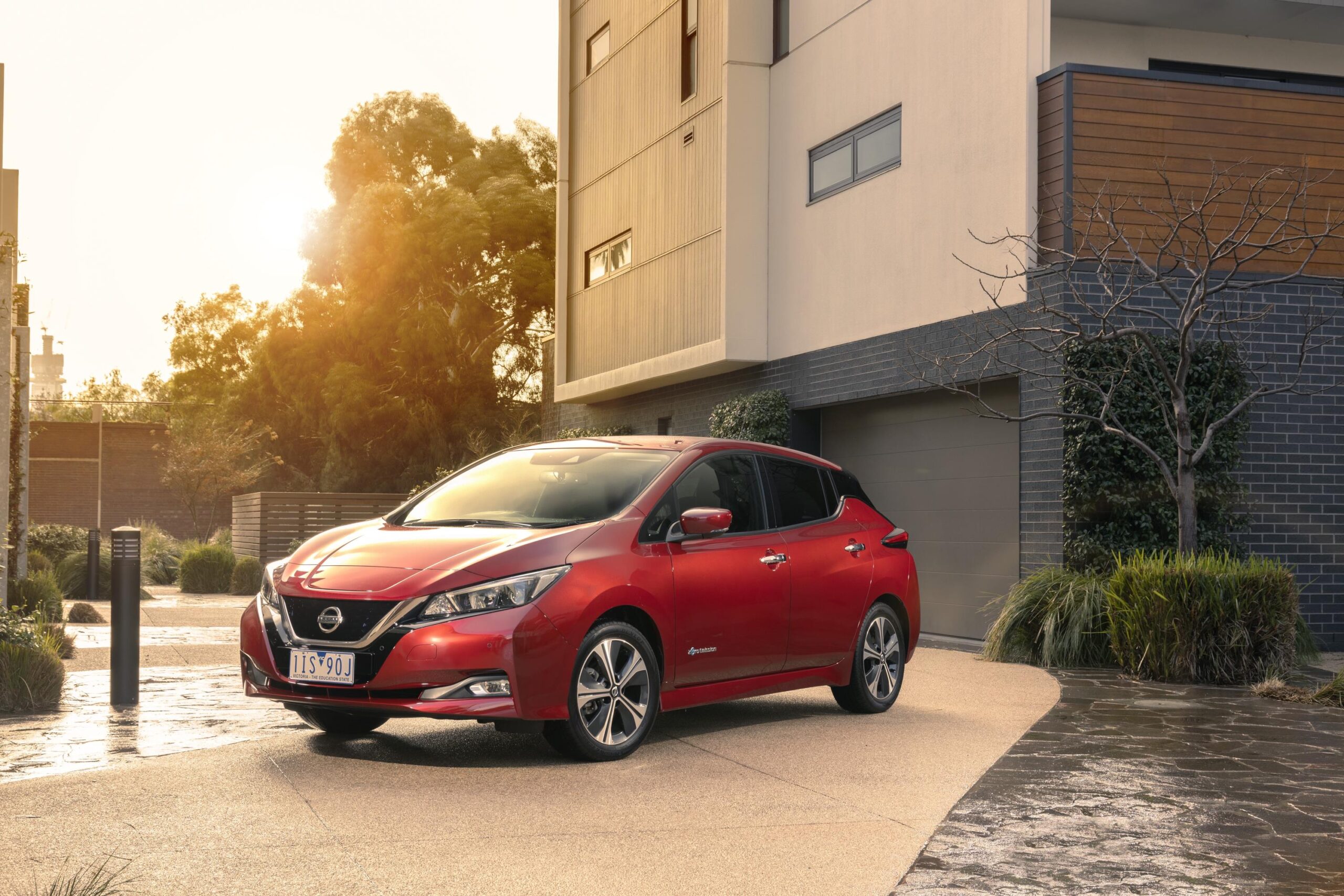 So Nissan has plumped it full of gear, including a seven-speaker Bose sound system, satellite-navigation and and 8.0-inch touchscreen with Apple CarPlay and Android Auto.
As well as digital radio tuning there's also AM for the old-schoolers (many EVs don't bother with AM due to the challenges of shielding the aerial from electrical interference).
It's a car you're unlikely to go cold in, too, with heated seats front and rear and a heated steering wheel.
Smart key entry, auto folding mirrors, active cruise control, a partial digital instrument cluster and splashes of leather and fake suede complete the healthy spread.
Omissions include separate temperature controls for left and right and electric seats.
By late 2020 expect to see the Nissan Leaf e+ on Australian roads. It gets bigger batteries for a longer driving range and a more powerful electric motor for better performance. But it'll cost more than a garden variety Leaf.
Inside
The fake suede adds some class to the seats but there's no hiding the working class interior. It's functional but not particularly upmarket.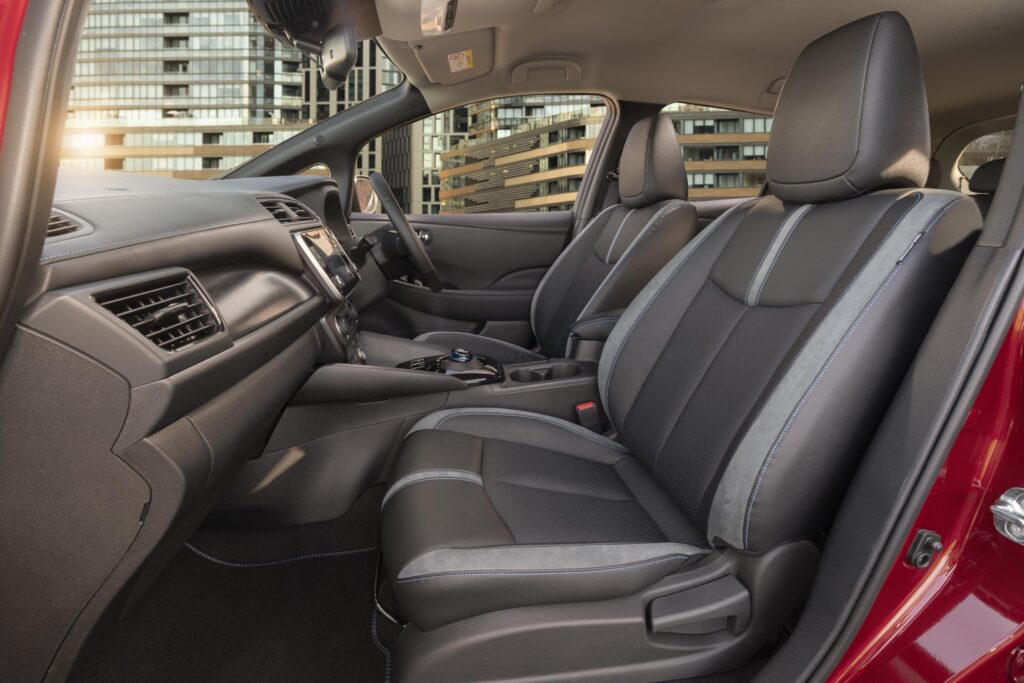 Space is the drawcard, thanks in part to a relatively high roofline. Whether you're up front or in the rear there's loads of head room and ample hidey-holes for whatever's keeping you amused.
A 405-litre boot is deep and useful, with 60/40 split-fold seat-folding for bulky items.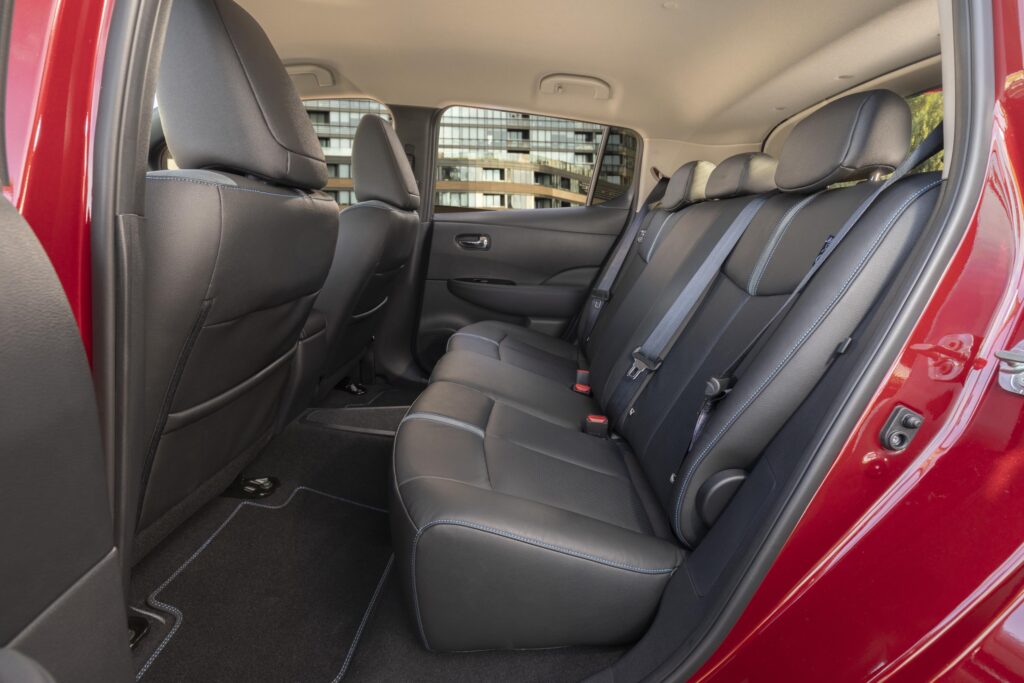 The foot-operated parkbrake is the main letdown in a cabin that others ticks plenty of boxes, minus the sizzle.
Performance and efficiency
The Leaf has a single motor powering the front wheels.
It makes 110kW and 320Nm, the latter doing a terrific job overcoming the 1.6 tonnes it's dragging around.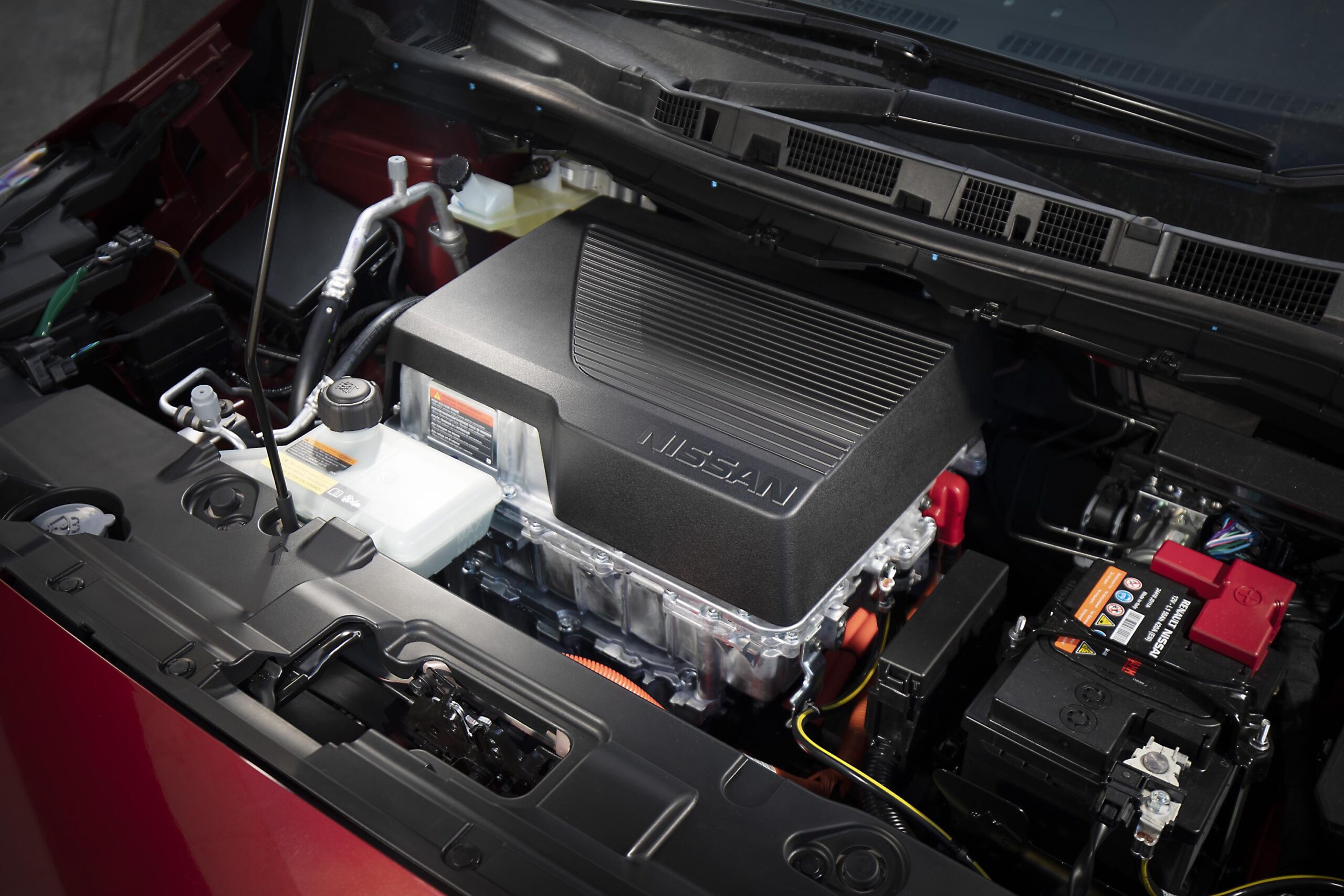 Acceleration to 100km/h takes 7.9 seconds, according to Nissan. And there's little reason to doubt it, the Leaf leaping enthusiastically and comfortably maintaining triple-figure cruising.
That torque can easily chirp the front wheels, especially if you're powering out of an intersection or through a tight corner.
An Eco button dulls the throttle response slightly, although so does your right foot if you're not as aggressive with it. We only used it briefly before sticking with the regular mode.
There's also Nissan's e-Pedal, which provides more aggressive regenerative braking and continues it all the way to a standstill. It's quirky not having to play with the brake pedal, although we found it more natural to do without e-Pedal.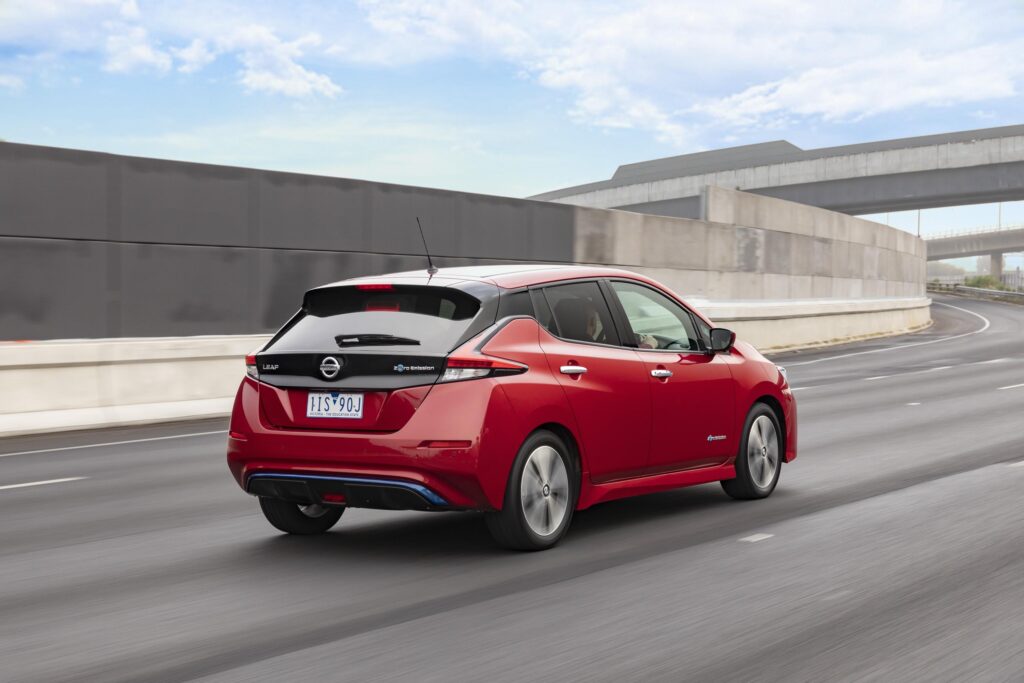 Reversing means exterior beeping to warn pedestrians.
The official consumption claim is 17.1kWh/100km and we found it to be thoroughly achievable. Over 1000km of driving the onboard computer calculated slightly better, at 16.2kWh/100km.
All of which means you can easily get 240-250km from a charge.
Charging
The Leaf has a 40kWh battery, which is small by battery electric vehicle (BEV) standards.
But after living with it for a couple of months we can understand the appeal, especially for two-car families.
Sure, it's not a practical solution for big adventures, but the realistic range is 250km from a charge, which is plenty for daily drives or even a nearby weekend away.
Considering batteries are the most expensive part of an EV some will no doubt appreciate the money being spent elsewhere.
AC charging is done at home via a 240-volt outlet or using a wallbox charger with a Type 2 plug. The Leaf will only accept up to 6.6kW at a time, so a full home charge will take around seven hours.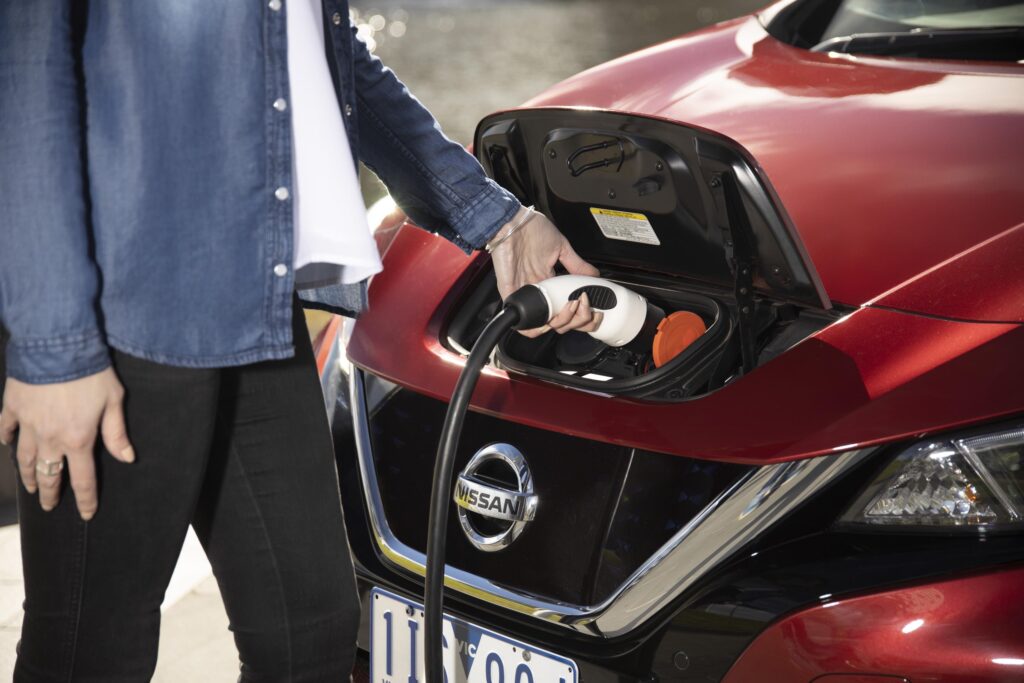 DC charging is done via a CHAdeMO plug and can be done at up to 50kW. So an 80 percent charge – providing around 200km of range – can be done in about an hour.
The CHAdeMO plug also brings other potential smarts: it can send electricity either way.
The Leaf was also the first EV on sale in Australia to offer the potential of bi-directional charging, whereby excess electricity could be fed back into the home.
It's an interesting solution that makes better use of those expensive battery packs when the car is sitting unused. And, for families travelling shorter distances in their EVs it could even help take them off the electricity grid without the need for a separate (expensive) battery pack attached to the house.
Nissan is hopeful of enabling the software required for that bi-directional charging – along with solutions for powering a house – by the end of 2020.
Ride and handling
The Leaf is a very quiet EV with only the vague high pitched hum of the electric motor. At higher speeds some tyre noise creeps into the equation, although it's far from intrusive.
But the general demeanour is one of a basic city runabout rather than anything about to push your buttons.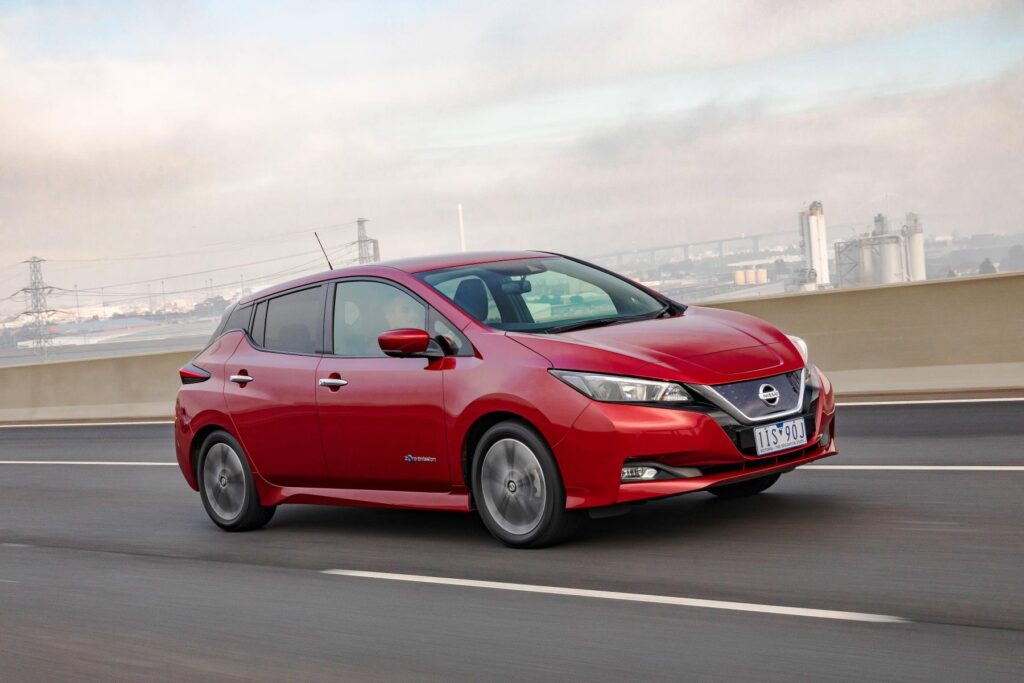 Tyres get rowdy with moderate provocation, moreso in the wet.
The steering is accurate but lacking liveliness.
At least the body is respectably controlled, in part because the suspension is taut and the centre of gravity low courtesy of the batteries in the floor.
Party tricks or X-factor or talking point
The Leaf has a system called e-Pedal, which sounds very high tech and brings the promise of one-pedal driving in many situations.
For those intent on never using the brakes it's a novel way to get around, adding 0.2G of deceleration whenever you lift off the accelerator pedal.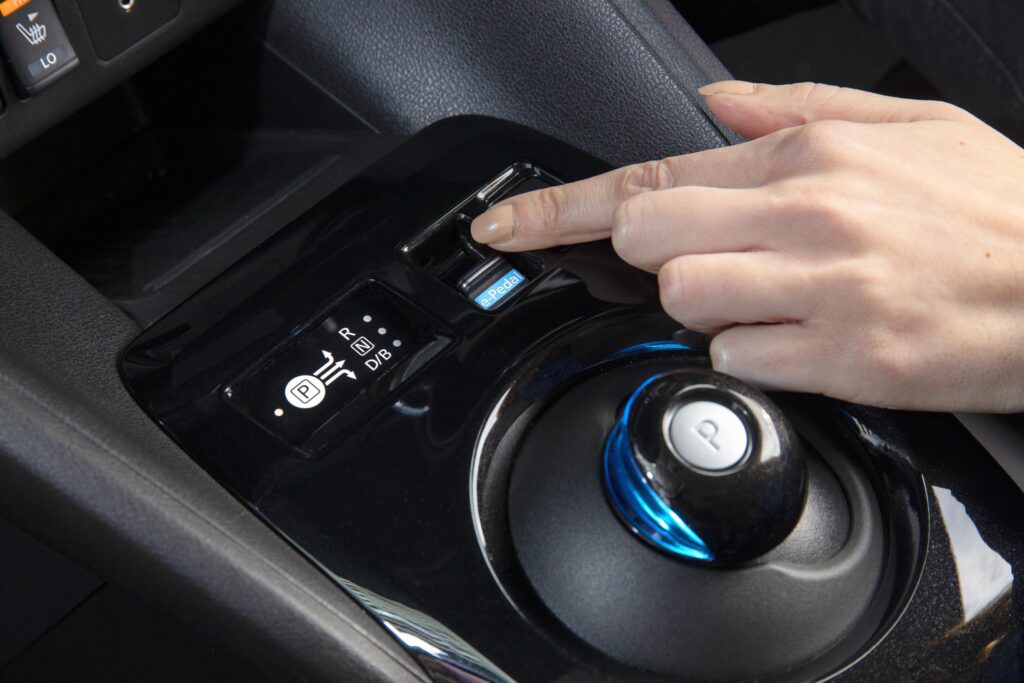 For the most part its similar to the high-regen modes of other EVs and hybrids but it has the added functionality of being able to bring the car to a complete stop.
So, judge the traffic well and you can lift off the accelerator to come to a stop behind the car in front.
Safety
In line with the generous kit elsewhere the Leaf comes loaded with safety fruit, including airbags all around and a 360-degree camera. Active safety runs to auto headlights, blind spot warning, rear cross traffic alert, lane departure warning, active cruise control and autonomous emergency braking (AEB).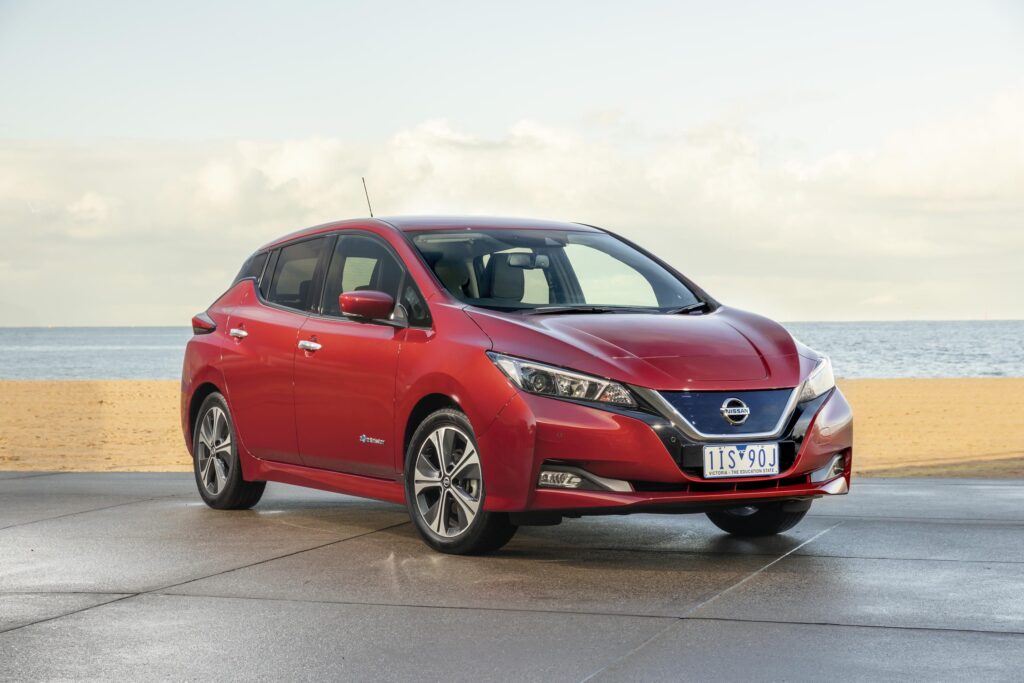 We found the AEB to be a tad eager to dab the brakes, usually when it wasn't required. Hopefully software updates attend to that.
Verdict
While it plays in the more affordable end of the EV market, the Leaf brings a price premium over regular cars in an EV that ticks the boxes rather than tingles the senses.
The imminent availability of bi-directional charging adds to its appeal, at which time that price premium can be offset by providing power to the home.
2020 Nissan Leaf specifications
Price: $49,990
Basics: EV, 5 seats, 5 doors, hatchback, front-wheel drive
Range: 270km (claimed), 250km (realistic)
Battery capacity: 40kWh
Battery warranty: 8 years/160,000km (guarantee of at least 75 percent of orignal capacity)
Energy consumption: 17.1kWh/100km
Motors: 1 front 110kW/320Nm
AC charging: 6.6kW, Type 2 plug
DC charging: 50kW, ChAdeMO plug
0-100km/h: 7.9 seconds