2024 Tesla Model 3 update: Has the electric car maker done enough to fend off the EV onslaught?
There's now been a week to soak up the reveal of Tesla's updated Model 3, which is due in Australia early in 2024.
But in true Tesla fashion, there are more questions than answers.
One of the most pertinent is: Has Tesla done enough with this update to keep the Model 3 a sales winner?
Like the Apple iPhone, it's increasingly looking like the biggest innovation with the Model 3 was with the first iteration.
When it first arrived here in 2019 (having gone on sale overseas in 2017) the Model 3 was so different to anything else on the market.
READ MORE: Updated Tesla Model 3 now on sale in Australia
READ MORE: Electric car sales growth slows as Tesla share shrinks
In many ways it still is – you use your phone as a key, there's no traditional instrument cluster and it runs only on electricity – but it also hasn't changed radically from that first car.
The Model 3 retains most of what made it the nation's top selling passenger car. The basic body is unchanged, as is how much space it provides to occupants and how swiftly it accelerates.
The price has increased, but it still represents very good value, not only against other electric cars but also against a sea of ICE machines.
Instead, Tesla has added some features, removed some features and upped the tech.
Key to the changes include fresh styling. There's little argument in chat rooms and forums that it's an improvement, adding maturity and muscling up some of the lines. Those bumper and light redesigns have also improved the aerodynamics, which in turn eke more range out of each charge.
That's important stuff in EV-land and adds to the appeal of a car that already had plenty.
Inside, too, there's a more upmarket look courtesy of snazzier finishes and more upmarket materials, although the minimalist flavour remains.
The new Model 3 also gets more gear, including ambient lighting and an eight-inch screen in the rear. That rear display allows passengers to control the entertainment and ventilation – and it's easy to imagine Tesla introducing more functionality via over-the-air software updates in future.
It seems the sound system will also be a big step up, at least if you buy the Long Range.
The base Rear-Wheel Drive continues with a nine-speaker system, but the Long Range now gets 17 speakers, including two subwoofers (the previous car only had one subwoofer).
Referring to it as "even more immersive sound", it promises to step up the already excellent in-house designed audio system to something even better.
But the new Model 3 also deletes some features. A showroom we spoke to said ultrasonic parking sensors will finally be deleted; Tesla has been slowly shifting to what it calls Tesla Vision, which uses cameras instead of sensors to judge distance. While many markets overseas have already shifted to that, Australian-delivered cars were still getting cars with parking sensors.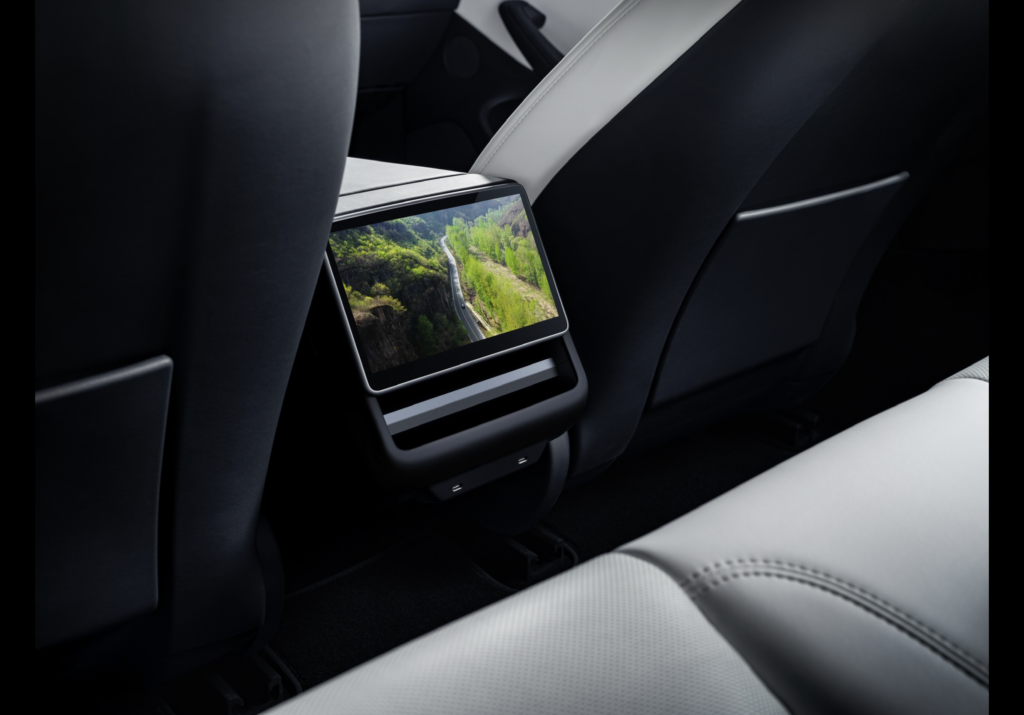 The Model 3 Long Range also loses its front foglights, although someone in the showroom told us foglight functionality was now embedded in the main light cluster.
The final thing missing is the Model 3 Performance. Tesla previously offered three variants – Rear-Wheel Drive, Long Range and Performance – but now there are only two, with the top-of-the-range Performance currently not being offered.
It's unclear whether Tesla will eventually offer a Model 3 Performance, although the company has emailed those with an order suggesting they should choose another option.
Still, in the past the Long Range has been available with an Acceleration Boost, which partially unlocks some of that Performance power. But the M3 Performance also brings bigger brakes, stickier tyres and a small rear lip spoiler, among other tweaks.
Of course, all these updates and more will likely flow through to the Model Y at some stage. Given the two share so much, it makes sense the ambient lighting and rear screen will accompany an update at some point.
Exactly when that Tesla Model Y update comes is anyone's guess, but sometime in late 2024 or 2025 would seem logical.